Work will soon begin to lay foundations for overhead powerlines along the East Kilbride-Glasgow Central railway as part of a multi-million-pound investment in the route.
(
Permalink
)
East Kilbride
Electrification
Scotland's railway has been a success story in recent years, with substantial investment in electrification, infrastructure enhancements and new fleets.
(
Permalink
)
Electrification
ScotRail
The Scotsman
The Courier
In early September, Scottish Government placed rail freight squarely at the heart of the low carbon economy when they chose the Mossend International Railfreight Park to launch their new Green Investment Portfolio. The scheme aims to attract international investors for ten low carbon eco-friendly projects across Scotland, which range from hydrogen development, to advanced manufacturing and recycling.
(
Permalink
)
Electrification
Green Investment Portfolio
Network Rail is inviting residents in the Huddersfield area and across the wider region to view the latest online proposals for major upgrades to the railway between Huddersfield and Westtown (Dewsbury). The plans include electrifying the eight mile stretch and doubling the number of railway tracks from two to four. This work would bring a more modern and reliable railway for passengers, allow more trains to run and better connect the region. Improvement work is also planned at Huddersfield, Deighton, Mirfield and Ravensthorpe stations.
(
Permalink
)
Electrification
Huddersfield.Dewsbury
Quadrupling
Helensburgh Advertiser
Network Rail has published its interim Traction Decarbonisation Network Strategy, setting out preliminary recommendations for meeting government ambitions to decarbonise the rail network.
(
Permalink
)
Electrification
Passenger services could be reinstated between Clackmannanshire and Fife in Scotland, depending on the outcome of the next phase of development work between Alloa and Longannet. Network Rail engineers will be carrying out survey work and site and geological investigations which will help inform the development of a project which could enhance and electrify the line.
(
Permalink
)
Alloa
Dunfermline
Electrification
Kincardine
Longannet
Stirling
Railstaff
Business Live
France's state-owned railway company SNCF has issued an apology after a major electrical failure trapped thousands of passengers overnight.
(
Permalink
)
Electrification
Scotland's Transport Secretary Michael Matheson visited the ground investigation works for the East Kilbride rail corridor project.
The post Scotlands Transport Secretary visits progress on East Kilbride electrification appeared first on Rail Business Daily.
(
Permalink
)
East Kilbride
Electrification
Michael Matheson
Rail Business Daily
Evening Times
Network Rail has issued a warning about the dangers of overhead electric wires after kite flyers in Buckinghamshire risked their lives and caused delays for passengers because they were flying too close to the railway.
(
Permalink
)
Electrification
Network Rail has announced that tree cutting work on the line between Glasgow and East Kilbride / Barrhead, paused due to the COVID-19 pandemic, will now resume.
(
Permalink
)
Barrhead
Covid-19
East Kilbride
Electrification
Network Rail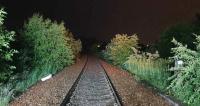 East Kilbride: Clearing the trees and vegetation along the 11-mile railway corridor is now underway and will be ongoing until December. It will enable site and geological investigation (SI/GI) which will inform the ...
Network Rail //2020
Balfour Beatty has completed the work to electrify the 77km Bristol-Cardiff rail line on the Great Western Railway (GWR) line.
(
Permalink
)
Electrification
GWR
ScotRail has reached another milestone in delivering a better service for customers with the introduction of the first ever Hitachi class 385 electric train on the Edinburgh to Glasgow via Shotts line.
Following the completion of the Network Rail £160m electrification of the line, the rail operator is now able to run electric trains along the popular route, and launched the first customer service earlier today (Tuesday).
(
Permalink
)
Class 385
Electrification
Shotts
Breich station will close for 12 weeks from Saturday 23 June as part of the work to electrify the Shotts line between Edinburgh and Glasgow Central.
(
Permalink
)
Breich
Electrification
Shotts
The ScotRail Alliance has upgraded a number of stations between Glasgow and Edinburgh, ahead of brand new electric trains entering service in the coming months. Former waiting areas at Croy, Falkirk High, Polmont, Linlithgow and Haymarket have been transformed into new ScotRail lounges.
Customers can now benefit from a refurbished area with padded benches, new flooring, and softer lighting, making the stations a more pleasant and relaxing place to catch a train.
(
Permalink
)
Croy
EGIP
Edinburgh and Glasgow Railway
Electrification
Falkirk High
Haymarket
Linlithgow
Polmont
With around 7,000 new rail vehicles on order to replace more than half of the passenger rolling stock fleet, Britains trains are about to change as never before. Scotland is no exception. In 2018, Hitachis Class 385 electric multiple units (EMUs) will replace the Class 170 diesel multiple units (DMUs) on the Edinburgh to Glasgow main line. Once further electrification is completed, more Class 385s will displace DMUs on services to Dunblane and through Shotts.
This year will also see some of the iconic British Rail High Speed Trains (HSTs) get a new lease of life as specially refurbished four and five-car sets operating on Scottish Inter-City services.
(
Permalink
)
Alloa
Class 170
Class 385
Dunblane
Edinburgh and Glasgow Railway
Electrification
HST
Hitachi
Shotts
Stirling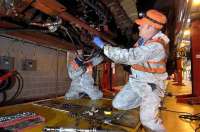 Haymarket MPD: Maintenance work in progress in the new shed at Haymarket on 13 February 2007. The facility had been officially opened during a ceremony earlier that day by Transport Minister Tavish Scott, accompanie ...
Ian Watson, Studio Scotland 13/02/2007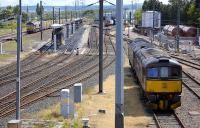 Craigentinny Depot: Scene at Craigentinny on 23 June as 66132 passes on the main line with the empty Binliner containers from Oxwelmains returning to Powderhall, while West Coast Railway locomotives 47826 and 3302 ...
Bill Roberton 23/06/2008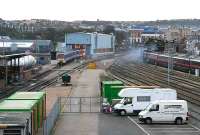 Clayhills Yard: Looking over the servicing and stabling areas to the south of Aberdeen station on Sunday 5 November 2006 with a ScotRail 170 DMU receiving attention. The station itself is off picture to the left and ...
John Furnevel 05/11/2006
Rail Engineer
Livingston South station is set to undergo a £3.5m transformation this spring.
The work is part of a £160m project to electrify the Edinburgh Waverley-Glasgow Central line, which will close for 10 days at Easter. From Thursday, March 29, to Monday, April 9, no trains will run on the line via Shotts while Network Rail engineers work to widen and extend both platforms at Livingston South.
As well as work to the platforms, the redevelopment will see the construction of lifts on both sides of the station to deliver step-free access, installation of new staircases and the re-alignment of existing ramps.
(
Permalink
)
Electrification
Livingston South
Shotts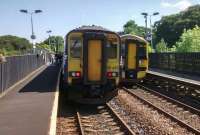 Livingston South: An Edinburgh-bound 156 and a 158 for Glasgow pass at Livi South on a fine 24 July.
David Panton 24/07/2017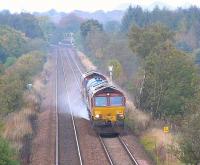 Livingston South: A Railhead treatment train approaches MidCalder Jct with Livingston south station in the background in October 2005
James Young 15/10/2005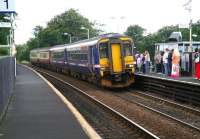 Livingston South: It's Festival time again! An attractive combination of liveries at Livingston South station on 14 August 2008. The train looks nice too - in this case the 1215 Glasgow Central - Edinburgh Waverley ser ...
John Furnevel 14/08/2008
Daily Record
Scotland's Edinburgh - Glasgow Improvement Programme (Egip) celebrated a milestone on December 10 with the start of electric services from Glasgow Queen Street to Edinburgh Waverley via Falkirk High.
ScotRail has replaced the class 170 DMUs previously used on these services with class 380 EMUs, although the use of these trains on the route is a temporary measure pending the introduction of new Hitachi class 385 EMUs next year.
(
Permalink
)
Class 170
Class 380
Class 385
EGIP
Edinburgh and Glasgow Railway
Electrification
Hitachi
IRJ
Closure-threatened Breich Station, which has fewer than three passengers a week, has been reprieved after a public outcry. Transport minister Humza Yousaf has also ordered more trains to call at the West Lothian stop to add to the current one train in each direction a day. Network Rail launched a consultation into its closure in the summer because of the high cost of upgrading work as part of electrifying the secondary Edinburgh-Glasgow line via Shotts. The rail body said replacement of a footbridge, platforms, waiting shelters and CCTV would cost £1.4 million. It would have been the first closure of a Scottish station for 31 years - after Balloch Pier in 1986. Breich served just 138 passengers in 2015-16 - an average of 2.6 passengers a week.
(
Permalink
)
Breich
Electrification
Shotts
Transport secretary Chris Grayling is preparing to delay the electrification of huge swathes of the railway network amid a deepening funding crisis at Network Rail.
Plans to upgrade core stretches of track on the TransPennine, Midland Mainline and Great Western routes to run electric trains are set to be put back by years in favour of new bi-mode trains that run on both diesel and electricity.
(
Permalink
)
Chris Grayling
Electrification
Great Western
Midland Mainline
TransPennine
Sunday Times
Plans to close Breich Station in West Lothian, used by just three passengers a week, have been announced by Network Rail. If confirmed, the unstaffed station on the Edinburgh-Glasgow line via Shotts would be the first Scottish closure since 1986 when Balloch Pier Station on Loch Lomond shut. The move has been prompted by the £1.4 million cost of replacing its footbridge as part of electrification of the line, which would be saved. It is understood the station is likely to have stayed open otherwise. Only one train a day in each direction stops at Breich, which was opened in 1869, with no trains on Sundays. It served just 138 passengers in 2015-16 - an average of 2.6 passengers a week.
(
Permalink
)
Breich
Electrification
Shotts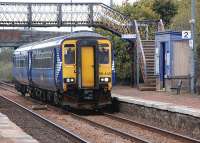 Breich: 156445 heads east through Breich on 15 May bound for Edinburgh .
Bill Roberton 15/05/2013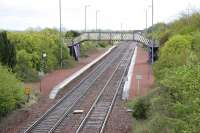 Breich: The lonely station at Breich, looking east, February 2006.
John Furnevel 13/02/2006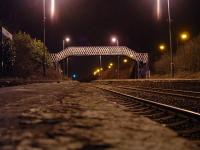 Breich: Breich at night ... very quiet... very, very quiet...
Ewan Crawford //
The costs of two more flagship rail projects in Scotland have soared.
A Sunday Post investigation earlier this month revealed works on lines between Edinburgh and Glasgow, and Aberdeen to Inverness, were tens of millions of pounds over budget.
Now its been confirmed that electrification work on the Stirling, Alloa and Dunblane lines, as well as a 46-mile section of the Shotts line, is currently 50% over budget.
The Office of Rail and Road confirmed it had launched an investigation into the budget overruns, blamed on poor design and extra costs of meeting safety legislation.
(
Permalink
)
Aberdeen
Alloa
Dunblane
Edinburgh
Electrification
Glasgow
Inverness
Overspend
Shotts
Stirling
Sunday Post
Electric GWR trains have started running for the first time.
GWR said four Bombardier Electrostar sets running as two eight-car formations launched the service between London Paddington and Hayes & Harlington today, with the first train leaving Paddington at 07.15. The inaugural up service left Hayes three minutes later.
The launch marks a notable landmark in the often controversial project to electrify the Great Western Main Line, although the first electric trains are relying on overhead equipment which was installed almost 20 years ago for Heathrow Express. There are hopes that the new electric services can be extended to Maidenhead and then on to Reading by 2017, which is also set to become the western terminus of the Elizabeth line the following year. [From Richard Buckby]
(
Permalink
)
Electrification
GWR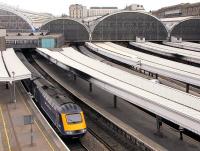 Paddington: View over Paddington station in April 2011 with a First Great Western HST about to depart.
Ian Dinmore 15/04/2011
Paddington: Looking back towards the station concourse from the footbridge at Paddington in July 2005.
John Furnevel 20/07/2005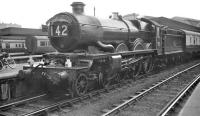 Paddington: Castle class 4-6-0 no 5079 Lysander getting ready to leave Paddington in 1959 with the 'Torbay Express'.
K A Gray //1959
Rail News
Designs for the 70 new trains being built for the ScotRail fleet have been unveiled by the transport minister and new franchise holder Abellio.
The new trains are said to be quieter, faster and longer than current services.
They will operate on Scotland's busiest route - the Edinburgh-Glasgow via Falkirk High line - by 2017.
They will also be used on the Stirling-Alloa-Dunblane line and south Glasgow suburban routes.
(
Permalink
)
Abellio
Alloa
Dunblane
Electrification
ScotRail
Stirling
BBC News
Electric passenger services began operating between Glasgow and
Cumbernauld
on May 19, following commissioning of 50 km of 25 kV 50 Hz electrification between
Springburn
and
Cumbernauld
.
(
Permalink
)
Electrification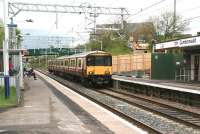 Cumbernauld: SPT liveried 318252 runs into platform 2 at Cumbernauld on 9 May 2014 with a terminating North Clyde electric service. Given the cancellation of the proposed Garngad Chord these trains are required to ...
John Furnevel 08/05/2014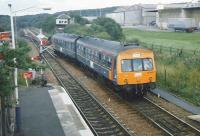 Cumbernauld: Unit 101 692 on the crossover from the reversing siding at Cumbernauld in July 1997 about to form the next service to Motherwell. The unit is in experimental ScotRail red, blue an gold livery.
David Panton 12/Ju/1997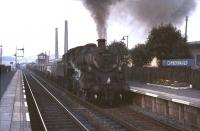 Cumbernauld: One of Grangemouth's Standard class 4 2-6-0s no 76113 runs south through Cumbernauld station on 3 August 1965 at the head of a mixed freight.
G W Robin 03/08/1965
EGIP has delivered a number of key infrastructure and service improvements, including the electrification of Haymarket Tunnel and new services introduced on the Edinburgh Glasgow via Shotts and Carstairs lines. The £27 million redevelopment of Haymarket Station is expected to open to the public in December 2013 and route clearance works in advance of the electrification of the Edinburgh Glasgow and Stirling-Alloa-Dunblane lines are well underway.
(
Permalink
)
Alloa
EGIP
Electrification
Haymarket Tunnel
Shotts
Transport Scotland
Network Rail today announced that Carillion has won the contract to deliver the electrification of the Cumbernauld-Glasgow Queen Street line. The £40m contract will see over 50km of railway electrified, as part of a wider £80m investment in the line between Cumbernauld and Scotland's largest city. As well as the main works, Carillion will also be lengthening the Cumbernauld station platforms and constructing a turnback facility at Springburn.
(
Permalink
)
Carillion
Cumbernauld
Electrification
Network Rail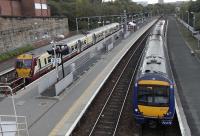 Springburn: Springburn Station seen on 16 October with a recently arrived 334 013 at Platform 3 and 170 411 about to leave on the final leg of a Cumbernauld to Queen Street service at Platform 1. The only point ...
David Panton 16/10/2010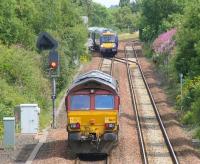 Grangemouth Junction: View east from Grahams Road bridge, Falkirk, during a warm and pleasant afternoon on 25 July 2011, with the east end of the platforms of Grahamston station directly below the camera position. DBS 6614 ...
John Furnevel 25/07/2011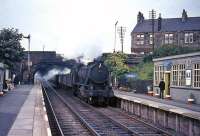 Cumbernauld: Ex-WD Austerity 2-8-0 No 90547 brings an up freight through Cumbernauld station in August 1965.
G W Robin 03/08/1965