The cost of running Scotland's main train operator has spiralled after commuters deserted the railways and now the way it's run could be about to change significantly.
(
Permalink
)
COVID-19
ScotRail
Train punctuality on Scotland's Railway has reached its highest level since 2018, according to new figures published today (Friday, 25 September).
In the most recent four-weekly period of performance (23 August - 20 September), 93.3 per cent of ScotRail trains met the rail industry standard Public Performance Measure (PPM). It's the seventh consecutive period where ScotRail's PPM has been above 90 per cent.
(
Permalink
)
PPM
Punctuality
ScotRail
ScotRail has begun work to refurbish its fleet of Class 380 electric trains ahead of their 10-year anniversary later in the year.
Key elements of the 'makeover' include the installation of new flooring, new seat upholstery including prominent priority seating, a paint refresh, and general repairs to tables, bins and handrails.
The overhaul is taking place at the train operator's Shields Road Depot in Glasgow, with each train taking around two weeks to complete.
(
Permalink
)
Class 380
ScotRail
Shields Road Depot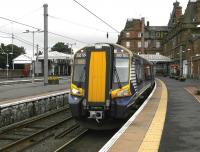 Ayr: 380104 waits at a gloomy Ayr station on 18 July with the 12.13 to Glasgow Central.
Bill Roberton 18/07/2012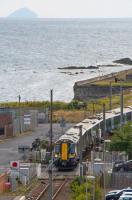 Ardrossan Town: 380111 crosses Princes Street to enter Ardrossan Town with a Glasgow bound train. Ailsa Craig is on the horizon.
Ewan Crawford 10/08/2017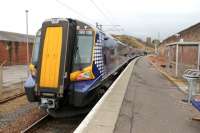 Ardrossan Town: Glasgow bound 380108, on a service that started at the Harbour station, calls at Ardrossan Town. This station is much smaller than it originally was see image [[21659]] but at least it is open to passengers again after being closed for a number of years.
Mark Bartlett 08/03/2013
The Rail Maritime and Transport union announced a vote today after being told there would be no increase today
(
Permalink
)
Ballot
ScotRail
The Scottish government has extended its funding for the ScotRail and Caledonian Sleeper franchises, following on from the six-month Emergency Measures Agreement introduced in April 2020, which was due to expire on September 20.
(
Permalink
)
COVID-19
Caledonian Sleeper
ScotRail
Railway Gazette

Saturdays are now ScotRails busiest day of the week as leisure travellers outstrip commuters in returning to the railways, The Scotsman has learned.
(
Permalink
)
ScotRail
You don't need to go out to have fun. Enjoy these virtual events from the comfort of your own home.
(
Permalink
)
ScotRail
HeraldScotland

British Transport Police fears workers checking tickets could be targeted due to a new culture of fare dodging during the pandemic when inspections on trains were suspended.
(
Permalink
)
ScotRail
Edinburgh Evening News

During lockdown, people made the most of being able to get out and about powered by their own two feet. Now nextbike are making it easy to carry on the healthy lifestyle with 30 minutes of free cycling.
Cars were left on driveways, train timetables were reduced and planes were grounded. And with a one-hour window each day to do some exercise close to home, its no surprise that walking and cycling became two of Scotlands most popular ways to get around.
But what if you would love to cycle but dont want to fork out for a bike and its upkeep?
(
Permalink
)
Nextbike
ScotRail
Key workers and those still using the railways in Scotland will enjoy a small rise in the number of trains on offer from Monday 18 May, provided restrictions around the coronavirus continue to be eased.
Train operating companies (TOCs), including Scotrail, have signed up to a government plan to help the railway industry recovery from the ongoing coronavirus pandemic.
From Monday, there will be a increase in the number of services across the United Kingdom, subject to the continued relaxation of lockdown restrictions.
(
Permalink
)
Covid-19
ScotRail
Caledonian Sleeper and ScotRail have followed their English counterparts in accepting Emergency Measures Agreements (EMAs) negotiated with the Scottish Government. They will last for a minimum of six months. During this period both CS and SR will receive increased payments to cover operating costs.
(
Permalink
)
Caledonian Sleeper
ScotRail
RAIL

In December, ScotRail accepted into service the last of the 70 Class 385 EMUs that Abellio had ordered from Hitachi in a £475 million contract. This was signed in April 2015, just before the company took over the ScotRail franchise. The completion of this order, together with the introduction of HSTs on Scottish intercity routes, []
(
Permalink
)
Hitachi
ScotRail
Rail Engineer

ScotRail and Caledonian Sleeper are to be bailed out with millions of pounds of extra public money after failing to hit growth targets under a bizarre clause in their contracts, Scottish Labour has claimed.
(
Permalink
)
Caledonian Sleeper
ScotRail
The Scotsman

LNER have issued a 'do not travel' warning while CrossCountry are running no services north of Edinburgh.
Those travelling to Glasgow from the south using Avanti West Coast will be forced to deal with a reduced hourly service, however most ScotRail trains are operating normally with some delays.
ScotRail said the routes most likely to affected by the weather include Inverness to Kyle of Lochalsh, Glasgow to Fort William, Oban and Mallaig, and Kilwinning to Largs and Ardrossan.
Services will be suspended on the West Highland Line from early afternoon until noon on Monday.
Those travelling to Largs or Ardrossan should expect disruption around high tide, at midday, with the storm potentially meaning trains will be unable to run.
Trains going between Edinburgh and Helensburgh Central will terminate at start back from Dumbarton Central with a shuttle bus operating between Dumbarton and Helensburgh in both directions.
(
Permalink
)
Avanti
CrossCountry
LNER
ScotRail
Storm
Transport Scotland

ScotRail timetable improvements will add thousands of seats for passengers every day, the operator has said.
(
Permalink
)
ScotRail
The Herald

The number of people travelling with ScotRail has increased by almost one-third in the past decade, new figures have revealed. Customer journeys on ScotRail services increased from 74.2 million in 2007/08 to 97.8 million in 2017/18 a rise of 23.5 million in just a decade. The ScotRail Alliance said that the increase in customer journeys highlights the scale of the challenge it faces every day to keep people moving.
(
Permalink
)
ScotRail
Hundreds of ScotRail staff have been asked to consider quitting in a cost-cutting move condemned by one union as creating a 'climate of fear' amongst the workforce.
All administrative, clerical, supervisory and managerial staff across Scotland, including its Glasgow headquarters have been asked to consider voluntary redundancy, a matter of weeks after Abellio ScotRail announced a loss of £3.5m in its first full year operating train services in Scotland.
(
Permalink
)
Abellio
ScotRail
The first two Angel Trains High Speed Train Class 43 power cars transferring from Great Western Railway to ScotRail have arrived north of the border.
Former GWR 43021 and 43132 took four Mk 3s from Doncaster to Craigentinny on September 1. They will be used for training purposes. The power cars will be retained by SR. They left four Mk 3s at Wabtec Rail, Doncaster, for refurbishment.
(
Permalink
)
GWR
HST
ScotRail
RAIL Magazine

British rolling stock leasing company Eversholt Rail has awarded a £6m contract to Knorr-Bremse Rail Services to refurbish 22 class 320 three-car EMUs operated by Abellio ScotRail.
The work, which will be carried out at Knorr-Bremses Springburn depot in Glasgow, will start in October and is due to be completed in early 2019.
(
Permalink
)
Class 320
Knorr-Bremse Rail Services
ScotRail
St Rollox Works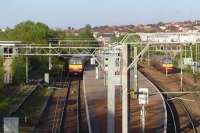 Airdrie: View east over Airdrie station towards Drumgelloch on 13 May 2009. 320313 has stopped at the through platform and 320308 stands in the siding.
John Steven 13/05/2009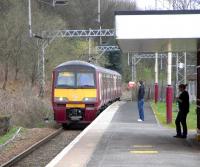 Renton: A Balloch - Airdrie train, formed by 320 311, arives at Renton on 1 April 2009.
David Panton 01/04/2009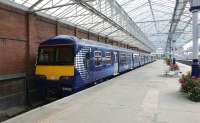 Helensburgh Central: Waiting for work. A pair of Class 320 EMUs in ScotRail blue, stabled in platform 3 (onetime platform 4) at Helensburgh Central on 23 September 2012.
John McIntyre 23/09/2012
IRJ

I'm told staff morale at the ScotRail Alliance with Network Rail is at rock bottom - just as its struggling to return punctuality to a minimum acceptable level. The woeful situation was underlined on Tuesday when ScotRail's passenger satisfaction rating - though still higher than south of the Border - hit a 14-year low.
(
Permalink
)
ScotRail
Transport minister Humza Yousaf has said that ScotRail could do better but insisted the rail operator's performance is not 'apocalyptic'.
Mr Yousaf, who has come under fire for problems on the railways, told MSPs he was 'disappointed' with new figures showing passenger satisfaction had fallen.
He said the research for the national rail passenger survey (NRPS) had been carried out before an improvement plan for ScotRail had started to take effect.
(
Permalink
)
Humza Yousaf
ScotRail
PASSENGER satisfaction with Scotland's rail services has plummeted to its lowest leves since 2002, new findings by a leading industry watchdog have found.
The proportion of customers happy with ScotRail's service slumped by seven percentage points to 83 per cent compared with the previous autumn's figures, the official survey by Transport Focus has found.
The last time the National Rail Passenger Satisfaction (NRPS) survey figures were so low for an autumn report was 14 years ago.
(
Permalink
)
ScotRail
Work to house Scotland's growing fleet of trains is progressing well and on track for the arrival of new class 385 electric rolling stock this autumn.
Transport Minister Humza Yousaf visited the Millerhill facility recently to see the ongoing work to provide electrified stabling facilities for the new fleet, which will be gradually introduced across many Scottish central belt routes in the next two years. [From Charlie Niven]
(
Permalink
)
Class 385
ScotRail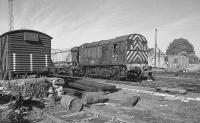 Millerhill: 08575 shunting at the site of Millerhill Station in 1975.
Bill Roberton //1975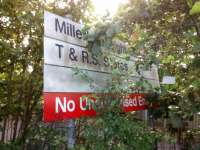 Millerhill: The British Rail Helvetica typeface dates this one. 'Millerhill Freight Services T & R S Stores' Whatever they were (and please don't tell me) they are surely not there now. The June 2012 pass of the Google Street View camera shows that there was a steam loco road sign here then, but it's not there now. Also, somebody thought this was the ideal place to pitch up tent.
David Panton 15/09/2017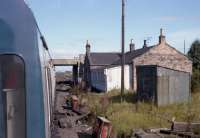 Millerhill: View from the Branch Line Society's Lothian & Fife Wanderer on 23 August 1980 of Millerhill Station on the stub of the Waverley Route.
Bill Roberton 23/08/1980
Midlothian Advertiser

No rail services will operate on the Glasgow to Oban line over the weekend, after a lorry collided with a bridge.
Work to repair what has been described as 'extensive damage' at Taynuilt has been scheduled to be completed by Monday.
ScotRail said a bus shuttle service will operate from Oban to Dalmally, calling at stations along the route.
The operator said the bus replacement service would run 'as close to train time as possible'.
(
Permalink
)
ScotRail
West Highland Lines
Scotrail's boss yesterday admitted he doesn't have enough cash to fund a free travel scheme promised by the Scottish Government.
SNP Transport Minister Humza Yousaf announced last month that monthly and annual season-ticket holders will get a "free week" paid as a "thank-you" for their patience during disruption and upgrades.
The Scottish Government said at the time they would fund the £3million freebie.
But ScotRail boss Phil Verster yesterday told MSPs that he had been asked to pay £1.8million of it out of a railway improvement fund.
That fund is valued at £1million and the cash has already been earmarked
 for other projects.
Verster added: "We are working with the Scottish Government to understand how to fund the £3million. We've not finalised those conversations. I can't vouch for whether the scheme goes ahead or not."
Verster said he got less than three weeks notice
 of the giveaway.
Yousaf was also due to appear before the rural economy and connectivity committee but he was ill.
(
Permalink
)
Humza Yousaf
Phil Verster
ScotRail
A campaign to devolve control of Scotland's railways to Holyrood is to call for support from all political parties.
It has been claimed the move would save the taxpayer £100 million a year and enhance customer experience on the railways by reducing journey times and delays.
Any savings would also be reinvested to fund increased services and improved rolling stock.
Scottish ministers are already responsible for the funding and managing of railways north of the Border through the ScotRail franchise which is currently operated by Dutch company Abellio.
(
Permalink
)
Abellio
ScotRail
Vacant station buildings have been transformed into a bustling community hub, thanks to the continued dedication of local community group.
A grant from the stations community regeneration fund (SCRF), which aims to help businesses and community groups convert empty station buildings into spaces which benefit the community, has seen the revamp of Kilmarnock's station. Kilmarnock Station Railway Heritage Trust also received funding from the Railway Heritage Trust, and the East Ayrshire Council's Renewable Energy Fund, allowing them to invest around £500,000 in the station's restoration. Work to bring seven rooms, which were stripped back to their brickwork in 1998, back to life, has transformed the station and the recently refurbished underpass has made connections to the town centre and new Kilmarnock College campus bright and vibrant.
Now plans are afoot to convert redundant space at street level into additional office space, a bike workshop, complimentary and art therapy rooms, and locker/shower rooms. Passengers and passers-by alike can enjoy a cup of tea and a cake in the 'Storm in a teacup' café with their head in a book from the 'Killie Browser' book shop. There is also a gift shop and archive rooms for the Glasgow & South Western Railway Association.
(
Permalink
)
ScotRail
Station Adoption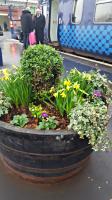 Kilmarnock: Daffodils at Kilmarnock, it must be springtime.
John Yellowlees 05/02/2016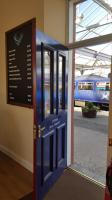 Kilmarnock: 'Storm in a tea cup' - superb name for the cafe at Kilmarnock station.
John Yellowlees 20/04/2016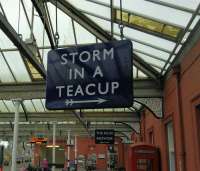 Kilmarnock: Some fine imitation British Railways era platform enamels at Kilmarnock seen on 15/10/2016. They are in fact in the wrong colour, being Eastern Region dark blue instead of Scottish light blue, but only a carping pedant of the worst sort would point out that out.
David Panton 15/10/2016
The reliability of ScotRail trains significantly improved in the weeks after its improvement plan was published, according to new statistics.
The PPM data showed 89.7% of trains arrived within five minutes of schedule in the four weeks to 7 January.
This was a 6% rise on the previous four weeks, and a 2.8% improvement on the same period last year.
But ScotRail's annual performance remains below the 91.3% target set in Abellio's contract for the franchise.
(
Permalink
)
Abellio
ScotRail
NATIONAL EXPRESS is set to sell its last British rail franchise to the Italian state operator FS.
Trenitalia, part of FS Italiane Group, will acquire the c2c franchise for some £70 million, yielding a 'small net profit' for the Group. The deal is subject to the consent of the Department for Transport, and existing c2c management and staff are to be retained.
It will also mark the exit of National Express from the franchised rail sector in Britain, although it still has the concession to operate Midland Metro trams. At one time National Express held the largest number of franchises, which included ScotRail, Midland Mainline and Central Trains. [From Richard Buckby]
(
Permalink
)
ScotRail
Trenitalia.
c2c
Rail News

AN ELECRIC train has been damaged after being wrongly signalled on to a non-electrified track.
The signalling blunder meant the stranded four-carriage train had to be rescued by a diesel train that was nearby. Now the ScotRail Alliance, which is responsible for signalling, has launched an investigation into the stranding near Edinburgh's Haymarket Station.
(
Permalink
)
ScotRail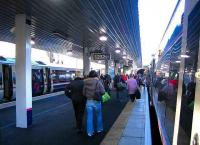 Haymarket: All change please... View east at Haymarket on 15 January 2007 as passengers change from a terminating service at platform 0 to a Waverley bound train recently arrived at 1.
John Furnevel 15/01/2007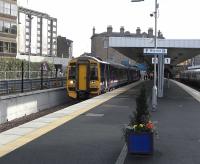 Haymarket: Platform 0 was constructed to allow locals to originate from Haymarket during the year-long work at Waverley in 2006. Since then it is used as stabling for Haymarket depot, though it has seen ad hoc workings during service disruptions. At present it is in regular Saturday use for Fife locals, unable to use Waverley because of the closure of Haymarket North Tunnel for electrification work. There are also platform zeros at King's Cross and Cardiff Central, though at humbler Anniesland, when a new platform was constructed which was 'before' Platform 1 it was numbered 3. 158712 stands with a Cowdenbeath service on 2 October.
David Panton 02/10/2010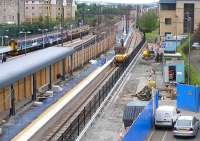 Haymarket: Progress on Haymarket platform 0, seen on 2 September 2006.
Charles Barclay 02/09/2006
ScotRail passengers have faced disruption to their journeys after damage to overhead electric cables caused services to be suspended throughout the central belt.
Five of 14 routes experienced major disruption on Hogmanay.
Nearly all low level services via Glasgow Queen Street and Glasgow Central were cancelled in the afternoon.
(
Permalink
)
ScotRail
UNDER-fire ScotRail issued an apology on social media every 51 minutes this year. The train operator has, so far, said 'sorry' to travellers 10,000 times in 2016 - an average of 30 apologies every day.
The news came on the day it was revealed monthly and annual season ticket holders would get a 'free week' paid for by the Government as a 'thank you' for their patience during disruption and upgrades.
ScotRail has faced heavy criticism for late and cancelled trains, with campaigners calling for Dutch parent firm, Abellio, to be stripped of the franchise to run the railways.
(
Permalink
)
Abellio
ScotRail
Express

Monthly and annual season-ticket holders on Scotland's railways will get a "free week" paid for by the Scottish Government as a "thank you" for their patience during disruption and upgrades. Scottish transport minister Humza Yousaf gave more information on the £3 million set aside for fare offers announced in the Holyrood budget on Thursday. As well as the free week for season-ticket holders, further offers for weekly ticket holders and daily commuters are also being worked on, and will be announced in the new year.
(
Permalink
)
Humza Yousaf
ScotRail
The punctuality of ScotRail trains has not improved over the past four weeks, according to the latest figures.
The rail operator is under pressure to improve its service after failing to meet targets set out in its franchise agreement.
New figures show punctuality for the four weeks to 10 December was unchanged compared with the previous period.
ScotRail said it had to contend with two major disruptions - in Edinburgh and Glasgow - during this period.
(
Permalink
)
ScotRail
The Sunday Mail today exposes the growing scandal of late-running ScotRail trains missing out stops and leaving commuters stranded.
Dutch operators Abellio promised last month to stop trains from bypassing stations at peak times. But we can reveal that thousands of passengers are still being hit by the hated practice of "skip stopping" during the rush hour. If they're on the platform, they have to wait for the next train. If they're on board, they're forced to get off miles from their stop.
(
Permalink
)
Abellio
ScotRail
Station skipping
Sunday Mail

ScotRail is hoping to ease its acute overcrowding by drafting in more trains from south of the border.
The operator also plans to switch more trains to its busiest routes, including Edinburgh-North Berwick, to help reduce the commuter crush. News of the changes come days after ScotRail announced that two daily rush hour services on the Borders Railway would be doubled in length from next week to help cope with passenger demand. Abellio, which runs ScotRail, ordered 70 new trains when it won the franchise two years ago, but the first of its two fleets will not start arriving until next autumn, and the second is now delayed until the second half of 2018.
(
Permalink
)
Abellio
Borders Railway
ScotRail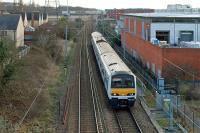 Hythe: A Class 321 EMU slows for the stop at Hythe station on 7th January 2012. It will call after at Colchester Town, reverse and terminate at Colchester. Private housing, a large DIY store and student flats have replaced the industrial sites that used to feature in this view.
Mark Dufton 07/01/2012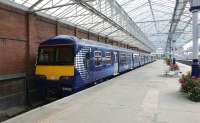 Helensburgh Central: Waiting for work. A pair of Class 320 EMUs in ScotRail blue, stabled in platform 3 (onetime platform 4) at Helensburgh Central on 23 September 2012.
John McIntyre 23/09/2012
Scotsman,Abellio