Customers using Scotland's Railway are continuing to benefit from a recent strong performance in the number of trains running on time across the network.
New figures released today show that 93.2 per cent of trains met the rail industry standard public performance measure (PPM) in period ten (13 December to 9 January).
The PPM statistics for the last two periods are the highest since records began in 2000.
(
Permalink
)
ScotRail
ScotRail will reduce the number of carriages on some services from Monday (18 January) as the train operator continues to provide a critical service during the COVID-19 pandemic.
The revised lockdown restrictions announced by the Scottish Government this week have had a further impact on the number of people travelling, and fewer seats are needed to continue running a safe and reliable service.
(
Permalink
)
COVID-19
ScotRail
While we can't venture outside for fun, enjoy these great events virtually from the comfort of your home.
(
Permalink
)
ScotRail
Scotland's main train operator could run services with half the normal carriages after passenger numbers fell by 90 per cent.
(
Permalink
)
COVID-19
ScotRail
Rail bosses have admitted they dont expect passenger numbers to return to pre-pandemic levels as reducing services amid the current lockdown are 'under active consideration'.
(
Permalink
)
COVID-19
ScotRail
Scotland's main train operator is to further reduce services within weeks after the latest lockdown triggered another fall in passenger numbers, The Scotsman has learned.
(
Permalink
)
COVID-19
ScotRail
Edinburgh News

Passengers on Scotland's main train operator will see ticket prices going up by up to 2 per cent less than on other rail firms.
(
Permalink
)
Fares
ScotRail
Ticketing
Due to the exceptional circumstances caused by Covid-19 the train operator is waiving the charge for refunds.
(
Permalink
)
COVID-19
ScotRail
Grampian Online

ScotRail has defended its decision to cut a number of services after concerns over social distancing during a potential 'Christmas travel spike'.
(
Permalink
)
COVID-19
ScotRail
John O Groat Journal

ScotRail is reminding customers to check their journey before travelling to see which services are affected from Sunday.
(
Permalink
)
ScotRail
Timetabling
ScotRail's much-loved fleet of Class 380 electric trains is celebrating its 10-year anniversary.
Over the last 10 years there have been almost 125 million passenger journeys on the 38 trains which have clocked up nearly 50 million miles from Ayrshire to Glasgow, Edinburgh, East Lothian and beyond.
So, its little wonder ScotRail decided the Class 380s deserved a makeover.
The transformation of the 130 carriages includes new seat upholstery, a paint refresh, the installation of new flooring, and general repairs to tables, bins and handrails.
(
Permalink
)
Class 380
ScotRail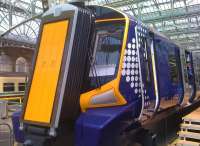 Glasgow Central: The Class 380 mock up on display at Glasgow Central Station in May 2009, in what was then then short stay car park. This later became the renumbered platforms 12 and 13.
Colin McDonald 16/05/2009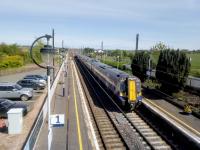 Drem: A six-car Class 380 pulls into Drem where it will fill the westbound platform. Note the unusual platform lighting: heritage-style Sugg Rochester lanterns on brackets presumably designed to keep clear of the cat's cradle of overhead live-lines, earths and support wires at this location.
David Panton 12/05/2018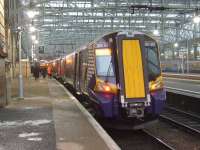 Glasgow Central: 380001 stands at Platform 15 and is the rear unit of the terminated 0742 Largs - Glasgow Central. Although now being used in service, the Class 380 continues to have teething problems and the class is not yet ready for full operation as hoped.
Graham Morgan 13/12/2010
This December, Christmas festivities may look a little different. But that doesn't mean you need to scrimp on the fun.
(
Permalink
)
ScotRail
Christmas is coming early this year for Scottish students, thanks to a massive 50 per cent discount on tickets from Scotlands Railway.
University students will be able to take advantage of half price travel on any off-peak ScotRail service until 24 December.
And, the train operator is getting into the festive spirit even more by simplifying the process of buying the tickets.
All a student needs to do is turn up at a staffed ticket office with their ID, jump on board and head home to their loved ones.
(
Permalink
)
Christmas
ScotRail
Scotland's railway has been a success story in recent years, with substantial investment in electrification, infrastructure enhancements and new fleets.
(
Permalink
)
Electrification
ScotRail
ScotRail has recognised community rail's unsung heroes at its annual ScotRail in the Community Awards.
The awards thank and celebrate the hard-working volunteers across Scotland's Railway, recognising their contribution to the wider local community and railway. Categories up for grabs this year included Adopt a Station of the Year, Community Involvement Champion, Station Adopter of the Year, Community Volunteer of the Year and Outstanding Contribution.
With restrictions on people attending live indoor events still in place, this years awards ceremony took place online, hosted by ScotRail's community development manager, Tracy Stephenson.
(
Permalink
)
Aberdour
Auchinleck
Duke Street
Gorebridge
Kilmarnock
New Cumnock
Portlethen
Rail 74
ScotRail
ScotRail in the Community Awards
Community Rail Network

The number of people travelling with Scotland's main train operator has dipped to a near-record low of just 9 per cent of normal on some days, The Scotsman has learned.
(
Permalink
)
COVID-19
Passenger numbers
ScotRail
Rail campaigners say they remain 'optimistic' that services will return to normal on the Far North Line once the Covid-19 pandemic is over.
(
Permalink
)
COVID-19
ScotRail
Timetabling
JohnOGroat Journal

Trains to and from Edinburgh have been disrupted and some could be cancelled due to the failure of a power supply.
(
Permalink
)
Power supply
ScotRail
A man from Glasgow looking to do Christmas shopping in Edinburgh asked the rail company 'if they'd mind' if he broke the rules.
(
Permalink
)
COVID-19
Scotrail
Edinburgh Live

Leasing company Eversholt Rail has awarded supplier Alstom Transport UK a £124m contract to undertake the mileage-based overhaul of its fleet of 40 three-car Class 334 Juniper electric multiple-units which are operated by ScotRail.
(
Permalink
)
Alstom
Class 334
Eversholt Rail
ScotRail
Railway Gazette

One of the best periods of performance during autumn for more than eight years has seen nine out of 10 trains arriving on time on Scotlands Railway.
Despite the challenges of the autumn weather, including heavy rain and strong winds affecting the network, figures released today (Friday, 20 November) show that 89.3 per cent of trains met the rail industry standard public performance measure (PPM) in the period (18 October to 14 November).
(
Permalink
)
Punctuality
Scotrail
ScotRail staff are to be balloted for strike action after lengthy negotiations surrounding a pay dispute have collapsed.
(
Permalink
)
Ballot
ScotRail
Labour MSP James Kelly told the Record it was time for the ScotRail franchise to be taken back into public ownership. ScotRail has been accused of treating businesses with 'contempt' after it was revealed the franchise is regularly taking more than 30 days to settle its bills. Labour MSP James Kelly said any delay in payments was putting unnecessary pressure on firms which may already be struggling as a result of the coronavirus pandemic.
(
Permalink
)
Nationalisation
ScotRail
Press and Journal

Ayr Advertiser

ScotRail's Robroyston station project has landed a top award at the Scottish Transport Awards 2020.
The new £14 million station scooped the prestigious prize in the Transport Team/Partnership of the Year category.
Opened on 15 December 2019, Robroyston station forms part of ScotRail's commitment to reducing carbon emissions, offering a free park-and-ride facility to take cars off the road and ease congestion in Glasgow city centre.
(
Permalink
)
Robroyston
ScotRail
Robroyston: Robroyston was officially opened by Michael Matheson MSP on the 16th of December. The station features a 263 space car park close to the M80.
John Yellowlees 16/12/2019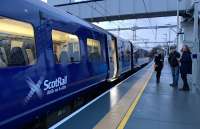 Robroyston: The first train (the 0837 to Cumbernauld) arrives at Robroyston at 0836 on Sunday 15th December.
Colin McDonald 15/12/2019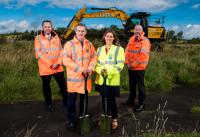 Robroyston: Work began on 12th September 2018 to construct the new Robroyston railway station, which will serve a development of 1,600 homes in the area around the site. The design and build contract which marks the start of work, was awarded to AmcoGiffen. Located between Stepps and Springburn on the Glasgow to Cumbernauld line, the new station will include step free platform access, together with two car parks with a total of 258 spaces, offering a new 'park and ride' facility for people driving into Glasgow along the nearby M80. Clearance works at the site were completed beforehand with ground investigations underway. The station is expected to open in December 2019. (l-r) ScotRail Chief Operating Officer Angus Thom; Michael Matheson, Cabinet Secretary for Transport, Infrastructure and Connectivity; Councillor Anna Richardson, City Convener for Sustainability and Carbon Reduction at Glasgow City Council and Alan Ross, Director Route Sponsorship for Network Rail Scotland at the site of the new Robroyston railway station.
ScotRail 12/09/2018
Scotland's Railway has relaunched its Stakeholder Panel as it continues to engage with the railway's key stakeholders. The original Stakeholder Panel was created in 2015 as part of the franchise awarded to Abellio. The Panel helps scrutinise the performance of Scotland's Railway, as well as bring insight and challenges to its work. The relaunch sees a brand-new membership in place, with the appointment of CBI Scotland Director Tracy Black as chair, alongside senior representatives from Scotland's key sectors.
(
Permalink
)
ScotRail
Stakeholder Panel
Inverness Chamber of Commerce chief executive Stewart Nicol joins Scotland's Railway stakeholder panel.
(
Permalink
)
ScotRail
New figures published today (Friday, 23 October) show that work to prepare for the effects of autumn resulted in more trains arriving on time, and the best performing September of the Abellio franchise.
Across Scotland, 92.3 per cent of ScotRail trains met the rail industry standard public performance measure (PPM) in the period 20 September to 17 October 2020 " the best September-October performance since the start of the Abellio franchise.
(
Permalink
)
COVID-19
ScotRail
Unions and opposition political parties have called on the Scottish government to follow the Welsh government and bring the railways back into public ownership.
(
Permalink
)
ScotRail
On World Mental Health Day 2020 (Saturday, 10 October) ScotRail is joining the Samaritans and encouraging people to look out for each other.
Railway staff across Scotland are being encouraged to share their coping mechanisms and to strike up a conversation with people who they feel may be struggling.
From taking a walk and chatting with friends to boiling the kettle for a cup of tea, staff have been sharing what they do to improve their mental health when they are having a tough day.
(
Permalink
)
Samaritans
ScotRail
World Mental Health Day
There is a new competitor to rail, one of the increasing band of impressive female leaders of the industry has observed, and people are growing to like it.
(
Permalink
)
COVID-19
ScotRail
With new and refurbished trains on the way, a rolling programme of electrification, and a devolved Government committed to further expansion, Scotland is showing other regions of the UK how to deliver a better railway. Ben Jones met ScotRail Alliance MD Alex Hynes to find out what is in store.
(
Permalink
)
ScotRail
The Railway Hub

ScotRail have appeared to take a cheeky dig at MP Margaret Ferrier after she breached coronavirus rules.
(
Permalink
)
COVID-19
ScotRail
The cost of running Scotland's main train operator has spiralled after commuters deserted the railways and now the way it's run could be about to change significantly.
(
Permalink
)
COVID-19
ScotRail