Conductors on Scotland's main train operator are to be balloted for industrial action over being paid less than drivers for working on days off.
(
Permalink
)
ScotRail
Strike
Edinburgh News

A series of six stoppages in support of a disciplined train conductor have been scrapped by the Rail Maritime and Transport (RMT) union after he was reinstated.
(
Permalink
)
Glasgow Central
Strike
The Scotsman

Scotrail workers at Glasgow Central station are to go on strike over alleged 'disciplinary abuses' from bosses.
(
Permalink
)
Glasgow Central
Strike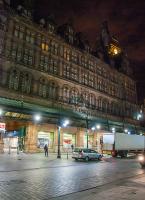 Glasgow Central: The Gordon Street frontage of Glasgow Central on the evening of the 21st of November. Above the entrance is the Caledonian's hotel, now the Grand Central Hotel.
Ewan Crawford 21/11/2016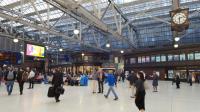 Glasgow Central: The large, open, bright and airy space of the Glasgow Central concourse.
Beth Crawford 23/05/2018
Ferry crews are to vote on possible strike action following the collapse of wage negotiations at west coast ferry operator Caledonian MacBrayne.
(
Permalink
)
Caledonian MacBrayne
Strike
Tonight marks the first of two periods of planned strike action from Caledonian Sleeper staff, leading to services being cancelled.
(
Permalink
)
Caledonian Sleeper
Strike
The Herald

Inverness Courier

Passengers using overnight trains between Scotland and London face four days of disruption after the Rail Maritime and Transport union (RMT) announced two walkouts over rest areas on trains for staff.
(
Permalink
)
Caledonian Sleeper
Strike
Train conductors on London Midland's service have announced they will take a vote over strike action.
The rail union RMT said it was balloting its 523 members over the proposed imposition of security contractors on trains.
The union says the company's move was made without agreement. The ballot closes on 2 February.
London Midland said it was 'very disappointed' the RMT was threatening action.
RMT general secretary Mick Cash said: 'The imposition of external contractors who have no additional skills or powers of authority to remove unruly passengers or fare dodgers is something we are totally opposed to.'
London Midland said the proposed changes were in reaction to feedback from front-line staff and passengers.
A spokesman for the train operator said: 'The security contractors are in addition to the senior conductors and have different duties.
'This is about safety as we have told the RMT many times, we have no intention of removing conductors from our trains'.
The RMT said it had been 'left with no option but to ballot' after London Midland management had failed to respond to its questions and proposals.
(
Permalink
)
Southern Railway
Strike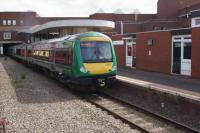 Walsall: A London Midland service from Rugeley to Birmingham New Street calls at Walsall on 21 June 2016.
John McIntyre 21/06/2016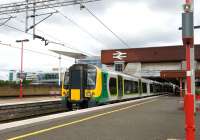 Birmingham International: London Midland EMU 350245 arriving at Birmingham International on 17 May.
Peter Todd 17/05/2011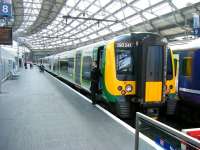 Liverpool Lime Street: Scene on platform 8 at Liverpool Lime Street station on 21 June 2013. London Midland 350241 is preparing to depart with a service to Birmingham New Street.
Veronica Clibbery 21/06/2013
A strike by conductors on the Southern rail network will still go ahead next week after the RMT was barred from ongoing talks, the union has said.
On Tuesday, the train drivers' union Aslef suspended three days of strikes next week for the talks to take place.
The RMT was due to strike next Monday and has said this will still go ahead.
RMT chief Mick Cash said the union wanted access to the same talks as Aslef. Southern said it was happy to have formal talks with the RMT.
'RMT demands again today that this union be given access to exactly the same talks process in our Southern rail disputes as has been brokered for our sister union by the TUC,' Mr Cash said.
(
Permalink
)
Southern Railway
Strike
Southern rail is to restore a 'full train service' from Tuesday after a union suspended industrial action, the rail firm has said.
The train drivers' union Aslef had been due to strike for three days next week but has called off the walkouts.
Southern said rosters had already been issued and it could not run a full timetable until 24 January.
The announcement was made ahead of fresh negotiations taking place on Wednesday between Aslef and Southern.
Aslef's strike days had been planned for 24, 25 and 27 January but the union suspended the action if the company agreed to 'engage in intensive talks'.
(
Permalink
)
Southern Railway
Strike
A train operator has two weeks to give 'cast-iron' assurances that guards will be retained or risk dispute, rail union RMT has said.
Merseyrail plans to introduce a new fleet of 52 driver-only-operated (DOO) trains in Merseyside from 2020.
RMT's announcement over fears for jobs and safety comes amid the latest strike by train drivers for Southern, over the issue of DOO trains.
Merseyrail said the new trains would be safer and there would be staff onboard.
None of today's permanent guards or guard managers would be forced to leave Merseyrail's employment, the company added.
The union's general secretary Mick Cash said its position on DOO 'is perfectly clear... we will not agree to any extensions of DOO and will fight to retain the safety critical role of the guard and to keep a guard on the train'.
(
Permalink
)
Strike
The owner of Southern rail says it will take the union Aslef to the Supreme Court over its industrial action on the train network.
Drivers are continuing a 48-hour strike, with another walkout planned for Friday. Almost all of its 2,200 daily services have been cancelled.
Further strikes by Aslef have been called for 24, 25 and 27 January.
Southern's owner Govia Thameslink Railway (GTR) lost a court case and an appeal last year over halting strikes.
Southern has insisted it will not back down in the dispute over who should open and close train doors.
(
Permalink
)
Southern Railway
Strike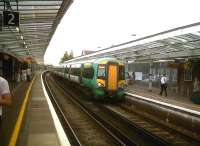 Chichester: A train for London Victoria coasts into Chichester on 2 July 2011. An airy and well-kept station.
Ken Strachan 02/07/2011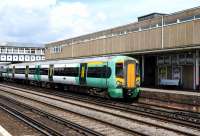 Eastleigh: Southern class 377 unit 377463 at Eastleigh on 9 July on its one daily visit from Brighton - soon to depart back home.
Peter Todd 09/07/2014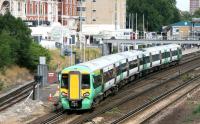 Kensington Olympia: A Southern Trains Brighton - Watford Junction Cross-London service about to call at Kensington Olympia on the West London Line in July 2005.
John Furnevel 21/07/2005
Thousands of Southern passengers suffered more strike misery today as a union warned of more stoppages to come and said a peace deal was a "universe away".
The bleak assessment on the 31st day of strike action to hit the beleaguered railway came as almost all services were halted for 300,000 people.
Battered commuters tried to beat the strike by trekking to nearby lines run by other rail companies - only to be met with huge queues.
It followed a separate strike on the London Underground yesterday.
(
Permalink
)
Strike
Evening Standard

Transport for London has offered unions a 'new' deal to try and stop a strike by Tube workers.
No details have been given of the last-minute offer to try and avert the action organised in protest at plans to close ticket offices.
It comes after the biggest rail union, the RMT, walked out of talks at conciliation service Acas on Saturday.
(
Permalink
)
Strike
A strike by Tube workers is to go ahead after the biggest rail union, the RMT, walked out of talks.
The 24-hour action from 18:00 GMT on Sunday is expected to cause mass station closures.
The strike is organised in protest at plans to close ticket offices. LU has warned travellers to expect major disruption to services.
Both the TSSA and London Underground (LU) remain in talks at the conciliation service Acas.
(
Permalink
)
Strike
Drivers on Southern Railway have overwhelmingly voted to strike in a dispute over driver-only trains.
The move raises the prospect of further travel disruption on Southern over the holiday period.
Members of the ASLEF union backed walkouts by 87% and other forms of action by 95%, with a turnout of 77%.
The union's executive is now deciding its next move and will have to give seven days' notice of any industrial action.
ASLEF accuses Southern Railway of seeking to impose changes rather than trying to find common ground, while the company's owners branded the ballot 'wholly unnecessary and unjustified'.
(
Permalink
)
Southern Railway
Strike
Sky News

Southern Railway workers are to stage strikes for three days from 22 December and three days from New Year's Eve.
The Rail, Maritime and Transport (RMT) union has announced the strikes as part of the long running dispute over the role of conductors.
Union members will strike from 00:01 on 22 December until 23:59 on Christmas Eve and again from 00:01 on New Year's Eve until 23:59 on 2 January.
A separate 48-hour strike is due to start at 00:01 on Friday.
(
Permalink
)
Southern Railway
Strike
A "well developed" transport plan is in place to deal with disruption caused by rail strikes taking place around major events like T in the Park and The Open, Humza Yousaf has said.
The Transport Minister chaired a meeting of the Scottish Government's resilience committee ahead of the latest planned strikes this weekend and next in an ongoing dispute between ScotRail and the RMT union over driver-only trains.
(
Permalink
)
Humza Yousaf
ScotRail
Strike
First Great Western rail workers are to stage strikes, including over the August Bank Holiday weekend, the Rail, Maritime and Transport union has said.
The RMT said the strike was being held over threats to jobs, services and safety from the introduction of the new Hitachi Intercity trains.
The union said it had not received the assurances it required from FGW.
The first Hitachi trains will run on the Great Western main line from 2017 and the East Coast main line from 2018.
(
Permalink
)
Hitachi
Strike
Workers on Southeastern trains in London have voted in favour of striking in a row over jobs.
(
Permalink
)
Southeastern
Strike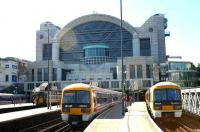 Charing Cross (London): Charing Cross station in July 2003.
Ian Dinmore /07/2003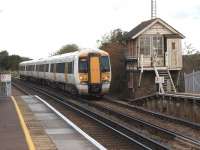 Wye: A Southeastern service from Ramsgate to London arrives at Wye between Canterbury and Ashford on 23 October 2010. The Signalbox is no longer in use although the level crossing at the south end of the platform is now worked from the station building.
John McIntyre 23/10/2010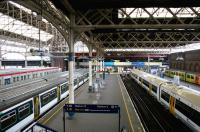 London Bridge: The south trainshed at London Bridge station on 23 July 2005, looking back along platforms 11 and 12 towards the station concourse.
John Furnevel 23/07/2005