Passengers and freight customers will benefit from more reliable services after the successful delivery of £16m of enhancements on Scotlands Railway.
(
Permalink
)
Network Rail
Major progress was made at Kings Cross during a six-day closure over Christmas, including work to reconstruct Camden Sewer which runs beneath the tracks
Teams lifted all four tracks entering the station for the first time in over 40 years
The East Coast Upgrade will bring a more modern, reliable railway for passengers, improving journeys between London, the North of England and Scotland
Network Rail and train operators on the East Coast Main Line are thanking passengers for their patience following the six-day closure at Kings Cross.
(
Permalink
)
Kings Cross
Network Rail
The G-NLDR vehicle was sent out by Network Rail to ensure the train lines in and around the Scottish capital were free of ice and snow.
(
Permalink
)
Helicopter
Network Rail
Edinburgh Live

Evening Times

Passengers in Scotland's biggest city are set to benefit from improved journeys in 2021 as Network Rail delivers projects to upgrade and renew infrastructure around Glasgow this festive period.
(
Permalink
)
Christmas Works
Network Rail
The Office of Rail and Road (ORR) has praised Network Rails response to Covid-19 but raised concerns over how Network Rail plans rail timetables for next year and in the longer term, and is requiring improvement by Network Rail on how rail capacity is allocated and access to the network is granted.
(
Permalink
)
COVID-19
Network Rail
Office of Rail and Road
ORR

As the rail industry works together to help people travel with confidence this Christmas, passengers are asked to plan in advance and book their outward and return journeys. 95% of the network is running as usual over the Christmas and New Year period, with essential engineering work taking place at key locations
Upgrade work will improve train reliability for passengers on several routes and boost connectivity between England and Scotland on the East Coast Main Line.
(
Permalink
)
Christmas
Network Rail
Rays of purple light will beam from railway stations across the country on Thursday (3 December) as the rail industry joins the global #PurpleLightUp movement and celebrates the contribution of disabled people around the world.
(
Permalink
)
Network Rail
A Christmas travel tsar has been appointed in an effort to avoid transport chaos during the festive period. Sir Peter Hendy, the chairman of Network Rail, will scrutinise whether train, air and road networks are ready for millions of people making trips over the five-day window when coronavirus restrictions are eased, the Department for Transport said.
(
Permalink
)
COVID-19
Christmas
Network Rail
Peter Hendy
The Guardian

Network Rail and RIBA Competitions have revealed the names of the five design practices selected to compete in the next phase of their competition to shape the future of Britains railway stations.
(
Permalink
)
Network Rail
Station design
Progress Rail, a Scottish head-quartered engineering firm, is in danger of closure. This is according to the Transport and Salaried Staff Association (TSSA) trades union. They say that Network Rail has decided to buy what they call safety-critical rail crossings made abroad, instead of those made at the Scottish plant. [See also news item 08/10.]
(
Permalink
)
Network Rail
Progress Rail Services
RailFreight.com

Network Rail has announced a major step forward in tackling climate change by becoming the first railway company in the world to set the most ambitious Science-Based Targets to limit global warming.
(
Permalink
)
Climate Change
Network Rail
Scrap yards across the West Midlands and Warwickshire are being visited by Network Rail and the British Transport Police to ensure dealers are not trading stolen metal.
(
Permalink
)
Metal theft
Network Rail
Twenty years ago, on 17 October 2000, a train derailed just south of Hatfield station while travelling at around 115mph. Four people died, 70 were injured. The accident was caused by rolling-contact fatigue (metal fatigue) of the left-hand rail, which broke as the train passed over it.
Railtrack (the private infrastructure operator) and Balfour Beatty (the contractor responsible for track maintenance on that line) were found guilty of breaching health and safety laws. Railtrack was forced by the government into administration, and publicly owned Network Rail was established.
(
Permalink
)
Balfour Beatty
Hatfield crash
Network Rail
Railtrack
Rail Engineer

Almost 1,500 lifts and 300 escalators across some 500 stations around the country will soon be directly 'live' reporting their working condition. Passengers will be able to see which lifts and escalators are working, helping them plan their journeys through stations with real-time knowledge of the access available.
(
Permalink
)
Network Rail
Open data
Rail Wellbeing Live on 4th/5th November set to be industry's biggest ever free wellbeing event
Aims to'revolutionise' thinking around health and wellbeing in rail industry
More than 140 speakers and 80 pick 'n' mix sessions across 2 day virtual event.
(
Permalink
)
Network Rail
Virtual Event
Wellbeing
Network Rail has provided a huge boost to the Great British September Clean - by once again pledging to get all 41,000 employees involved. It says litter and graffiti can cause safety problems for passengers.
(
Permalink
)
Network Rail
Daily Mail

The National Composites Centre (NCC) has partnered with Network Rail to investigate, design and build a composite footbridge.
The new partnership sees Network Rail join the NCC as a Tier One Member - the first rail infrastructure company to do so - which gives Network Rail access to use the world-leading expertise facilities and capabilities at the NCC.
The concept footbridge, conceived and ...
(
Permalink
)
Footbridge
National Composites Centre
Network Rail
Scottish Construction Now

Ross-shire Journal

Network Rail, Scottish Government and City of Edinburgh Council have today revealed their concept designs for transforming the capitals main station as part of the Edinburgh Waverley Masterplan.
(
Permalink
)
City of Edinburgh Council
Edinburgh Waverley
Network Rail
Scottish Government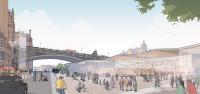 Edinburgh Waverley: Master-plan for Edinburgh Waverley, Market Street side entrance (the Klondyke or Old Town side to the south of the station). North Bridge in background.
Network Rail /08/2020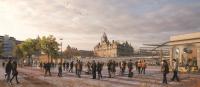 Edinburgh Waverley: Network Rail's master-plan for Edinburgh Waverley showing the entrance from Waverley Bridge.
Network Rail /08/2020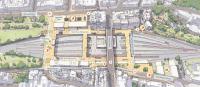 Edinburgh Waverley: The Edinburgh Waverley master-plan showing the mezzanine level and without the glass roof. This aerial view is from the south.
Network Rail /08/2020
Network Rail has announced that tree cutting work on the line between Glasgow and East Kilbride / Barrhead, paused due to the COVID-19 pandemic, will now resume.
(
Permalink
)
Barrhead
Covid-19
East Kilbride
Electrification
Network Rail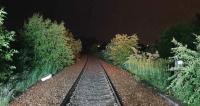 East Kilbride: Clearing the trees and vegetation along the 11-mile railway corridor is now underway and will be ongoing until December. It will enable site and geological investigation (SI/GI) which will inform the development of proposals to enhance the railway.
Network Rail //2020
Household waste is helping to keep the lights on for 50,000 homes during the coronavirus crisis as Network Rail continues to move an essential freight service which carries waste from London to an energy plant in the South West.
(
Permalink
)
Covid-19
Network Rail
Network Rail and construction firm Bam Nuttal secured the site on Saturday as work was suspended.
(
Permalink
)
COVID-19
Kintore
Network Rail
New station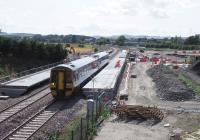 Kintore: ScotRail 158707, on the 14:20 departure from Inverurie to Inverness, passes through the new platforms at Kintore on 22nd August 2019.
Duncan Ross 22/08/2019
Grampian Online

Network Rail has identified a site in Sandwell to build a new factory that will produce concrete sleepers for the network in the future.
The railway sidings at Bescot have been selected for the potential project, and will create 100 jobs in the West Midlands whilst ensuring that Bescot is a key location on the nations railway map.
If approved, the facility hopes to produce up to 600,000 sleepers a year making up 60% of the countrys supply, with Network Rails separate sleeper facility in Doncaster making up the remaining 40%.
The Bescot site will be directly connected to the network to ensure that sleepers can be transported quickly and easily around Britain.
(
Permalink
)
Network Rail
RTM

Flying Scotsman has marked the reopening of the landslip-hit Settle-to-Carlisle rail line.
The stretch at Eden Brows, between Carlisle and Armathwaite, had to be shut in February last year after 500,000 tones of earth moved.
Network Rail underpinned the line by driving hundreds of concrete-filled steel piles into the bedrock.
Paul Barnfield, regional director for train operator Northern, said the £23m project had been a 'mammoth task'.
(
Permalink
)
Eden Brows
Landslide
Network Rail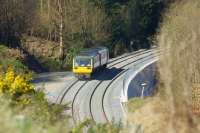 Eden Brows: A Class 142 (number 142066) on an Appleby to Carlisle ecs move (suspected to be for route refreshing) passes the site of the landslip at Eden Brows on 25 March 2017. This is the second day that these runs have taken place. The DMU is crossing the section where the slip occurred and where Network Rail has spent the past year rebuilding the trackbed and there is now a substantial retaining wall and piles beneath to support the line. The line is scheduled to reopen to passenger traffic on 31 March 2017 with Flying Scotsman hauling the reopening special.
John McIntyre 25/03/2017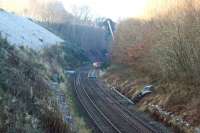 Eden Brows: The Settle and Carlisle Railway was closed in early 2016 due to a landslip at Eden Brows between Armathwaite and Cumwhinton. Network Rail and their contractor Story have constructing an enormous concrete and steel structure that will sit beneath the railway. They are also carrying out significant ground stabilisation between the railway and the River Eden some 70 metres below the line. This view from an overbridge to the south of the site shows the track removed in the distance beyond the yellow container. The line is scheduled to reopen on 31 March 2017.
John McIntyre 21/01/2017
Rise Hill Tunnel: Flying Scotsman northbound near Rise Hill Tunnel on the Settle & Carlisle line on 30 September 1978 with The Lord Bishop. The special was bound for Appleby, where a memorial service was held for Bishop Eric Treacy.
Ian Dinmore 30/09/1978
Steam trains formed of Mk 2 carriages will replace DMUs on timetabled trains over the Settle & Carlisle (S&C) route next month.
A1 Pacific 60163 Tornado, completed in 2008, will haul the Northern trains over the S&C between Skipton and Appleby on three consecutive days. The first timetabled ordinary main line passenger steam trains to run in England for 50 years are the result of a pioneering modern and heritage industry alliance, formed to help revive the economic fortunes of the beleaguered S&C as well as the towns and villages that it serves. The railway, opened in 1875, was severed by a major landslip last February and has been in limbo ever since.
This alliance comprises Northern, Network Rail, DB Cargo, the A1 Steam Locomotive Trust and Friends of the S&C, together with RAIL and Steam Railway from the Bauer Media magazine portfolio, who came up with the proposal two years ago.
The historic community trains are being promoted under the banner I LOVE S&C.
(
Permalink
)
Eden Brows
Landslide
Network Rail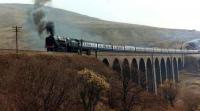 Arten Gill Viaduct: Class 9F 2-10-0 92220 Evening Star takes a northbound railtour over Arten Gill Viaduct circa 1984.
Colin Alexander //1984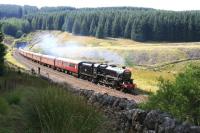 Blea Moor Tunnel: 45305 with 'The Waverley' York - Carlisle charter at the northern portal of Blea Moor tunnel on 9 September 2012.
Peter Rushton 09/09/2012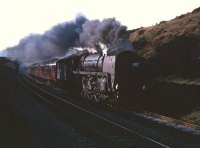 Armathwaite: The Jubilee Railway Society South Yorkshireman No 5 railtour of 30 April 1966 on the return leg from Carlisle to Bradford via the Settle and Carlisle line. The train is approaching Armathwaite Tunnel behind 70035 Rudyard Kipling. The Britannia was deputising for Jubilee 45593, Kolhapur which had failed at Carlisle. See image [[21052]]
Robin Barbour Collection (Courtesy Bruce McCartney) 30/04/1966
Rail

Route-based management teams which include representatives from Network Rail and the train operator will run Britain's railway in the future under reforms announced by the Transport Secretary today.
The changes, which appear less radical than many earlier reports had suggested, will see future franchises adopting alliance structures similar to those used in the South West and Scotland in recent years.
Speaking to the BBC, Chris Grayling said Network Rail was too centralised and needed to become a collection of route-based businesses with a local management team that knows the line. [From Richard Buckby]
(
Permalink
)
Network Rail
The new station at Cambridge North is due to open on schedule after major construction work over Christmas.
Network Rail engineers built platforms, installed tracks for a new bay platform and fitted overhead wires over the festive season. The footbridge, lift shafts, stairwells and main station building were built last year, meaning the development is now 80% complete and due to open in May. When completed, the station will have three platforms, parking for 450 vehicles and 1,000 cycles, and solar panels to provide up to 10% of its power. [From Richard Buckby]
(
Permalink
)
Network Rail
Rail passengers will face disruption over the Christmas period, with 200 sets of engineering works affecting up to 10% of the railways.
Network Rail, which maintains the UK's railways, said doing planned works over the festive season would have the least effect on the travelling public.
London, Manchester and Cardiff are among the cities hit, and the Heathrow Express will be suspended for six days.
(
Permalink
)
Network Rail
The Settle to Carlisle line will finally reopen by 31 March after being closed for over a year following a 500,000 tonne landslip, Network Rail has promised.
Northern rail services on the line have been replaced by buses since a section of the gorge bank above the River Eden gave way in poor weather on 31 January this year.
The infrastructure owners chosen engineering scheme, of building a concrete and steel tunnel-like structure under the tracks at a cost of £23m, is now underway.
Rhiannon Price, project manager for Network Rail, said: The viaduct-like structure were building will safeguard this section of railway for generations to come. If the land gives way again, the railway will not.
This is a complex repair job many months in the planning. We are now focused on getting this iconic and much-loved line fully reopened right the way to Carlisle as soon as possible, which is on schedule 31 March 2017.
(
Permalink
)
Eden Brows
Landslide
Network Rail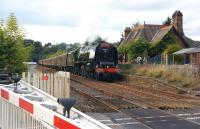 Culgaith: Stanier pacific no. 46233 Duchess of Sutherland with the southbound Cumbrian Mountain Express on 6 September 2014 passing Culgaith, with the residents of the former station enjoying the spectacle from the adjacent fence.
John McIntyre 06/09/2014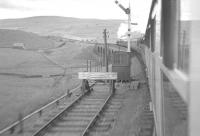 Moorcock Viaduct: Having just passed through Garsdale station on 9 July 1961, The Borders Rail Tour runs onto Moorcock Viaduct. On the front of the train is 46247 City of Liverpool, which took the special as far as Petterill Bridge Junction, Carlisle, before handing over to a pair of B1s for the next leg to Hawick. See image [[33252]]
K A Gray 09/07/1961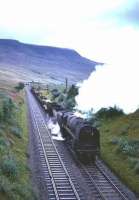 Ais Gill Summit: BR Standard class 9F 2-10-0 no 92009 heads south on the Settle and Carlisle line at Ais Gill in the 1960s with a mixed freight.
Robin Barbour Collection (Courtesy Bruce McCartney) //
Trains have started running on a second line between London and Oxford city centre following a £320m project.
Chiltern Railways said its new service to London Marylebone would offer 'genuine competition'.
Great Western Railway already runs a service between Oxford and London Paddington.
The new service started running from the new station Oxford Parkway, when it opened a year ago, but was extended to the city centre from Monday.
Network Rail contributed £190m towards the project, with Chiltern Railways investing £130m.
More than 850,000 journeys are expected to be taken to or from Oxford on the new services in the next year.
(
Permalink
)
Network Rail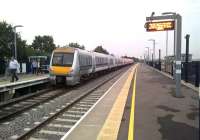 Oxford Parkway: This Chiltern Railways train arrived at Oxford Parkway at 19.53 from Marylebone, carrying an impressive load of commuters; and returned as the 20.08 see image [[55244]].
Ken Strachan 25/08/2016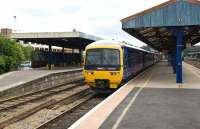 Oxford: First Great Western DMU no 165137 waiting to depart from Oxford on 17 May with a service to Bicester Town.
Peter Todd 17/05/2011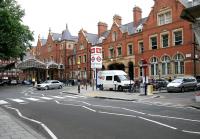 Marylebone: Road approach to the Great Central Railway's London terminus at Marylebone, seen here looking west in July 2005.
John Furnevel 23/07/2005
Network Rail Property and CPMS today won the Railway Heritage Trust Conservation Award for the conversion of Corrour signal box to holiday accommodation.
Platform 1864 Restaurant at Tain Station was a runner-up in the same category.
The other Scottish runner-up was Keith Town for the Taylor Woodrow Partnership Award, where the winner was Dover Marine.
(
Permalink
)
Network Rail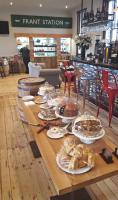 Tain: The interior of the Platform 1864 restaurant at Tain station (not Frant!).
John Yellowlees 17/06/2016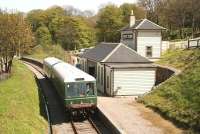 Keith Town: The early afternoon service to Dufftown awaits its departure time at Keith Town on 20 May 2012.
John Furnevel 20/05/2012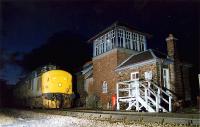 Corrour: Class 37 hauled sleeper train heading south at Corrour at night. Lit by studio flashes.
Ewan Crawford //
National Railway Heritage Awards

The government has unveiled plans for a fully privatised railway line, with track and trains operated by the same company.
A new line linking Oxford and Cambridge will not be developed by Network Rail, the owner of Britain's rail infrastructure. Instead, a new entity will be responsible for track and infrastructure, as well as operating train services, under proposals drawn up by the transport secretary, Chris Grayling.
(
Permalink
)
Network Rail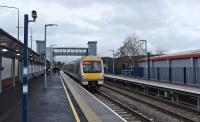 Bicester Town: 168 312 standing under the new footbridge and lifts waiting to head for London. See image [[25588]] for a similar view 7 years previously.
Peter Todd 09/01/2016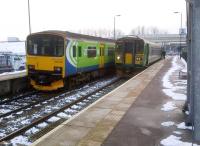 Ridgmont: Services for Bletchley (left) and Bedford (right) cross at this lonely stop on the remnant of the Oxford - Cambridge 'Varsity line' in February 2012. see image [[37613]]
Ken Strachan 10/02/2012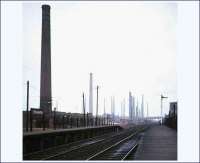 Stewartby: Brick City. Stewartby (originally Wootton Pillinge), Bedfordshire, on the Oxford - Bedford line in 1974. Built to house workers of the London Brick Co, with kilns and chimneys surrounding the station and dominating the landscape. At its peak, this enormous site boasted 167 chimneys and produced 16 million bricks per day. (Editor's note: The last bricks were made here on 29 February 2008 following a rundown by owners Hanson, due to failure to meet new limits for sulphur dioxide emissions. The 4 remaining chimneys on the site are now listed structures. For a view of the survivors see image [[74027]])
Ian Dinmore 16/02/1974
The way that England's railway network is run is set to be overhauled under plans outlined by Transport Secretary Chris Grayling.
He wants each rail franchise to be run by joint management teams, including representatives from both the train operating company and Network Rail.
Mr Grayling said: 'I intend to start bringing back together the operation of track and train on our railways.'
The changes will start when each franchise is renewed in the future.
The minister stressed that he wanted his proposed changes to lead to a big improvement in service for passengers, who are travelling on an increasingly crowded and expensive network.
(
Permalink
)
Network Rail
Network Rail and its main contractor, J Murphy & Sons, are close to completing the £133 million electrification of the Gospel Oak to Barking line.
Work on the London Overground line is 80 per cent complete and on schedule to reopen in February 2017 following a lengthy closure.
From 2018, the two-car Class 172 diesel units currently in use will be replaced by four-car Bombardier Aventra EMUs.
Over 100 kilometres of overhead catenary and more than 600 structures are being installed along the line. [From Richard Buckby]
(
Permalink
)
Network Rail
Network Rail will be stripped of its control over Britain's train tracks and power will be handed to operators in the biggest shake-up of the railways for decades, the Government is to announce.
In an attempt to end delays and to lower fares for consumers, Chris Grayling, the Transport Secretary, will say he wants the state-owned Network Rail to share responsibility for running the tracks with private train operators.
It means that rail companies such as Virgin and Southern would become responsible for repairs and maintenance for the first time, ending Network Rail's monopoly.
The Government hopes the change will incentivise train companies to complete repairs more quickly and possibly herald cheaper fares.
(
Permalink
)
Network Rail
Telegraph

Calls for the Scottish Parliament to be given full responsibility over Network Rail have been backed by a think tank.
Reform Scotland said its research suggested more than half of delays to trains in Scotland were due to Network Rail faults rather than ScotRail.
It said devolving the organisation would allow a 'clear line of accountability' when things go wrong.
Network Rail is funded by Transport Scotland but is ultimately accountable to Westminster, not Holyrood.
A spokesman for Network Rail said: 'We work closely with the Scottish and UK governments to continually enhance and improve our railways. Any discussions over further devolution of Network Rail in Scotland would be a matter for those governments'.
The full devolution of Network Rail - which is responsible for maintaining rail infrastructure - has been a long-standing ambition of the Scottish government.
(
Permalink
)
Network Rail
ScotRail