An internal traction strategy has been produced by Direct Rail Services that plans to gradually eliminate the heritage part of the companys fleet - starting with Class 20s and 37s. DRS Managing Director Debbie Francis told RAIL that the speed and extent of the plan will depend on customer demand for the traction, with Network Rails requirement for Class 20s for seasonal railhead treatment work being an example. Except at a clients behest, no further heavy maintenance will be carried out on these classes. The locomotives will not be sold, but will be offered to heritage railways for service off the national network at a peppercorn charge. This approach has previously been used successfully.
More
Rail
Fire-hit Old Railway Station in Ballater celebrates first year since rising from the ashes [Press and Journal]
A royal landmark in Deeside has celebrated the end of its incredible first year, after it rose from the ashes of a devastating blaze.
More
The RMT union wants all cleaners at major railway stations to be paid the Real Living Wage.
More
The West Highland line is due to reopen after severe weather caused flooding and tracks were swept away.
More
Dutch-owned firm Abellio has taken over the East Midlands rail franchise, promising £600m of investment. It won the eight-year contract after Stagecoach was disqualified from bidding as it refused to take on pension liabilities. Abellio, owned by the Dutch government-owned rail firm, has promised new trains, 165 new carriages, and improved infrastructure. East Midlands Trains will now be called East Midlands Railway (EMR).
More
The new board will try to secure the cheapest delivery of two CalMac ferries at the now nationalised shipyard.
More
Funicular work to finally begin in May – operators reveal – as new attraction launches [Press and Journal]
Work on the troubled Cairngorm funicular railway will finally begin in May - operators revealed yesterday - as a new attraction on the mountain was officially launched to boost tourism.
More
'Riot' on Inverness to Aberdeen train sees rampaging thugs strike as cops race to scene [The Sun]
Cops were called amid claims of a riot on a train between Inverness and Aberdeen tonight. Witnesses said several people were attacked during what Police Scotland called a 'large disturbance' as the train approached Forres, Morayshire, just after 6.30pm.
More
The Sun
Indignant residents of the Mallorcan town of Soller have said their railway is not for sale after a group of investors launched a hostile takeover bid. The town has been linked to the capital, Palma, with a picturesque narrow-gauge railway since 1912. The train, with its wooden carriages, has been in continuous use ever since, climbing 200 metres and passing through 13 tunnels on its 27km journey. Money for building the line was raised among the towns residents, and to this day most of the 172,000 shares in the private company Ferrocarril de Soller are owned by about 800 local people, many of whom hold as few as 10 shares each.
More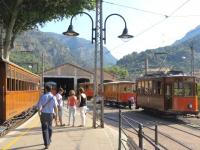 Soller: A service awaiting its departure time from Soller in the summer of 2014, with various vehicles standing in sidings on the right outside the depot.
Mark Wringe 27/07/2014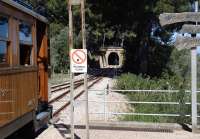 Soller: A Northbound train on the Ferrocarril de Soller stops at a convenient viewpoint overlooking the town on 17 April 2016.
John Thorn 17/04/2016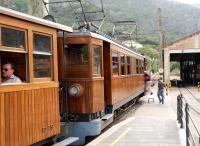 Soller: A train on the Soller Railway alongside Soller depot on 19 October 2012.
Peter Todd 19/10/2012
Guardian
Following earlier than anticipated completion of the work to repair damage from recent flooding, Network Rail has announced that the West Highland Line will fully re-open for start of service on Monday, August 19.
More
Network Rail
Edinburgh Festival passengers from London told they will have to travel via Glasgow [Scotsman]
Passengers faced with the main Edinburgh-London rail link being severed over the English August bank holiday weekend are being warned that trains on an alternative route will be full.
More
The section of railway between Aberdeen and Inverness is set to reopen next week.
More
Building a short stretch of track would give Edinburgh a third main rail hub [Evening News]
The proposed Almond Chord rail line would link the moribund Edinburgh Gateway station with the main Edinburgh-Glasgow line beyond Winchburgh, writes John McLellan. For once frustrated travellers cant entirely blame ScotRail for the cancellation of scores of services after severe flooding at the Winchburgh tunnel kept the main Glasgow-Edinburgh line closed for several days. But although a months rain in 30 minutes was bound to cause some disruption, it could have been minimised had there been an alternative route. And just such an option was mooted a decade ago, the so-called Almond Chord, a short length of new track to link up the line running through the still-moribund Edinburgh Gateway station with the main Glasgow line beyond Winchburgh. Sadly, the Scottish Government in its wisdom axed the scheme in 2012 even though Network Rail had bought the land.
More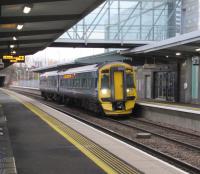 Edinburgh Gateway: A Dundee service calls at Gateway on 8 November 2018. 'Edinburgh Gateway station white elephant' is a prefill on Google. Just saying.
David Panton 08/11/2018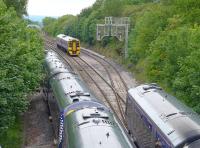 Dalmeny Junction: Scene at Dalmeny Junction during the Winchburgh Tunnel diversions on 18 June 2015. 158726 waits its turn to head to Edinburgh from Fife as trains to Dunblane (left) and from Dunblane (right) negotiate the Dalmeny loops.
Bill Roberton 15/06/2015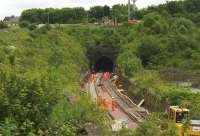 Winchburgh Tunnel: The scene at the Linlithgow end of Winchburgh tunnel on 2nd July 2015 with the lowering of the track level in progress. On the right are the now-flooded claypits of the former brickworks.
Colin McDonald 02/07/2015
Evening News
FirstGroup is to take over the running of the West Coast mainline train route, connecting London Euston to Glasgow Central, from December. Along with Italian firm Trenitalia, FirstGroup said the route would pave the way for an era of high-speed rail. First Trenitalia replaces Virgin Trains, which was barred from bidding to keep the route. Transport Secretary Grant Shapps said the bid was part of a shift to a new model for rail.
More
Rail users in the UK are expected to be hit by a further rise in ticket prices which will come into effect next year. The increase will be based on the Retail Prices Index (RPI) inflation measure for July which will be announced on Wednesday. Analysts expect the figure to be around 2.8%, likely to lead to an increase of more than £100 in the annual cost of getting to work for many commuters.
More
A community campaign to save a historic Aberdeen railway signal box has reached the end of the line – and demolition has started.
More
Ahead of the arrival of brand new trains, unit 142005 has completed its final day of service for UK train operator, Northern, after it clocked-up more than three million miles of customer journeys.
More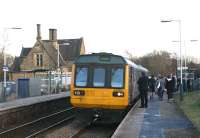 Appley Bridge: A Manchester to Southport service in the hands of Northern Rail 142005 calls at Appley Bridge late in the afternoon of 10 February 2010. The original station building stands on the Up platform although now in use as the 'Station Bar'.... could be worse..
John McIntyre 10/02/2010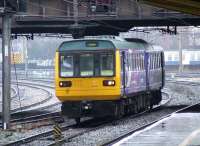 Preston: 142005 pulls into Platform 2 at Preston with a service for Colne on 7th January 2009.
Graham Morgan 07/01/2009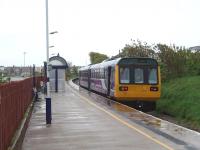 Blackpool South: A very wet Blackpool South station sees Northern Pacer 142005, standing by the buffers, ready to leave on the 0844 service to Colne. This is the old Down Lytham platform. All the former railway land to the left of the fence is now used for car parks and roads as is the area behind the photographer continuing all the way to the former Blackpool Central station.
Mark Bartlett 05/05/2009
Global Railway Review
Edinburgh Festivals predict 'total disaster' over plan to sever London rail link [Scotsman]
Organisers of Edinburghs festivals say they are facing total disaster over plans to sever the citys main rail link with London over the August Bank Holiday weekend. International Festival, Fringe, Tattoo and book festival chiefs have pleaded with Network Rail for a rethink over a programme which will axe all services heading north from Kings Cross on 24 and 25 August.
More
The Glasgow Subway opened for the first time in December 1896, making it the third-oldest underground metro system in the world, behind only the London Underground and Budapest Metro. With its circular route and distinctive orange livery, Glasgows underground system has been playfully nicknamed the Clockwork Orange by the media, after Anthony Burgesss 1962 satirical novel of the same name. The 15-station, 10.5km metro loop plays an important role in the economic and cultural life of the city, recording 12.7 million journeys in 2017/18.
More
Railway Technology
Vintage sign could be reinstated at Kintore Railway Station after farmers shed discovery [Press and Journal]
A vintage sign that once welcomed rail passengers to Kintore could be given pride of place once again when the Aberdeenshire communitys railway station reopens after more than 50 years.
More
Edinburgh-Glasgow ScotRail trains disrupted as Winchburgh tunnel hit by flooding for second time in days [Scotsman]
Rail services between Edinburgh and Glasgow have been disrupted this morning due to more flooding at the Winchburgh tunnel in West Lothian.
More
Railway station ticket barriers could be replaced by sensors which detect when passengers board trains [Telegraph]
The desperate scrabble for your ticket while running for a train could be a thing of the past, a manufacturer has claimed, with sensors potentially replacing ticket barriers which detect when passengers board trains.
More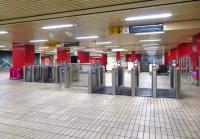 Gateshead [Metro]: The deserted ticket hall at Gateshead Metro station late in the evening of 26 March. The ticket barriers are left open. I'm sure they know what they are doing.
David Panton 26/03/2019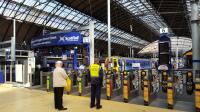 Glasgow Queen Street High Level: The ticket barriers at high level Queen Street, complete with high visibility Customer Service representative.
Beth Crawford 18/05/2017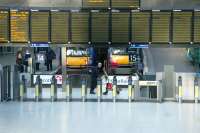 Edinburgh Waverley: A quiet Sunday morning at Waverley in April 2006 looking over the ticket gates to platforms 14 and 15, featuring one of the many cleaning and maintenance staff who work hard to keep the place looking as smart as it does here.
John Furnevel 16/04/2006
Telegraph
Leave your cars, take the train or bus, visitors to Harry Potter film location told [Press and Journal]
Residents in a Lochaber village overrun with tourists are asking visitors to use a bus or train visit to try to contain car parking 'chaos'. A lack of parking on the A830 Fort William to Mallaig road is causing problems as tourists from all over the world flock to see scenes made famous in blockbuster Harry Potter films. With pedestrians spilling onto the main carriageway residents say traffic problems are an accident waiting to happen. It is understood that more than 15,000-20,000 people a week are now visiting the site in the summer.
More
It is widely regarded as one of the world's most dramatic and scenic train journeys, made famous as the passage to Hogwarts in Harry Potter. But plans announced five years ago to transform the passenger experience with 'scenic trains' on the popular West Highland Line and other key tourist routes have fallen behind schedule, leaving ScotRail racking up undisclosed fines over the delay.
More
The Herald
The Aberdeen to Inverness track will be closed from today until Monday, which will affect all train stations between the two cities.
More
Railway passengers across the UK are feeling the effects of unseasonable weather conditions battering the country. Trains have been brought to a halt after trees were sent crashing down on to railway lines due to strong winds, with the main line between Scotland and north-west England blocked by flooding.
More
ITV News
Public tell of delays, power cuts and being told to take a taxi 100 miles to their destination. With luxury double rooms, en suite showers and a breakfast service which includes smoothie bowls and eggs royale, the relaunch of the renowned Caledonian Sleeper just over 100 days ago seemed to have elevated the train service to the highest standards of luxury and convenience.But since the £150m fleet of trains was introduced in April, it has been beset with difficulties " from severe delays and botched reservations to food shortages and a broken air conditioning unit. One passenger complained of a power cut, while another one was forced to sleep with the lights on.
More
The Guardian
National Grid has said it will 'learn the lessons' after nearly one million people across England and Wales lost power on Friday. But director of operations Duncan Burt told the BBC that its systems 'worked well' after the 'incredibly rare event' of two power stations disconnecting. He said he did not believe that a cyber-attack or unpredictable wind power generation were to blame. Regulator Ofgem has demanded an 'urgent detailed report' into what went wrong. It said it could take enforcement action, including a fine, after train passengers were stranded, traffic lights failed to work and thousands of homes were plunged into darkness during the blackout. Some train services continued to be disrupted on Saturday morning.
More