Works to the Broughty Ferry pedestrian underpass at the train station is set to begin next month.
More
A north-east MSP has hit out at the Scottish Government over its handling of seat reservations on inter-city services.
More
Evening Express

Train operator LNER is having to re-record onboard announcements after Scottish passengers complained that hearing stations mispronounced was like 'nails on a blackboard'.
More
More trains were cancelled in Fife than any other area in Scotland, new figures show.
More
Fife Today

Work is now underway at three Ayrshire stations to clean, repair and repaint the footbridges in an investment of £600,000. [The bridges are those at Newton on Ayr, Saltcoats and Barassie.]
More
Highlands and Islands Enterprise has provided an update on the mountain railway which has been out of action since September 2018.
More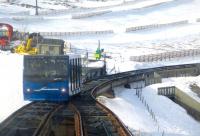 Ptarmigan Station: Ascending Cairngorm Mountain Railway car, seen from the descending car at the mid-way passing point on 24th February 2018.
David Bosher 24/02/2018
Strathspey and Badenoch Herald

Far north on track for 'a more reliable railway' within five years [John O Groat Journal]
Rail passengers in Caithness and Sutherland can look forward to 'a more reliable railway' in the next five years, it has been claimed.
More
The UK is building a railway which is heading to fantasy land - and the taxpayer is funding the journey.
More
ITV News

Extra ferry routes outlined as efforts made to support island economies [Press and Journal]
The final details of additional ferry sailings to operate on routes to Skye and between North Uist and Harris have been announced with just shy of 200 additional services to benefit locals and visitors alike.
More
Press and Journal

A ScotRail conductor captured footage of the stag trotting across the iconic bridge in the Scottish Highlands.
More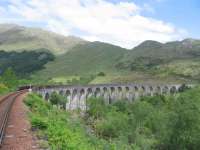 Glenfinnan Viaduct: Glenfinnan Viaduct from the rear of the afternoon Jacobite to Mallaig on 3rd June 2016.
David Spaven 03/06/2016
BBC News

MSP calls for urgent work on Highland rail line after train cancellation figures are revealed [Inverness Courier]
Highlands MSP John Finnie has called for improvements to rail infrastructure after the scale of cancellations in the last year was revealed.
More
Inverness Courier

Old Kilpatrick road closure is vital step towards rail bridge refurbishment [Network Rail]
Work is now underway to install a temporary bridge over the railway on the A814 Dumbarton Road in Old Kilpatrick.
More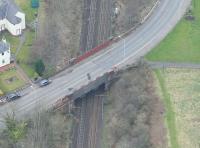 Kilpatrick: The A814 bridge over the Helensburgh line west of Kilpatrick station and east of Bowling.
Network Rail //2020
Greens of Dundee pulls out of Waterfront railway station retail unit bid [Evening Telegraph]
Greens of Dundee has announced it is pulling out of a plan to bring a convenience store to the city's railway station, setting the Waterfront vision back after years of discussion.
More
The town and harbour stations in Ardrossan celebrated 33 years since re-opening on January 19, 1987.
More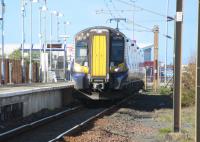 Ardrossan Harbour: The usual layover period at Ardrossan Harbour is over half an hour so this very short branch has a train in for most of the day. 385111 still has a while before it returns to Glasgow on 17 October 2018.
David Panton 17/10/2018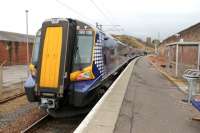 Ardrossan Town: Glasgow bound 380108, on a service that started at the Harbour station, calls at Ardrossan Town. This station is much smaller than it originally was [see image 21659] but at least it is open to passengers again after being closed for a number of years.
Mark Bartlett 08/03/2013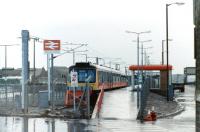 Ardrossan Harbour: View of the newly opened Ardrossan Harbour station on a rainy day in January 1987. At the platform with an imminent departure for Glasgow Central is a hybrid DMU made up of two Derby heavyweight 107s and a Metro-Cammell 101 at the far end.
Colin Miller /01/1987
Ardrossan Herald

The community in Old Kilpatrick is backing calls for increased public awareness on upcoming transport disruption in the village. Bus services will be stopped in the area next month while Network Rail conduct works on a rail bridge near Roman Crescent between February 2 and March 8.
More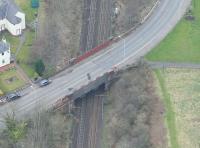 Kilpatrick: The A814 bridge over the Helensburgh line west of Kilpatrick station and east of Bowling.
Network Rail //2020
Clydebank Post

'Stop skipping' by ScotRail services on the rise, Transport Secretary reveals [Sunday Post]
An increase in the practice of 'stop skipping' on Scotland's railways has been branded 'extremely disappointing' by the Scottish Greens.
More
Sunday Post

'Significant amount of pipework' to be ripped out of a botched Ferguson Marine-built CalMac ferry [Scotsman]
Significant parts of a semi-built CalMac ferry at the Ferguson Marine shipyard will have to be scrapped, MSPs were told today.
More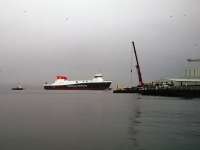 Newark Shipyard: Glen Sannox, Calmac's new ferry for the Ardrossan to Brodick route was launched from Ferguson's shipyard at Port Glasgow on a dreich 21st November 2017.
Malcolm Chattwood 21/11/2017
Almost 12 years on from 'ambitious plans' to create a new tram or bus link between West Fife and Edinburgh, the idea is back on the table.
More
Dunfermline Press

The franchise is 'not sustainable in the long term'.
More
Metro

ScotRail has launched a new campaign encouraging people to stop and think about their own personal safety while travelling or at work. During 2019, more than 670 minor customer and employee injuries were reported across Scotland's Railway, the majority of which were avoidable and a result of unsafe behaviours.
More
ScotRail

A bid is to be made to increase the number of tourists on the rail route between Caithness and Inverness.
More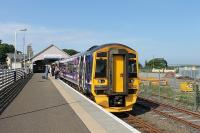 Thurso: 158702 waits to form the last departure of the day from Thurso, the 1629 to Inverness. Compared to a similar view five years earlier [See image 16892], the goods shed has now been demolished but not yet replaced although the passenger trainshed still forms an impressive backdrop.
Mark Bartlett 06/07/2012
It was a journey that launched tens of thousands of others.
More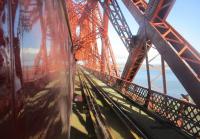 Forth Bridge: Looking north along the Forth Bridge from 'The Aberdonian' railtour from Edinburgh Waverley to Aberdeen, behind Peppercorn Class A1 no. 60163 'Tornado', on 14th March 2019.
David Bosher 14/03/2019
Keith train station so a decrease in users over the course of 2018-19.
More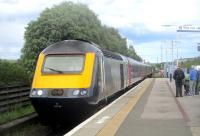 Keith: 43134 arriving at Keith (formerly Keith Junction) with a Huntly to Inverness service, on 16th June 2019. We were expecting another 158 unit so this was quite a pleasant surprise! After a visit to the Keith & Dufftown Railway, we boarded this train back to Inverness and then made our way up the Far North Line to Rogart for an overnight stay in a converted railway coach berthed there.
David Bosher 26/06/2019
Grampian Online

Network Rail is being investigated over its poor performance on routes used by the train operators Northern and TransPennine Express. The Office of Rail and Road (ORR) said it had put the state-owned company 'on a warning' in relation to its work in the north-west and central region of England.
More
The Guardian

Reworked designs of Grimshaw and WSP's proposed High Speed 2 (HS2) station at Curzon Street in Birmingham city centre have been revealed.
More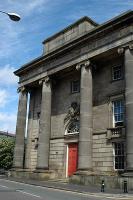 Birmingham Curzon Street: The 1837 Birmingham station terminus at Curzon Street, built for the London and Birmingham Railway. The London Euston terminus had Doric columns whilst those at the Birmingham terminus were Ionic. While Euston has lost its Arch, Curzon Street has lost its station - replaced by New Street.
Ewan Crawford 30/06/2004
Architects Journal

Passenger numbers rise adds to pressure for extension of Borders Railway [Southern Reporter]
Calls for an extension of the Borders Railway into England are continuing to gather momentum now the number of passengers using its stations annually has hit the two-million mark for the first time.
More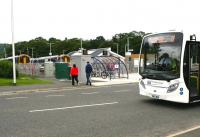 Tweedbank: Activity at Tweedbank during the late morning of 16 June 2017. On the left, at platform 1, is ScotRail 158734 recently arrived as the 1024 from Edinburgh Waverley. Alongside at platform 2 is sister unit 158725, stabled out of use. In the foreground is Borders Bus service 72, the 0954 ex-Selkirk, about to exit onto Tweedbank Drive and head for Melrose.
John Furnevel 16/06/2017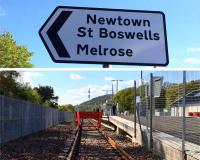 Tweedbank: The end of the line - for the moment. The sign at the exit from Tweedbank station points tantalisingly south.
Colin McDonald 14/05/2016
Southern Reporter

HS2: route, cost, speed, benefits and issues around the high-speed railway explained [iNews]
Questions have been raised about whether HS2 should continue, given the spiralling costs of the project
More
iNews