ScotRail is adding more than 400 extra trains to its timetable as it supports the lifting of lockdown restrictions and a return towards a more normal way of life.
Almost 2,000 trains a day will be running from Monday, a daily increase of 432 on the schedule announced by the train operator in February.
(
Permalink
)
ScotRail
Timetabling
Dunfermline Press

A number of options are being considered by bosses looking to the future. Rail realignment at Saltcoats, rail link between Largs to Wemyss Bay, new rail curve from Drybridge to Gailes, Lugton to Kilwinning.
(
Permalink
)
Ayrshire
Transport Scotland
Daily Record

The Lochside Press

From catching a tram to afternoon tea in a cafe " life as we knew it is returning to the past at Beamish Museum.
(
Permalink
)
Beamish Museum
Northumberland Gazette

News raises hopes that the much delayed and over-budget project will open to customers within a year. Test train services have begun running under London on the Crossrail project, boosting confidence that the Elizabeth line should finally open to customers within a year. Four trains an hour are operating as part of rigorous safety testing, described as a 'crucial milestone' in the development of the £19bn east-west rail link across the capital.
(
Permalink
)
Crossrail
Elizabeth Line
Scotland's lifeline ferry operator has been hit by a new fault - this time with its tickets and reservations phone lines which have been out of order.
(
Permalink
)
Caledonian MacBrayne
Herald Scotland

New rail stations at Drybridge, Ardrossan North and Largs Marina are just three proposals for long-term transport plans for North Ayrshire.
(
Permalink
)
Ardrossan North
Drybridge
Largs Marina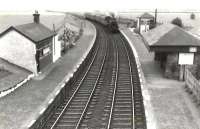 Drybridge: Hurlford shed's Standard Mogul 77016 passing through Drybridge station on 3 August 1958 with a Sunday Ayr to Kilmarnock train. [Ref query 13886]
G H Robin collection by courtesy of the Mitchell Library, Glasgow 03/08/1958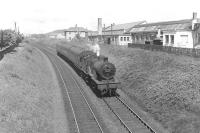 Parkhouse Junction: A Largs - Kilwinning train approaching Parkhouse Junction, Ardrossan, on 24 May 1960. The locomotive is Hurlford based Fowler 2P 4-4-0 no 40595. [Ref query 14927]
G H Robin collection by courtesy of the Mitchell Library, Glasgow 24/05/1960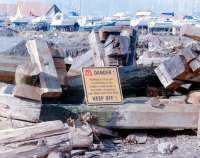 Fairlie Pier: Fairlie Pier (deceased) - dumped on the shore at Largs Marina, Spring 2000 - complete with DANGER sign!
Colin Miller //2000
Ardrossan Herald

Specialist Greenock engineers working on the MV Loch Seaforth ferry say they expect her back in service by the middle of May.
(
Permalink
)
MV Loch Seaforth
Greenock Telegraph

Rail upgrades which could cut travel times between Aberdeen and the central belt by more than 20 minutes are in line to be finished by 2026.
(
Permalink
)
Aberdeen
Press and Journal

The charity which owns the Maid of the Loch paddle steamer on Loch Lomond has announced that the ship will not reopen to visitors until 2022.
(
Permalink
)
PS Maid of the Loch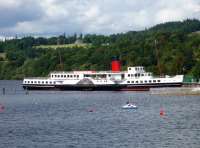 Balloch Pier: [[PS Maid Of The Loch]] at Balloch on 18 August 2012 operating as a tea room while undergoing restoration and repairs.
John Steven 18/08/2012
Network Rail

RAIL

Rail union, RMT, has launched a petition against train operator ScotRail after disagreements over 'pay, justice and equality.'
(
Permalink
)
RMT
ScotRail
Evening Times

New Civil Engineer

Passengers on Britain's intercity rail services face a third day of disruption as engineers continued to check high-speed trains for cracks. Trains between London and the south-west and between London and Scotland on the East Coast line are affected.
(
Permalink
)
Cancellations
Class 800
GWR
Hairline cracks
Hitachi
LNER
Scotrail has once again warned customers that the bulk of rail services will be cancelled due to industrial action.
(
Permalink
)
ScotRail
Strike
Hitachi apologises after cracks found in some of its trains lead to services being cancelled. [See also item on 27/04/2021 and the Railway Magazine of 03/05/2021.]
(
Permalink
)
Cancellations
Class 800
GWR
Hairline cracks
Hitachi
LNER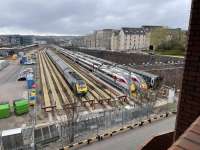 Clayhills Yard: Saturday's 07:52 & 09:52 LNER Azuma trains parked up at Clayhills due to cracks being found in the Class 800 bogies.
Duncan Ross 08/05/2021
Scotland's crisis hit lifeline ferry network has come under fresh fire after a new series of breakdowns and setbacks with five of its fleet leading to service cancellations and restrictions as new pressure is put on ministers to take urgent action.
(
Permalink
)
Caledonian MacBrayne
Falkirk Herald

Weeks of strike action on Highland railway lines show no sign of easing after ScotRail confirmed that Sunday services will be hit for five more weeks.
(
Permalink
)
ScotRail
Strike
Inverness Courier

Edinburgh Trams will be closing the temporary cycle way on Leith Walk to construct the permanent segregated design this will close from Monday 24 May.
(
Permalink
)
Edinburgh Trams
Leith Walk
Edinburgh Trams

Translink is to assess the options for procuring zero-emission trains in support of its recently published Climate Positive Strategy, which sets out an 'ambitious' target to achieve a 50% reduction in train, bus and building emissions by 2030, net zero emissions by 2040 and to go beyond this to ...
(
Permalink
)
Green
NI Railways
Translink
Zero Emissions
In this, the first of a two-part episode, the Rail and Road Pod hears about how heritage railways are safely returning for passengers and how one particular railway has delivered improvements over the last year.
(
Permalink
)
Heritage
ORR
ORR

There's a scene in The Polar Express in which Tom Hanks' train guard punches a multiplicity of holes in the kids' tickets, leaving showers of tiny paper specks cascading to the floor.
(
Permalink
)
COP26
Green
Joe Biden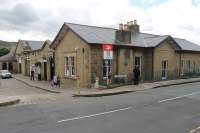 Glossop: Part of Glossop station has been tastefully incorporated into a supermarket, built in matching stone, and the railway now only occupies the extreme right of the building. Everything beyond the arched ...
Mark Bartlett 01/09/2015
Community Rail Network

Brechin railway volunteers are pressing on behind the scenes with projects to ready the popular Angus tourist attraction for summer re-opening.
(
Permalink
)
Brechin
Caledonian Railway [Preserved]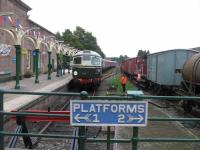 Brechin: D5314 prepares to run round the stock of the 12.20 for Bridge of Dun at Brechin on 1st September 2018.
David Spaven 01/09/2018
Evening Telegraph

Strathspey and Badenoch Herald

The actress will reprise her role as Bobbie Waterbury, more than 50 years after the original film.
(
Permalink
)
Railway Children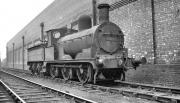 Wakefield: Barton Wright 2F 0-6-0 no 52044 (ex-LYR class 25 no 957) standing alongside 56A Wakefield shed in 1959, the year of its withdrawal by BR. Built by Beyer Peacock in 1887 the locomotive is now preserved ...
K A Gray //1959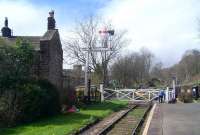 Oakworth: Closing the level crossing gates at Oakworth, April 2013.
Colin Alexander 27/04/2013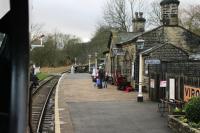 Oakworth: Unchanged since Jenny Agutter's tearjerker scene in The Railway Children Oakworth is a period gem and lovingly maintained by KWVR members. Seen here from an approaching Oxenhope bound train the ...
Mark Bartlett 07/01/2012
A new generation of advanced CCTV has been installed on Metro as part of a £4.2m revamp of security cameras on the network. The new cameras 740 in total have gone in at all 60 stations on the Metro system. They offer state-of-the-art picture quality which make it easier to pinpoint troublemakers and provide crystal clear footage to support police investigations.
(
Permalink
)
Tyne and Wear Metro
Tyne and Wear Metro

Covid-19 has placed severe restrictions on our travel freedoms and we complain about being confined to our local area, potholes, late trains and single carriageway roads - but spare a thought for our ancestors. Until the 18th Century, the only safe way in and out of Berwick was by sea, just the brave and the poor would take to the highway.
(
Permalink
)
Berwick-upon-Tweed
Berwick Advertiser

Evening Express