Hundreds of lorry loads of timber could be removed from the A9 in Ross-shire after almost £200,000 was allocated to a rail freight trial by Victa Railfreight.
(
Permalink
)
Several fire crews have been called out to tackle a blaze in Carnforth that started on a train.
(
Permalink
)
The Westmorland Gazette
A broken down freight train caused disruption on the Highland mainline this morning.
(
Permalink
)
Inverness Courier
A Support project for armed forces veterans in the Helensburgh and Lomond area has celebrated its first birthday as a registered charity - by handing out cakes to members in lockdown.
(
Permalink
)
Joe Fagan has asked for assurances and proper leadership to ensure plans to electrify the East Kilbride rail line actually happens.
The Labour councillor was speaking after Transport Secretary Michael Matheson confirmed last week that the route would finally be upgraded.
(
Permalink
)
Daily Record
Views sought on Regional Transport Strategy. Cast your mind back to the year 2000 - can you remember how you travelled to, from or within the North East? Travel in our region has transformed in the last 20 years. Back then we had not long said farewell to the green and yellow buses of Grampian Regional Transport. We were eight years away from having the new bus station at Union Square. There was no railway station at Laurencekirk, no terminal extension at the airport, no Diamond Bridge.
(
Permalink
)
Nestrans
The operator of a ferry service that brings essentials like food and medicine to Orkney communities says it faces bankruptcy unless the Scottish Government urgently intervenes.
(
Permalink
)
Press and Journal
Ayrshire commuters had to find alternative ways of getting home from work after heavy weather caused flooding on the railway.
(
Permalink
)
Network Rail, Scottish Government and City of Edinburgh Council have today revealed their concept designs for transforming the capitals main station as part of the Edinburgh Waverley Masterplan.
(
Permalink
)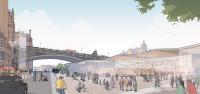 Edinburgh Waverley: Master-plan for Edinburgh Waverley, Market Street side entrance (the Klondyke or Old Town side to the south of the station). North Bridge in background.
Network Rail /08/2020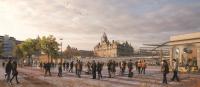 Edinburgh Waverley: Network Rail's master-plan for Edinburgh Waverley showing the entrance from Waverley Bridge.
Network Rail /08/2020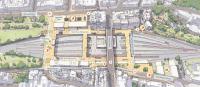 Edinburgh Waverley: The Edinburgh Waverley master-plan showing the mezzanine level and without the glass roof. This aerial view is from the south.
Network Rail /08/2020
Helensburgh commuters are having to find alternative ways to get home from work after the railway to and from the town was shut due to flooding.
(
Permalink
)
We have installed 2-way traffic signals at Ocean Drive.
(
Permalink
)
Edinburgh Trams
Plans to improve Troon Harbour have been agreed - but the port will still just be a back up during improvement works in Ardrossan.
(
Permalink
)
As part of its strategy to decarbonise rail freight and operate longer trains, Freightliner has acquired another 13 Class 90 electric locomotives formerly used on Greater Anglia inter-city services, bringing its fleet to 23.
(
Permalink
)
First Orion freight unit for Liverpool Street service nears completion
(
Permalink
)
RAIL
Transport Scotland is set to receive £10m from Glasgow City Council for the refurbishment of High Street station.
(
Permalink
)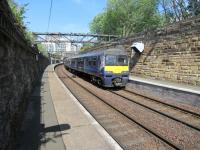 High Street: A six-coach Balloch to Airdrie service calls at High Street on Saturday 19 May. The station is becoming increasingly surrounded by student housing; surely no bad thing as it was for so long in the middle of a large gap site.
David Panton 19/05/2018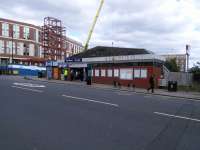 High Street: The seemingly insatiable demand for student flats means that High Street station is losing its 'abandoned' look. Another block is going up immediately to the north with the staircase framework already in place. The station was originally called College, as this was once the site of Glasgow University. The students you see there today however attend nearby Strathclyde University.
David Panton 19/09/2017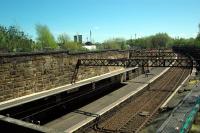 High Street: High Street station looking east. The NBRs High Street goods yard was on the left and the G&SWRs College goods was on the right.
Ewan Crawford 05/05/2006
Evening Times
Engineering work will force the temporary closure of the Kyle and Far North rail lines on a number of weekend days later this month.
(
Permalink
)
Angel Trains has raised more than £80000 for the Railway Children charity through the sale of withdrawn Class 142 Pacer diesel multiple-units to heritage railways, community railways and the emergency services.
(
Permalink
)
The number of services operating across Scotland's railway system will increase from today including four services on the far north line.
(
Permalink
)
JohnOGroat Journal
Confusion remains around cruises in and around the UK. The little lines that cruise around the west coast of Scotland with 12 passengers or less have customers galore desperate to go to sea, but are being frustrated by government guidance. At present river cruising is allowed. Which means European Waterways can operate its luxurious Magna Carta from Hampton Court to Henley, and two equally comfortable vessels in the Great Glen of Scotland, from Inverness to Fort William which takes in Loch Ness, castles and distillery visits.
(
Permalink
)
Evening Standard
A fifth (20 per cent) of Brits say they're considering cycling to work, but are put off by busy roads and worries over their bike getting stolen Network Rail and Cycling UK partner to address these concerns with tips on safer cycle routes and storing bikes securely 5,000 secure bike storage spaces available at Network Rail's 20 managed stations.
(
Permalink
)
Passenger and freight journeys are being made more reliable in Lancashire and Cumbria with a multi-million-pound investment into the overhead 25,000 volt electric cables which power trains.
(
Permalink
)
A heritage railway has reopened after more than four months of closure due to coronavirus. The Severn Valley Railway [SVR] has been losing about £500,000 a month due to the closure. SVR was fully booked up for Saturday's reopening, with passenger groups of up to six having their own compartment to enable social distancing. The railway's general manager said resuming services would help 'break even' rather than making a profit.
(
Permalink
)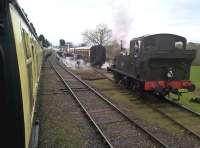 Hampton Loade: Who are you calling a small engine? If you're going to be rude, you can all stay on the platform, and I'll go and join that train over there. I'd rather go to Bridgnorth, anyway. 1450 goes off in a huff at an SVR steam gala.
Ken Strachan 18/03/2017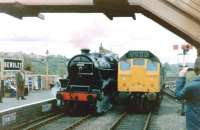 Bewdley: Black 5 no 5000 stands alongside 25056 at Bewdley station on the Severn Valley Railway in May 1981.
Colin Alexander /05/1981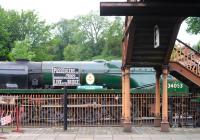 Bridgnorth: Bulleid Pacific no 34053 'Sir Keith Park' standing alongside the station at Bridgnorth on 2 August 2012.
Peter Todd 02/08/2012
BBC News
The upgrade of the London Underground's almost 50-year-old Piccadilly line trains will be carried out despite TfL's financial crisis.
Stock on the Piccadilly line has reached the end of its operating life as trains require more and more maintenance. The contract to replace the trains was signed with German firm Siemens Mobility in 2019 for £1.5 billion.
(
Permalink
)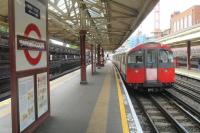 Barons Court: Refurbished LUL 1973 stock on a Piccadilly Line short working to Northfields, departing from Barons Court station on 29th August 2015. This is an interchange with the District Line; the line here was opened by the Metropolitan District Railway in 1874 but Barons Court station did not open until 15th December 1906, concurrently with the opening of the Great Northern, Piccadilly & Brompton Railway from Finsbury Park to Hammersmith, now part of the much-extended Piccadilly Line.
David Bosher 29/08/2015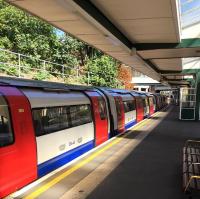 South Ealing: Platform scene at South Ealing station on the Piccadilly Line in September 2015. [Ref query 1579]
Michael Gibb /09/2015
Gloucester Road: A Piccadilly Line service for Heathrow Airport leaving Gloucester Road in 1980. [Ref query 6778]
John Furnevel 10/09/1980
MyLondon
Train Operating Companies which are operating under Emergency Measures Agreements with the UK and Scottish governments have been reclassified as public non-financial corporations, the Office for National Statistics announced on July 31.
(
Permalink
)
New figures published today, Friday 31 July, show that more than nine out of ten trains have arrived on time for the past five months in a row.
In the most recent period of performance (28 June - 25 July), 95.6 per cent of ScotRail trains met the rail industry standard Public Performance Measure (PPM).
Its the fifth consecutive period that Scotlands Railway has delivered strong levels of punctuality.
(
Permalink
)
ScotRail
Open access operator Hull Trains has announced plans to restart its East Yorkshire to London inter-city services during August.
(
Permalink
)
HS2 is preparing for the arrival of its first giant tunnelling machines by completing the 17-metre-high headwall and ground reinforcement at what will become the south portal of the 10-mile long Chiltern tunnel. Led by HS2s main works contractor Align JV - a joint venture formed of three companies: Bouygues Travaux Publics, Sir Robert McAlpine ...
(
Permalink
)
Rail Engineer
On Thursday 30 July, Freightliner, a subsidiary of Genesee & Wyoming Inc. (G&W), named its newly acquired and liveried electric locomotive 90014 Over the Rainbow in recognition of key workers.
The post Freightliner names electric loco in recognition of key workers appeared first on G&W UK / Europe Region Companies.
(
Permalink
)
Freightliner