As lockdown eased earlier this year, trespass incidents on the railway increased. More than 5,000 trespass incidents recorded between June and September 2020. September 2020 was the worst September in five years, seeing a 17% increase on same time last year.
(
Permalink
)
Trespass
Inverness Courier

Passenger trains could run in the Crossrail central section next year, if trial running can start early enough
(
Permalink
)
Elizabeth Line
Dunfermline Press

News and Star

Guides highlighting two of the regions most popular railways have been made available to the public in a new poster format. In 2018 the Bittern Line and Wherry Lines Community Rail Partnerships produced a series of tourist maps for display at stations and having proved extremely popular, a new take home version has been produced.
(
Permalink
)
Bittern Line
Wherry Line
Community Rail Network

Edinburgh Trams

Five years ago, Queen Elizabeth II opened the largest new railway line project seen in Scotland for decades to a fanfare of excitement. [See also items on the 9th and 17th.]
(
Permalink
)
Borders Railway
Rail bosses are set to bring in a full booze ban on trains in Scotland as terrified staff reveal details of packed trains with drunk passengers swapping face masks.
(
Permalink
)
COVID-19
Hopes of a Borders Railway extension to Carlisle have taken a hit after the Scottish transport secretary blocked a review into cross-border transport. [See item on 9th.]
(
Permalink
)
Borders Railway
Border Telegraph

Glasgow Queen Street Station has been voted as the nation's favourite.
A 'World Cup of Stations' poll recorded over 95,000 votes, asking participants to select their favourite out of over 2000 train stations across the country.
Queen Street was crowned as the UK's number one favourite station the week-long poll.
(
Permalink
)
Glasgow Queen Street
Glasgow Queen Street High Level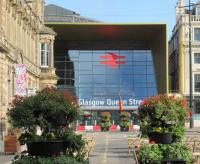 Glasgow Queen Street High Level: The revamped Glasgow Queen Street looks so starkly new in this image that it appears more like an architect's simulation. The view is from George Square.
David Panton 19/09/2020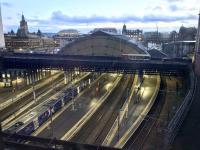 Glasgow Queen Street High Level: A late afternoon view over Queen Street station on 22nd January 2019, with just one class 385 train at platform 4 in view. The steelwork of the west truss of the new station frontage can be seen just above the cab of the single decker bus crossing Cathedral Street bridge.
Colin McDonald 22/01/2019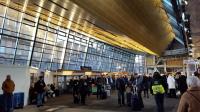 Glasgow Queen Street High Level: A view of the busy rebuilt interior of Queen Street.
Beth Crawford 09/12/2019
The latest stage in extensive recovery and reinstatement works has begun following the Stonehaven derailment on August 12.
(
Permalink
)
Carmont
Derailment
Stonehaven derailment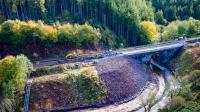 Carron Water Bridge [West Carmont]: Repairs to the embankment, railway and viaduct at West Carmont.
Network Rail /10/2020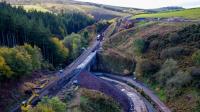 Carron Water Bridge [West Carmont]: Repairs to the railway and improvements to the water course at West Carmont.
Network Rail /10/2020
Twenty years ago, on 17 October 2000, a train derailed just south of Hatfield station while travelling at around 115mph. Four people died, 70 were injured. The accident was caused by rolling-contact fatigue (metal fatigue) of the left-hand rail, which broke as the train passed over it.
Railtrack (the private infrastructure operator) and Balfour Beatty (the contractor responsible for track maintenance on that line) were found guilty of breaching health and safety laws. Railtrack was forced by the government into administration, and publicly owned Network Rail was established.
(
Permalink
)
Balfour Beatty
Hatfield crash
Network Rail
Railtrack
The annual refit of the Mull ferry will go ahead in Liverpool next month, despite the city being in highest lockdown category in England. The planned maintenance is to be carried out at the Cammell Laird drydock yard on Merseyside, where the Scottish Government has had a repair contract for the CalMac fleet for many years.
(
Permalink
)
Cammell Laird
Caledonian MacBrayne
MV Isle of Mull
The Oban Times

Carluke Gazette

Queens Park station has been decorated with a colourful array of knitting " in a project put together by local charity South Seeds.
(
Permalink
)
Queen's Park
Long-distance train operator CrossCountry has been awarded a new contract to continue running services for three more years.
(
Permalink
)
CrossCountry
Customer facing staff working in the UK experience over 400 abuse incidents every day and rising [i]
43% of shop workers say they have been threatened with physical violence. 1 in 5 mention the use of a knife [ii]
70% of front line rail staff have experienced workplace violence in the last 12 months [iii] ...
(
Permalink
)
Customer facing staff
The £14.3 million redevelopment of Tarbert Ferry Terminal on the Isle of Harris is making good progress following the 12-week construction shut down caused by the COVID-19 lockdown implemented in March.
Caledonian Maritime Assets Limited (CMAL) owns the ferry terminal and is managing the overall upgrade project.
Key project milestones include demolition of the old terminal building; cons ...
(
Permalink
)
Caledonian Maritime Assets Limited
Tarbert Ferry Terminal
Scottish Construction Now

Council bosses who have left the Comet paddle steamer replica to rot are scrambling to find a cut price solution to her appalling condition after being hit with an 'astronomical' restoration bill.
(
Permalink
)
PS Comet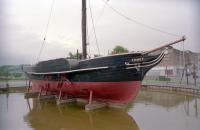 Port Glasgow: The replica of Henry Bell's PS Comet seen in Port Glasgow in 1996, in need of some repair. This replica was built by apprentices at Lithgows shipyard in 1962.
Ewan Crawford //1996
Greenock Telegraph

Stirling News

Almost 1,500 lifts and 300 escalators across some 500 stations around the country will soon be directly 'live' reporting their working condition. Passengers will be able to see which lifts and escalators are working, helping them plan their journeys through stations with real-time knowledge of the access available.
(
Permalink
)
Network Rail
Open data
Scotland is on track for hydrogen-powered trains as part of a new rail revolution that is set to see the energy of the future providing green public transport all over Scotland.
(
Permalink
)
BOC
Hydrogen power
Developers will be urged to set out what they will do for the community of Gorebridge as the latest phase of creating a new community moves forward. ... Concerns were raised by Councillor Peter Smaill about the impact of additional housing on parking at Gorebridge Railway Station, which is already at capacity. Planning convenor Russell Imrie pointed out that land had been set aside for a new Redheugh Railway Station, with the suggestion that trains on the line could alternate between stopping at Gorebridge or Redheugh. Mr Arnsdorf confirmed that the land was there for a railway halt at Redheugh but cautioned councillors that ScotRail are not going to bring that forward until they have customers there. [Railscot note: Redheugh is between Newtongrange and Gorebridge. The station site would be the location of the reversing sidings for the Lady Victoria Pit.]
(
Permalink
)
Borders Railway
Gorebridge
New station
Redheugh
Midlothian Advertiser

Work on Euston station and asbestos removal add to bill for London to Birmingham phase. HS2's costs have risen by another £800m, the government has admitted, barely a month after the official start of construction of the high-speed rail network. The reshaping of Euston station is likely to cost at least £400m more than planned, while the discovery of more asbestos than expected in demolitions along the line of the route has added around another £400m.
(
Permalink
)
Euston
HS2
The Guardian

Edinburgh-based railway company Assenta Rail has taken over the running of an established rail maintenance depot in Hamilton and is reviving its capacity to support the rail industry in Scotland. Assenta Rail is making a significant investment in the depot, which will provide new employment opportunities for Scotland's experienced rail workforce.
(
Permalink
)
Assenta Rail
E G Steele & Co
Earnock Sidings
The world's first hydrogen-fuelled ferry is set to undergo testing as Scotland powers forward in the green energy race.
(
Permalink
)
Hydrogen power
edinburghlive

Heritage railways across the country have received grants totalling more than £6.7 million from the Government's Culture Recovery Fund, to help them survive the COVID-19 pandemic.
(
Permalink
)
COVID-19
Heritage Railways
The Construction Index