Barmouth Viaduct will undergo a £25m upgrade to protect it for local people and visitors in the future.
(
Permalink
)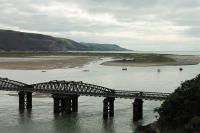 Barmouth Ferry: With the Barmouth Viaduct in the foreground, this view looks across the estuary to the Ferry terminus of the Fairbourne Railway on 19th September 2016. A wisp of steam by the building indicates a train has just arrived from Fairbourne.
Mark Bartlett 19/09/2016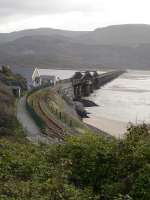 Barmouth: Looking south across Barmouth Bridge from the A496 road on the southern outskirts of Barmouth in December 2011.
David Pesterfield 07/12/2011
Police seek information about Dufftown theft.
(
Permalink
)
Grampian Online
When major centres of railway history are discussed, Dundee is seldom mentioned. Yet papers held by archive services at Dundee University show that our city was home to some pioneering early railways.
(
Permalink
)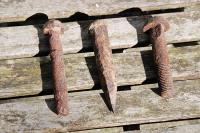 Law Incline: Three vintage bolts found by a householder in a garden to the east side of the former Law Incline (between Dundee Ward Road and the Law Tunnel). Suspected to be screw spikes or track fasteners. They're in not bad shape given line closure in the 1860s. Does anyone know their exact purposes? [Thank you very much for the replies so far. For completeness here are extracts from three replies; 'The left hand one is a chair spike, which was used with a wooden treenail to secure early chairs to wooden sleepers. The right hand one is a bullhead fishbolt. Not too sure about the middle one, some kind of spike or fang bolt?' and from another reply 'the centre fixing could well be a spike for fastening down track' and a further comment 'if the centre spike has an offset head then it is most likely for fixing an early cast flat bottom rail to a wooden sleeper'.]
Ewan Crawford 27/03/2010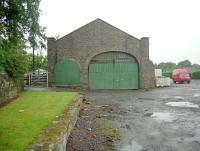 Newtyle [1st]: The Dundee end of the older Newtyle station in 1998 looking north. The Hatton incline is behind the camera.
Ewan Crawford //1998
Sydney Central Station platforms 26 and 27 lie dormant and gathering decades of dust as 270,000 people walk above them every say without knowing what lies beneath their feet.
(
Permalink
)
Daily Mail
Former railway lines between Ventnor and Newport could be reopened, as part of ambitious plans to restore routes lost to the Beeching cuts.
The Island has been announced as one of ten areas to receive a share of £500,000.
Transport secretary, Grant Shapps has announced that the Island is among the successful bids in the the government's 'Restoring Your Railway 'Ideas Fund'.
(
Permalink
)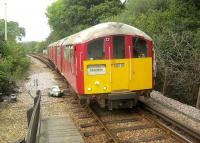 Smallbrook Junction: Class 483 (ex-London Underground 1938 stock) with an Island Line service from Ryde Pier Head to Shanklin arriving at Smallbrook Junction, on 20th September 2014. This station opened in 1991 to provide an interchange with the Isle of Wight Steam Railway (on left) that was extended here from Haven Street at the same time. The station has no other function and no public access except by train.
David Bosher 20/09/2014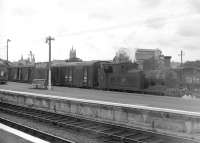 Newport IoW: No 33 Bembridge is station pilot at Newport, Isle of Wight, in 1963.
Robin Barbour Collection (Courtesy Bruce McCartney) 17/07/1963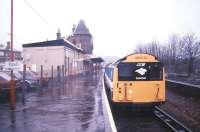 Shanklin: Former LT Tube stock in use on the Isle of Wight standing alongside a wet platform at Shanklin in February 1988.
Ian Dinmore /02/1988
IoW County Press
A number of ferry services have been cancelled and flood alerts issued across Scotland, with heavy rain and high winds sweeping the country.
(
Permalink
)
The case for a ferry link from Rosyth to Europe has been floated once more.
(
Permalink
)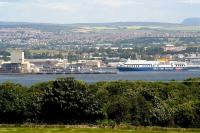 Rosyth Dockyard: Blue Star 1 arriving at Rosyth with the ro-ro ferry from Zeebrugge on 26 June 2008. Passenger services on the route ceased at the end of 2010 although a freight only service is still in operation. The line from Inverkeithing South Junction into the dockyard is still officially open, if overgrown. Intermittent use of the branch in previous years has included ScotRail DMUs undergoing refurbishment by Babcock Engineering see image [[22278]].
John Furnevel 26/06/2008
Dunfermline Press
It could finally be the end of the line for Pacer trains, as train operator Northern says they are no longer working its routes.
For 35 years, since they came into operation during the mid-80s, they have been a heavily-criticised part of the network.
The continued use of the train - known for being slow, bouncy and noisy has been used as an example of the disparity in transport investment between the north and the south east.
Much maligned, they have been gradually withdrawn since December, with some planned to carry on services until their replacements arrive this summer as part of a £600m upgrade programme.
(
Permalink
)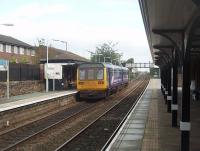 Rainhill: When the Liverpool to Manchester line and others in the North West are electrified it will apparently be cascaded ex-Thameslink 319 EMUs that will provide services see image [[31009]]. Not ideal but undoubtedly an improvement on the even older four wheeled Pacers they will replace. 142032 leaves Rainhill heading east on a Stalybridge service.
Mark Bartlett 13/10/2011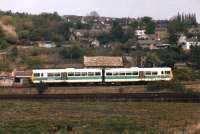 Mirfield: A class 141 Pacer in early West Yorkshire PTE green livery runs off the Huddersfield line eastbound spur in May 1987 to join the former L&Y main line to its next call at Mirfield.
David Pesterfield 06/05/1987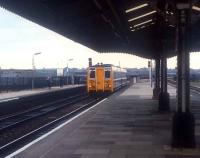 Birmingham Moor Street: Prototype class 140 on a test run arriving at Birmingham Moor Street past waiting photographers in 1981.
Ian Dinmore //1981
News & Star
HIE wants go-ahead to carry out engineering works to strengthen the two kilometre-long funicular viaduct so mountain railway can operate again
(
Permalink
)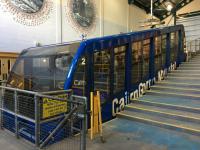 Base Station: The temporarily closed Base Station of the Cairngorm Mountain Railway on 5th October 2018.
Bruce McCartney 05/10/2018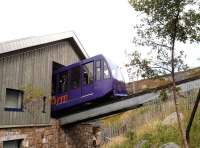 Base Station: On the way up. Cairngorm Mountain Railway, September 2012. See image [[40432]]
Peter Todd 17/09/2012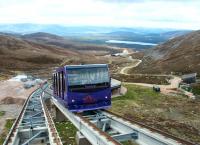 Shieling Station: Railcars about to pass on the scenic Cairngorm Mountain Funicular Railway on a crisp and pleasant day in the Autumn of 2004.
John Furnevel 13/09/2004
We have today published our proposal for Light Rail Networks in Scotlands Major Cities in response to the Scottish Governments consultation on the new National Planning Framework (NPF4). Congestion poses a serious threat to the future of Scotlands cities and their prospects for growth, and a modern public transport system is an important factor.
(
Permalink
)
Transform Scotland
Network Rail is urging illegal dumpers to clean up their act after an increase in fly-tipping on Scotlands Railway.
(
Permalink
)
Confidence among Scots in returning to public transport when lockdown restrictions are eased has nearly halved to just 17 per cent in a poll published today.
(
Permalink
)
HS2 has received planning approval for Old Oak Common station in west London. It will be the largest new railway station ever built in the UK, with 14 platforms (six high-speed and eight conventional platforms) built in a huge underground box 850 metres long.
(
Permalink
)
New measures have been deployed on board trains and at stations amid fears that more people might use public transport to return to work this week.
Security guards with crowd management training will be at some stations.
Passengers could be prevented from boarding a train or entering a platform if there are already too many people.
From Monday morning there will be more services as the railways move from a Sunday-style timetable to something similar to that of a normal Saturday.
(
Permalink
)
Estate agents are offering the chance to purchase a stunning former Aberdeen railway station.
(
Permalink
)
Press and Journal
LNER will today celebrate a full year since the world-class Azuma train launched into passenger service on the LNER route.
In the past 12 months, Azuma has carried over 4.5 million passengers more than five million miles in more style, comfort and with the best WiFi than ever before on the route.
To celebrate Azuma's first birthday, LNER is inviting the public to become part of railway history with the chance to name an Azuma train.
LNER is encouraging customers to get creative and submit names which reflect the picturesque LNER route, notable destinations, community heroes or rail icons from history.
(
Permalink
)
London North Eastern Railway
The head of British Transport Police in Scotland twice drove from his flat in Glasgow to the family home in Yorkshire.
(
Permalink
)
Rail operators ramp up social distancing measures with move to pre-booked tickets and face masks.
(
Permalink
)
Rail passengers are being warned they may be prevented from boarding intercity trains without a reservation as part of social distancing measures.
(
Permalink
)
Plans to turn a vacant patch of land next to Dyce Railway Station into a new car park have been rejected by council bosses.
(
Permalink
)
Evening Express
Scots are becoming more nervous about using public transport but remain happier about it than the rest of Britain.
(
Permalink
)
Dundee railway station shone blue last night to show solidarity with key workers and front line NHS staff all across the country.
(
Permalink
)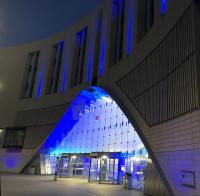 Dundee: Dundee station was lit-up blue to show solidarity with key workers and front-line NHS staff all across the country. The recently redeveloped station joined with other Network Rail stations and structures across the UK and other buildings in the City in lighting up in NHS colours to salute the dedication and efforts of healthcare workers in the battle against the coronavirus.
Network Rail 14/05/2020
Work to rebuild and improve the sea wall at Dawlish has resulted in £3 million being spent locally in south Devon between June 2019 and May 2020 by Network Rail and its contractors. By the time the first section of the new sea wall is completed in summer this year Network Rail and main contractor.
(
Permalink
)
Transport minister Grant Shapps has said £2 billion is to be invested in transport infrastructure.
(
Permalink
)
It is with great sadness we announce death of Brian M. Forbes, one of our contributors. He peacefully passed away on April the 25th 2020 at Perth, with his Covid regulated funeral on May 7th 2020. This news item is illustrated with the first photograph he contributed.
(
Permalink
)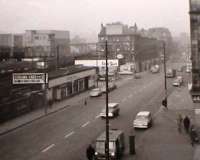 Eglinton Street: Near Eglinton Street. Nov. 1962. Petrol @ 3/-. A blue train passing the new Central Power Box. Sorry for lack of clarity, but smog, remember that, was the culprit.
Brian Forbes /11/1962