ScotRail would be forced to highlight fare anomalies to ensure passengers are not overcharged for journeys under a campaign to be taken to the Scottish Parliament.
More
The Scottish government pledges £1m to help get the world's last seagoing paddle steamer sailing again.
More
Pitlochry station has been named the best medium sized station in Britain at the National Rail Awards 2019. The highland railway station won the Medium Station of the Year award at the event in London last night, Thursday, 19 September 2019. Judges assessed the nominees against set criteria, including safety, infrastructure and customer-friendly presentation.
More
First Glasgow is to axe an express bus service into Glasgow because of traffic congestion and competition from ScotRail. The X1 commuter link from Hamilton will end on 27 October, the operator confirmed to The Scotsman.
More
Liverpool Lime Street has been named as major station of the year at the 2019 National Rail Awards. The Network Rail managed transport hub beat London Bridge, Kings Cross, Glasgow Central, Manchester Piccadilly and York to the top spot in one of the nights most sought-after accolades. The award comes after last years completion of a major £140m overhaul of the historic grade-II listed station.
More
The competition watchdog has launched a probe into the award of a contract to replace Virgin Trains in running services on the West Coast Main Line. A joint venture between Aberdeen-based FirstGroup and Italian-owned train operator Trenitalia is due to launch on December 8. But the Competition and Markets Authority (CMA) said it is investigating whether the Department for Transport's (DfT) decision to award the West Coast Partnership (WCP) franchise to First Trenitalia could lead to competition concerns.
More
cotlands Railway is more prepared than ever before to keep trains moving during autumn. Rail cleaning trains will treat 20,000 more miles of track than last year, more Leaf Buster teams will be out on the network and small changes to the timetable will help make the service more reliable. Ground-breaking microwave and cryogenic technologies will also be used for the very first time on Scotlands Railway to help keep rails clean and customers safe. Every autumn, the trees that grow along the railway drop thousands of tonnes of leaves onto the tracks and this debris can break down into a slippery surface that sticks to the rails and causes trains to lose their grip. This can make trains overshoot signals and platforms " potentially putting customers and staff in danger. Debris can also affect signalling systems, making it hard to track where trains are on the network.
More
Community projects across Scotlands Railway flourished at the Beautiful Scotland Awards in Dumfries last week. Five volunteer groups on Scotlands Railway triumphed from the 12 categories and 13 discretionary awards. The ceremony recognised the commitment of volunteers across the country who work hard to improve the places they care for.
More
New ORR rail punctuality statistics will help industry focus on boosting performance for passengers [ORR]
New-style stat[istic]s from the Rail Regulator (ORR) show today that 64.7% of stations were arrived at on time in the year to June 2019. The statistics use the new On Time punctuality measure, which registers trains as being on time only when they arrive at station stops within one minute of schedule. The more widely-reported measure for punctuality - public performance measure (PPM) - registers trains that arrive within 5 or 10 minutes of their scheduled arrival time, dependent on the service. On Time is measured at station stops along the route whereas PPM only measures punctuality at each trains final destination.
More
ORR

A busy commuter road in Stonehaven could be lowered to allow buses and other high vehicles to safely pass under the railway bridge.
More
Improved road, air, maritime and rail links among suggestions for north-east's future [Press and Journal]
Improved road, air, sea and rail links- and even a tram network for Aberdeen- are part of a package of more than 40 suggestions to boost the north-east's economy in the future.
More
Former Great Western Railway HST to be used for alternative fuel research
More
RAIL

Scotland's state-owned ferry operator should overhaul its systems to make it easier to identify capacity crunch points on one of the west coasts busiest routes.
More
The Herald

The Japanese train builder Hitachi has failed to win an order to supply 54 new trains for the Tyne and Wear metro. The company was up against Spanish firm CAF and Swiss train manufacturer Stadler for the £500m contract. Hitachi, which has a plant in County Durham, said it could not comment for legal reasons. Metro operator Nexus said it could not comment.
More
Network Rail and Hack Partners, the company behind the HackTrain initiative, have launched a new post-hackathon fund designed to accelerate the development of innovative ideas to improve rail services for passengers.
More
Left luggage facility at Aberdeen station to close due to lack of demand [Press and Journal]
ScotRail has confirmed its left luggage store in Aberdeen will close next month.
More
Customers travelling on Scotland's most scenic railways can now indulge in locally sourced Scottish produce while they take in the rolling scenery. ScotRails Great Scenic Tasting Box brings together an exceptional range of food and drink from throughout Scotland. Customers can choose a Great Glen charcuterie or cheddar and caramelised onion slices from the Scottish Borders.
More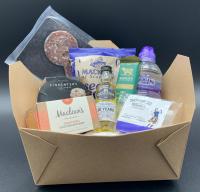 ScotRail: ScotRail's Great Scenic Tasting Box brings together an exceptional range of food and drink from throughout Scotland. Customers can choose a Great Glen charcuterie or cheddar and caramelised onion slices from the Scottish Borders. Pate from West Lothian, Perthshire water, Moray oatcakes, Aberdeenshire crisps and chocolate, and Edinburgh shortbread provide a feast of flavours from every corner of the country, and it can be washed down with a Glengoyne 10-year-old malt or Edinburgh gin and tonic. A complimentary map and guide to the route is also included. Great Scenic Tasting Boxes are available to buy at Glasgow Queen Street, Fort William and Inverness stations for £16, or two for £30.
ScotRail 16/09/2019
Members of the RMT union are taking industrial action over concerns about staffing levels and training.
More
Details of how all railway stations in Wales will benefit from a £194m investment pot have been unveiled. Transport for Wales (TfW) said it included a facelift for Swansea and 1,500 car parking spaces Wales-wide. Wales' 247 stations will see wi-fi brought in, better security, buildings and shelters and improved passenger information over the next 15 years.
More
More than one million people have taken the train to Dundee in the year since the V&A museum opened in the city, new figures show. ScotRail said that 1,017,693 passengers have travelled to the city since September 15 2018, a 14% increase on the previous year. V&A Dundee itself has welcomed hundreds of thousands of visitors since it opened on that date last year.
More
ITV News

Parking attendants will be able to fine people who breach new restrictions at East Lothian train station car parks [Edinburgh Evening News]
Parking attendants will be given powers to fine people who breach new restrictions at train station car parks in East Lothian. Negotiations are underway between ScotRail and East Lothian Council to let the local authority take over management of station car parks, currently overseen by the train company. Plans to introduce restrictions, including yellow lines, waiting restrictions and loading and unloading areas, were given the go ahead at a meeting of the councils cabinet this week.
More
Edinburgh Evening News

ScotRail cancels seven Edinburgh trains after driver clocks on three hours early [Scotsman]
Seven ScotRail trains on Edinburgh services had to be cancelled today because a driver started work three hours early.
More
Detailed plans have been revealed for the new Highland Council ferry terminal in Uig.
More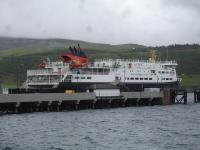 Uig Pier: Calmac 'MV Hebrides' loads at Uig Pier on the north of Skye as it readies for its 1400hrs sailing to Tarbert on the Isle of Harris on 19th June 2013. [See image 65147].
David Pesterfield 19/06/2013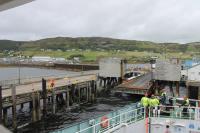 Uig Pier: The view over the stern of MV Hebrides as she arrived in Uig from Lochmaddy on 1st August 2018. The linkspan is at the end of a long pier that for most of its length is only wide enough for a single vehicle so strict marshalling of traffic is in place.
Mark Bartlett 01/08/2018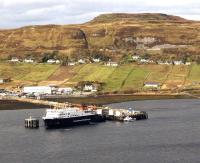 Uig Pier: The ferry MV Hebrides berthed at Uig in October 2010.
Ian Dinmore 25/10/2010
ScotRail hitting its punctuality target has been postponed by another year to 2022, transport secretary Michael Matheson told MSPs today
More
Major improvements to Inverness railway station announced more than a year ago have been delayed, and no timetable has been drawn up for their completion. A £6 million revamp of the station was first announced several years ago and it was thought the work would begin in summer 2018, with funding already in place for the first phase. Plans for a pedestrianised frontage at Station Square had to be abandoned after the owners of the Royal Highland Hotel refused to give up their lease on several parking places there, but by December it was understood work would begin in 2019.
More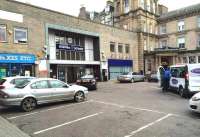 Inverness: The main entrance to Inverness Station, facing onto Station Square, just off Academy Street, on 19 November 2014. The Royal Highland Hotel (formerly The Station Hotel) stands alongside on the right.
Andy Furnevel 19/11/2014
Inverness Courier