THE iconic Comet paddle steamer replica has reportedly been condemned after being left to rot through council inaction.
The landmark is arguably the most iconic symbol of Inverclyde's rich maritime history and no repair work has been carried out on the crumbling structure - a year after £50,000 was set aside to 'urgently' help address a catalogue of serious structural issues.
The Telegraph can reveal that the only money spent since the cash allocation was announced has been on a feasibility study into what restoration options - if any - are now available.
(
Permalink
)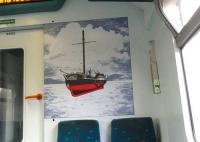 Plates, signs, notices etc: One of the picture panels carried by Class 320s since delivery in 1989. Henry Bell's Comet of 1812 was not the world's first paddle steam vessel but is reckoned to be the first commercial one in Europe. It was built in Port Glasgow and operated on the Clyde. In order to show the paddles the artist has opted to depict the vessel clear of the water, with the part that would normally be below the waterline coloured red. However, together with the background, this does give it the slightly disturbing (or bad trip) appearance of hovering above the water.
David Panton 28/10/2009
Greenock Telegraph

RUSSIA: Attachments designed to enable train toilet and cab doors to be opened with an elbow or lower arm rather than a hand, and thus reduce the risk of spreading germs or a virus like Covid-19, are being tested by Russian Railways.
(
Permalink
)
Train punctuality has reached its highest level for almost three years as everyone across Scotland's Railway works flat out to deliver a vital service for key workers.
Despite two timetable revisions, and alterations to critical services for NHS staff and other key workers, the figures for the most recent period of performance (1 March 31 March) show that 92.3 per cent of trains met the rail industry standard public performance measure (PPM).
(
Permalink
)
Porterbrook claims that maximising the service life of trains, as well as avoiding premature scrapping, helps save unnecessary carbon emissions.
(
Permalink
)
UK: Open access operator Grand Central temporarily suspended all services from the end of April 3, as coronavirus restrictions continue to affect its passenger numbers.
(
Permalink
)
The Association of Community Rail Partnerships will be known as the Community Rail Network (CRN) from today (April 6), bringing together a growing membership of 70 community/rail partnerships across the country as well as hundreds of station friends and other groups.
(
Permalink
)
It was an express delivery which helped carry thousands of people to a famed north-east festival.
(
Permalink
)
A team of rail workers delivering landslip repair works near Guildford have uncovered a small cave believed to be from the 14th century.
The sandstone cave is made up of several sections ranging from 0.3 metres to about 0.7 metres high and was discovered during work to stabilise and protect the railway embankment. The cave may once have been much larger, but only this small piece survived the digging of the railway cutting through the hill in the early 1840s.
(
Permalink
)
Engineer once thought to have aligned
Box Tunnel
with dawn light might have been giving his forgotten sister a place in the sun. For more than two centuries, railway enthusiasts, engineers and scientists have tried to solve the mystery of
Box Tunnel
, near Bath. They have combed the history books, done the maths and carried out practical experiments to try to work out whether its creator, Isambard Kingdom Brunel, really did design the two-mile tunnel so that the rising sun shone right through it on his birthday, 9 April.
(
Permalink
)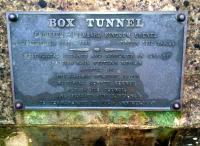 Box Tunnel: This plate adjacent to a 'green space' near the Western portal of Box Tunnel commemorates the refurbishment of the portal in 1986.
Ken Strachan 09/02/2013
The Guardian

The Scottish Government has allocated £1.49 million to Tarmac in a Freight Facilities Grant.
Cabinet Secretary for Transport, Infrastructure and Connectivity Michael Matheson announced the funding at the Rail Freight Groups Annual Scottish Conference 2020 in Bellshill.
The fund, which is open to companies looking to move freight by the more sustainable modes of rail or water instead of road, will be used towards expanding rail operations at Tarmacs Dunbar cement plant.
(
Permalink
)
Contractors Balfour Beatty have been appointed to carry out the work on the project.
(
Permalink
)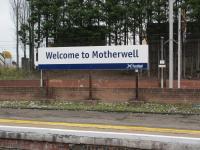 Motherwell: Large Welcome sign on Motherwell's platform 3 on a dreary day.
Gordon Steel 31/10/2016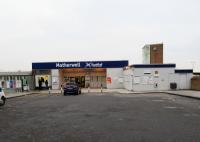 Motherwell: The forecourt at Motherwell station, seen on 5 January 2019. This area is due for a multi-million pound development to create a transport hub, as we will have to get used to calling them. It's certainly not a very welcoming spot at the moment.
David Panton 05/01/2019
Daily Record

Across the country, ScotRail staff are working round the clock to provide vital transport for key workers such as NHS staff, emergency workers and carers.
ScotRail is operating a revised timetable to keep key workers moving, and by reducing the number of trains in service it has created opportunities for additional cleaning activities on trains, in depots, and at stations.
(
Permalink
)
Sixty piers which support the 1.9 kilometres of track will have to be propped and strengthened.
(
Permalink
)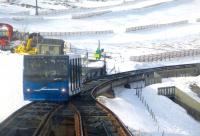 Shieling Station: Ascending Cairngorm Mountain Railway car, seen from the descending car at the mid-way passing point on 24th February 2018.
David Bosher 24/02/2018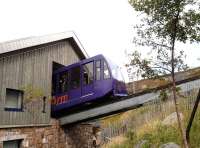 Base Station: On the way up. Cairngorm Mountain Railway, September 2012. See image [[40432]]
Peter Todd 17/09/2012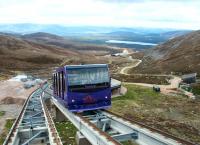 Shieling Station: Railcars about to pass on the scenic Cairngorm Mountain Funicular Railway on a crisp and pleasant day in the Autumn of 2004.
John Furnevel 13/09/2004
Strathspey and Badenoch Herald

Derby and Newport stop assembly, Hitachi reduces Newton Aycliffe output but maintenance carries on at various depots.
(
Permalink
)
An iconic Highland railway viaduct which features in the Harry Potter films will light up blue tonight in support of our NHS heroes in the fight against COVID-19.
(
Permalink
)
A new temporary timetable has been introduced by Serco NorthLink Ferries in response to the Covid-19 outbreak.
(
Permalink
)
John O Groat Journal

UK: Passenger data systems supplier Zipabout says train operators should revise their emergency timetables based on passenger behaviour and real-time demand data, to ensure their reduced services can meet the needs of key workers during the coronavirus pandemic.
(
Permalink
)
- Scotland's supermarkets rely on goods by rail from Daventry
- Royal Mail post goes by rail between London and Glasgow
- Imported goods into West Midlands from deep-sea ports
Every 24 hours throughout the coronavirus crisis, 188,000 tonnes of critical supplies - including food, fuel and medicine - are moved by rail between London, Birmingham, Manchester, Liverpool and Glasgow.
(
Permalink
)
Network Rail is giving thousands of British firms a vital boost to their cashflow during the coronavirus crisis, by announcing a move to immediate payments for its suppliers. This means payment could be up to seven days quicker for SMEs and up to 28 days quicker for other suppliers.
(
Permalink
)
Bi-mode power is likely to represent the future of the rail freight industry, according to the Government's policy paper released on March 26.
(
Permalink
)
Network Rail has announced it is offering key workers free parking at 24 locations across Britain, including
Edinburgh Waverley
.
(
Permalink
)
CalMac has seen passenger numbers drop by 95% since new rules on essential ferry travel were put in place.
(
Permalink
)
Unite Scotland and the Transport Salaried Staffs Association (TSSA) has called for employees not vital to keeping transport networks open stood down to help protect them from the Covid-19 outbreak.
Unite - Scotland's biggest union with 150,000 members - said construction and maintenance work should stop immediately to reduce their risk.
(
Permalink
)
The charity behind the restoration of the Maid of the Loch paddle steamer says the popular visitor attraction will remain closed until the end of June because of the coronavirus lockdown.
(
Permalink
)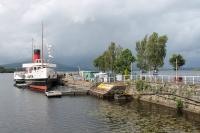 Balloch Pier: [[PS Maid of the Loch]], still berthed alongside Balloch Pier in August 2017and acting as a cafe while awaiting operational restoration. The station finally closed in 1986 but the line of the old platform, minus its canopy, is shown by the white railings.
Mark Bartlett 01/08/2017
Helensburgh Advertiser

The Borders Railway links Edinburgh with the Scottish Borders, taking in a marvellous slice of Midlothian, where its industrial heritage come to the fore.
(
Permalink
)
Sunday Post

Railway upgrades by a father-and-son duoare today helping keep critical supplies and key workers moving across Britain. Over the past three weekends, Howerd Kernahan, 50, a senior programme manager for Network Rail, and his track worker son Rafael, 18, have been part of an engineering team improving the Wigan-Kirkby line.
(
Permalink
)
Network Rail and construction firm Bam Nuttal secured the site on Saturday as work was suspended.
(
Permalink
)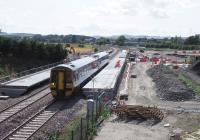 Kintore: ScotRail 158707, on the 14:20 departure from Inverurie to Inverness, passes through the new platforms at Kintore on 22nd August 2019.
Duncan Ross 22/08/2019
Grampian Online

All services will stop running from Monday onwards.
(
Permalink
)
Metro