Network Rail has been awarded a National Railway Heritage award for its work on the refurbishment of the South Esk viaduct at Montrose.
More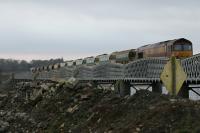 South Esk Viaduct: Ballast train waiting on the viaduct just south of Montrose station.
Duncan Ross 02/03/2007
Operators of the Caledonian Sleeper admit the service has been 'unsatisfactory' following a 'number of issues'.
More
A crucial ScotRail commuter service through Fife skipped stations this morning, missing out five stops in the area, with the operator blaming a crew shortage.
More
Fife Today

UK: First Trenitalia has awarded Hitachi Rail a contract to supply and maintain 23 inter-city trainsets for use on Avanti West Coast services. The contract announced on December 6 is worth £350m. Due to enter service from 2022, the 200 km/h trains to be assembled at Hitachis Newton Aycliffe factory would come in two versions. Hitachi is to supply 10 seven-car electric trainsets with 453 seats to be used on services to the West Midlands and Liverpool, and 13 five-car bi-mode trains with 301 seats for services to north Wales. The latter would replace the existing fleet of Class 221 Voyager sets supplied by Bombardier.
More
Railway Gazette

The UK's competition watchdog agrees to cap rail fares on certain routes between Scotland and Preston.
More
Scotland's railways is the story that keeps on giving but often not in a good way - Alastair Dalton [Scotsman]
Train operators like ScotRail and Caledonian Sleeper crave positive headlines but all too often they shoot themselves in the foot, writes Alastair Dalton.
More
The line closure affected services between Glasgow Queen Street and Mallaig.
More
Aberdeen railway heritage society receives royal recognition for turntable restoration [Press and Journal]
Their members have spent years refurbishing a former railway site in an effort to create a new age of steam in the Granite City.
More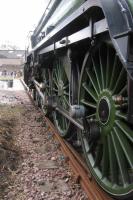 Ferryhill MPD: 60163's driving wheels, at the Ferryhill turntable, on 7th September 2019.
David Spaven 07/09/2019
Virgin Trains has taken a step closer towards offering rail customers across the UK unrivalled onboard broadband speeds by trialling 5G connectivity on the West Coast Mainline.
More
Virgin Trains

A demonstration will be held outside Manchester Victoria station.
More
More seats have been pledged for key commuter routes between Glasgow and Edinburgh by ScotRail as their new timetable was announced.
More
ScotRail boss vows to improve services and increase links to north-east towns [Evening Express]
ScotRail has promised to improve services and add journeys to address the 'pent up frustration' of north-east passengers.
More
At the 40th annual National Railway Heritage Awards presented today by HRH Princess Anne, the three Scottish winners were:
- South Esk Viaduct at Montrose : the Costain Structures Award to Network Rail and Taziker International
- Restoration of Ferryhill Turntable : the Stagecoach Volunteers Award to the Ferryhill Railway Heritage Trust
- Ballater Old Royal Station : the Southeastern Commercial Restoration Award to Aberdeenshire Council, collected in person by Council Leader Jim Gifford
Shortlisted Scottish entries were:
- Craft Skills Award : Edinburgh Princes Street station gates
- Volunteers Award: Lochearnhead scout station
- Commercial Restoration: Dunbar Station Yard micropub, Nairn Men's Shed
More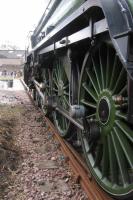 Ferryhill MPD: 60163's driving wheels, at the Ferryhill turntable, on 7th September 2019.
David Spaven 07/09/2019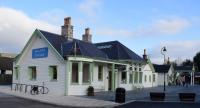 Ballater: Rebuilt Balllater station building, in what looks like the livery from British Railway times, on 17th November 2018. It now houses a cafe, the local Tourist Information Office and a small Library, which has a lot of local books and many issues of the Deeside Field-perhaps even more issues than the National Library.
Charlie Niven 17/11/2018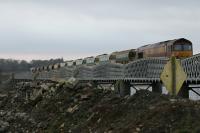 South Esk Viaduct: Ballast train waiting on the viaduct just south of Montrose station.
Duncan Ross 02/03/2007
National Railway Heritage Awards

ScotRail will deliver a boost for customers throughout the country, with more seats, more services, and a brand-new station as it introduces its new timetable. Announcing the changes to the timetable from 15 December 2019, the rail operator has confirmed the opening of Robroyston station, additional services in the north east of the country, extra seats between Edinburgh and Glasgow, and more peak seats on key services.
More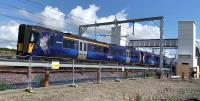 Robroyston: EMU 385111 with an Edinburgh to Glasgow via Cumbernauld service speeds through the site of what will eventually become Robroyston station between Stepps and Springburn. The new station is currently scheduled to open during December 2019.
Colin McDonald 10/08/2019
ScotRail

Monifieth to Edinburgh passengers to change at Dundee when new ScotRail station opens [Evening Telegraph]
Passengers in Angus and Dundee have been told to be aware of timetable changes in place from December 15, as Scotrail opens a new station.
More
Evening Telegraph

ScotRail has admitted things are 'not good enough' after a staff survey revealed 'too many' felt irritated and just 1 per cent said they were empowered in their roles, The Scotsman has learned.
More
Four major railway stations among first to recognise hidden disability sunflowers [Network Rail]
Four of the country's biggest railway stations will now offer passengers with hidden disabilities a discreet way to ask for extra help while making their journeys.
More
Rail bosses have promised to increase the number of seats on the Borders Railway, from next week.
More
Border Telegraph

Whoever wins the Westminster election, there are major changes coming down the track for the British railways.
More
Transport minister urged to step in over ScotRail train seat free-for-all row [Evening Express]
The Scottish Government's transport minister has been urged to intervene in a row over seat reservations on north-east trains.
More
The Lochaline Ferry Terminal has returned to full service following a six-week closure.
More
The London Oyster contactless railcard is rightfully hailed as a visionary technological leap in the way passengers pay for rail travel, and throughout the last decade, user numbers have soared. But with the use of contactless bank cards now on a similarly steep trajectory, are the Oysters days numbered? And what effect do security issues, like a recently disclosed cyber-attack, this technology?
More
Railway Technology

A small piece of rail history will be made shortly when the new Azuma starts commercial service in the Highlands.
More
Inverness Courier

Misery for SWR passengers as RMT union starts 27-day strike in train guards row [ITV News]
Hundreds of thousands of passengers face travel misery as the longest stretch of action against a rail operator in living memory begins.
More
Network Rail engineers will be working around-the-clock this Christmas to renew a key junction near Edinburgh Haymarket station.
More
Plans are being organised to replace the ageing Lismore passenger ferry as it will fail to meet new safety regulations being introduced in coming years.
More