Over 280 stations and depots across Scotlands Railway have benefited from new, upgraded high definition CCTV equipment. In a move to further improve the safety and security of its customers and employees, ScotRail has upgraded its analogue CCTV camera system to a new digital hybrid system.
More
Just over three weeks until 16-day closure of West Coast main line this summer [Network Rail]
In just over three weeks the West Coast main line will close for 16 days for vital engineering work in Warrington, train passengers were warned today.
More
New carriages featuring double beds were due to be introduced, but will now be diverted to Glasgow and Edinburgh instead.
More
Northern launched its new CAF diesel trains today (June 26), and will launch its electrics on June 28, ahead of the planned introduction of nine trains from July 1. At Preston on June 26, the operator used a Class 195 diesel multiple unit (DMU) to launch its £500 million investment in brand new trains. A four-car Class 331/1 electric multiple unit (EMU) will be used to launch the trains at Doncaster. From July 1, there were due to be seven DMUs and two EMUs in passenger traffic.
More
Rail

UK: Plans for a Blackpool London open access service are firmly on track, with the launch now expected in spring 2020, Grand Central said on June 24. In June last year the Office of Rail & Road granted Alliance Rail Holdings Great North Western Railway rights to operate the service. The project has now been transferred to sister Arriva group company Grand Central, which operates open access trains from London to Yorkshire and northeast England. Grand Central said this would enable it to draw on a larger pool of expertise and resources.
More
Railway Gazette

Caledonian Sleeper passengers have been left locked out of Waverley Station in Edinburgh in the latest nightmare for the troubled service.
More
Network Rail has reached a significant milestone in the delivery of step-free access at Kilwinning station with the installation of the final section of steelwork on the new footbridge.
More
Union leaders have condemned as "shocking" research that found more than half of all crimes reported on Scotland's railways last year went undetected.
More
Edinburgh has been been hit with intense flooding and thunder with tram services shut down in some areas. Heavy rain prompted disruption in the west of the city across Bankhead, Clermiston and Costorphine. Reports have also emerged of people standing on top of car roofs to escape the water.
More
ScotRail has said the completion of driver and conductor training in the east of the country has had a positive impact on services, with cancellations in the region at their lowest level in a year.
More
More trains are running on time and fewer services are being cancelled, ScotRail claims.
More
Virgin Trains staff can now give passengers up-to-the-minute details such as the best alternative routes and ticket acceptance by other comp
More
ITV News

Customers are benefiting from more trains running on time, fewer cancellations to services, and more seats throughout the country as ScotRail successfully delivers its performance improvement plan. The train operator committed to a range of improvements in March of this year after reaching a remedial agreement with Transport Scotland. Completion of the driver and conductor training in the east of the country has had a significant impact, with cancellations in the region at their lowest level in a year.
More
Retention tanks are set be fitted to high-speed trains to stop the dumping of human waste onto railway tracks. The practice of dumping sewage on the railways was ended in Scotland in 2017. However, it was reintroduced last year after delays to a new fleet of refurbished trains forced ScotRail to hire carriages without toilet waste tanks. The rail operator said it was 'doing everything' it could to meet a UK-wide ban on dumping the waste by 2020.
More
Passengers are being reminded that platforms 2 and 3 at Glasgow Queen Street station will be closed during July while engineers work to extend the tracks for longer, greener electric trains.
More
Hydrogen-powered trains are arguably the greenest trains out there. 'Mini power stations on wheels', is how Alex Burrows from the University of Birmingham describes them. He is the project director for the 'Hydroflex' train which was showcased at an event in the West Midlands. Unlike diesel trains, hydrogen-powered trains do not emit harmful gases, instead using hydrogen and oxygen to produce electricity, water and heat.
More
Part of a ScotRail train fell off and hit signalling cables - causing around 100 cancellations [Scotsman]
Part of a ScotRail train fell off and hit signalling cables today near Glasgow Central causing around 100 cancellations. The highly unusual incident involved a prop shaft dropping from a class 156 diesel train near Shields junction on the Glasgow-Paisley line in Pollokshields just after 6am.
More
'Its a race against time for the rail industry to engage, respond and deliver the services before the stock options turn to rust' - Gallop
More
RAIL

Thousands of commuters faced disruption on the first of a five-day strike by South Western Railway (SWR) staff over the role of train guards. Members of the Rail, Maritime and Transport union (RMT) said the walkout which began at 00:01 BST had 'solid support'. Stations and platforms across the network were packed with commuters struggling to get to and from work. SWR said a reduced service is running across the network.
More
ScotRail passengers let down as 97 per cent of new Glasgow to Edinburgh services fail to meet target time [Sun]
RAIL passengers are still being let down as it emerged £858million invested into a key route is failing to cut journey times. Just three per cent of services on the Glasgow to Edinburgh line hit the Scottish Governments 42-minute trip target last month, or two trains a day.
More
Sun

Services at Queen Street Station in Glasgow have resumed following reports of a train fire. Firefighters received calls at about 07:40 after images of smoke billowing from a carriage emerged. ScotRail later confirmed the smoke was caused by an engine fault. The firm said said they were unable to operate trains to or from the station while the incident was ongoing. The station was reopened and continued disruption was expected.
More
The electrification of the Borders Railway would make the viability of extending the route to Carlisle 'far better', according to campaigners. The Scottish government has confirmed it is considering the move on a number of routes around the country. It would help to cut journey times and improve reliability on the line. The Campaign for Borders Rail (CBR) said it believed it would also strengthen its case for taking the line past its current terminus at Tweedbank.
More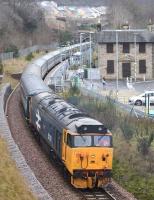 Gorebridge: 50011 (50046) brings up the rear of 'Pathfinder Tours 'The Waverley Re-Union' from Birmingham New Street to Tweedbank.
Bill Roberton 05/01/2019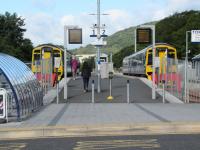 Tweedbank: A look along the platforms at Tweedbank on 12 September 2018. During the day anyway trains come and go from Platform 1 while a set is stabled at Platform 2. In Waverley Route days the idea of a station here would have been laughable; the settlement of Tweedbank wasn't launched until the early 1970s.
David Panton 12/09/2018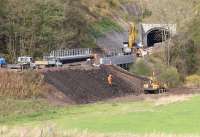 Bowshank Tunnel: Activity around the south portal of Bowshank Tunnel on 24 October 2014 seen from alongside the A7. 'Slab track' has already been laid through the 200m tunnel (provided as 'passive provision' for possible future electrification). The double track route through the tunnel is part of a 6.4km dynamic passing loop on the new Borders Railway. [See image 49398]
John Furnevel 24/10/2014
Some Caledonian Sleeper trains will be cancelled until Wednesday following wheel damage.
More
The last ocean-going paddle steamer needs replacement boilers costing £2.3m if it is to sail again.
More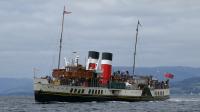 Largs Pier: Given the sad news about Waverley's boilers, I thought we might see her in better days. Here she sweeps into Largs Bay to call on 10-8-17.
Colin Miller 10/08/2017
Jump into the driver's seat for a journey along one of our most scenic routes, the Highland Mainline.
More
ScotRail YouTube

Rising costs may end rail link plan between airport and new arena in Aberdeen [Evening Express]
Ambitious plans for a multi-million-pound rail link between Aberdeen International Airport and the new exhibition centre look set to be abandoned.
More
Evening Express