The Herald

Wabtec has announced its intention to close its manufacturing operations at the Brush Traction site in Loughborough.
(
Permalink
)
Brush Traction
Wabtec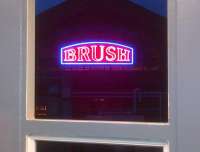 Loughborough: The famous neon sign, framed by the steelwork of the recently erected Loughborough station footbridge. View east in October 2013.
Ken Strachan 25/10/2013
Railway Gazette International

North-east Conservative politicians have launched a campaign urging the Scottish Government to set out £200 million plans for the region's rail and infrastructure as 'an urgent priority'.
(
Permalink
)
Cove
Deeside Railway
Newtonhill
Herald Scotland

The 2,000 tonne Tunnel Boring Machine (TBM) will be launched later this year, creating a one-mile twin bore tunnel under Long Itchington Wood.
A competition to find a name for the moving mega-factory was launched in March and has already received over 120 suggestions.
Exclusively aimed at Warwickshire residents, HS2 and BBV are calling on the local community to submit their final name ideas, with the competition portal closing on Friday 30 April 2021.
(
Permalink
)
HS2
Long Itchington Wood Tunnel
Tunnel Boring Machine
HS2

Network Rail has had to make changes to planned refurbishment works on the Grade II listed Britannia Bridge, in North Wales, after a pair of peregrine falcons were found to be calling it home.
(
Permalink
)
Britannia Bridge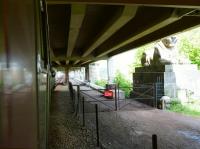 Britannia Bridge: About to cross the Britannia Bridge over the Menai Strait westbound on 29 May 2013. Originally a tubular bridge designed by Robert Stephenson, it was rebuilt after a major fire in 1970. A later additi ...
John McIntyre 29/05/2013
Shortlisted by the British LGBT Awards alongside well-known brands and celebrities including RuPaul, Carla Delevingne and Eugene Levy. Nominated following the launch of the Pride Train which is a symbol of inclusion
Winners to be announced at an awards ceremony on 27 August.
(
Permalink
)
Avanti West Coast
British LGBT Awards
Avanti West Coast

The Northern Echo

As we glide in 21st-century comfort along continuous welded rail - connected to social media and six billion web pages - it's easy to forget that much of the infrastructure were travelling on, through or over is a product of Victorian grit. The busiest section of the West Coast main line is now 182 years []
(
Permalink
)
Continuous Welded Rail
Track
Campaigners fight to save hundreds of disused railway structures threatened with infilling or demolition. Scattered across our nation are relics of the transport revolution brought by the railway in the 19th Century and lost to another - driven by the motorcar - in the 20th. Fifty years ago, the idea that we might eventually reopen []
(
Permalink
)
Highways England
Evening Standard

Network Rail is today launching an art competition that will celebrate rail travel and the destinations people have missed travelling to during lockdown over the last year.
The competition titled 'Wish I Was There' invites art students from across Britain to create and submit pieces of artwork that conjures up images of the places that they have been looking forward to visiting- whether it be a town, city or beach, a shopping street or even just a pub or a park - a place that means something special to them.
(
Permalink
)
Art
COVID-19
Thousands of pounds worth of damage has been caused at a popular north-east heritage site after it was targeted by thieves.
Royal Deeside Railway, an award-winning Victorian station preservation complex, said the break-in and theft of tools and broken windows totalled up to £3,000.
The damage was discovered by staff on Sunday morning at the site in Milton of Crathes, Banchory.
(
Permalink
)
Crime
Deeside Railway
Milton of Crathes
Royal Deeside Railway
Good news as steam railway tourist got another cash boost to help it recover from the Covid pandemic.
(
Permalink
)
Alston
COVID-19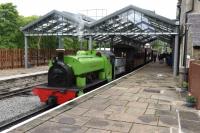 Alston: 'Barber', an 0-6-0ST built by Greens of Leeds (441/1908), photographed at Alston on the South Tynedale Railway on 22 July 2017. Note the new station roof, bought with the help of National Lotte ...
Peter Todd 22/07/2017
News and Star

Glasgow Live

One of the vessels on the Wemyss Bay to Rothesay ferry route has been withdrawn.
(
Permalink
)
MV Argyle
The vast investment in rail infrastructure outlined by Lorna Slater in the Green Party manifesto will delight those living in Durness, Ullapool, Campbeltown, and Kelso who currently lack a railway station. It will indeed be a pleasant surprise to the residents of Lerwick, whose nearest railway station is in Bergen.
(
Permalink
)
Green
New plans floated by the Scottish Greens would see the Rosyth to Europe ferry line reinstated after more than a decade.
(
Permalink
)
Green
Rosyth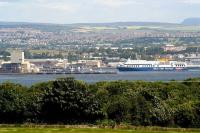 Rosyth Dockyard: Blue Star 1 arriving at Rosyth with the ro-ro ferry from Zeebrugge on 26 June 2008. Passenger services on the route ceased at the end of 2010 although a freight only service is still in operati ...
John Furnevel 26/06/2008
Evening Telegraph

GWR passengers have seen the highest increases for 'walk-up' tickets, but they also benefit from the cheapest day returns.
(
Permalink
)
GWR
Ticketless
The Independent

A new park and choose facility at Rosyth station could be timetabled as part of plans to speed up bus journeys and boost passenger numbers.
(
Permalink
)
Rosyth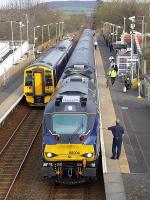 Rosyth: DRS 68004 on the 17.08 from Edinburgh meets 158732 heading in the opposite direction at Rosyth, on 8 April 2015.
Bill Roberton 08/04/2015
Dunfermline Press

Deeside residents are backing proposals to reinstate a historical north-east railway - with the move also expected to feature in the SNPs election manifesto.
(
Permalink
)
Deeside Railway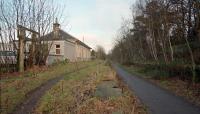 Cults: View east at Cults in February 1997, when the two platforms were overgrown but still visible.
Ewan Crawford 04/02/1997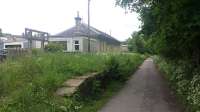 Cults: Cults Station building dating from 1894 replaced the original structure from 1853 (which had been moved on a train from its original location a few hundred yards east in 1855). It has the typical pien ...
Charlie Niven 20/06/2016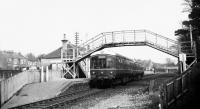 Cults: The BMU passing Cults station on 13.55 Aberdeen to Ballater service on 18th April 1960.
David Murray-Smith 18/04/1960
Rail services between Perth and Inverness will be reinstated from tomorrow morning (Thursday). The railway line has been closed near Dalwhinnie since Saturday following the derailment of two rear vehicles on an overnight rail operations test train.
(
Permalink
)
Dalwhinnie
Derailment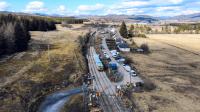 Dalwhinnie: An aerial view of Dalwhinnie looking to the station over the level crossing showing the track damaged in the derailment repaired.
Network Rail 15/04/2021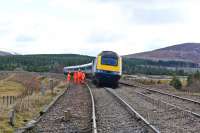 Dalwhinnie: This is the derailed HST at Dalwhinnie viewed from the level crossing to the north.
John Gray 10/04/2021
Scotlands Railway urged customers to plan ahead to stay safe as travel restrictions are lifted this weekend.
Yesterday, the Scottish government announced that, from Friday, people will be permitted to travel across Scotland to meet in groups of up to six adults from six households in outdoor settings.
(
Permalink
)
ScotRail

Scotlands rail operator urged customers to plan ahead to stay safe as travel restrictions are lifted.
(
Permalink
)
COVID-19
ScotRail
John O Groat Journal

The constant circulation of air by the ventilation system on Greater Manchester's light rail vehicles helps to limit the risk of aerosol transmission of viruses, an independent study has found.
(
Permalink
)
COVID-19
Manchester Metrolink
Railway Gazette

A community group has notified South Ayrshire Council of their intention to apply to purchase Ayr Station under the community right to buy scheme.
(
Permalink
)
Ayr
Ayr Station Hotel
Ayr Advertiser

RAIL

After last week's column about the latest disturbing developments at Ferguson Marine on the Lower Clyde and the Scottish government-owned yard's protracted struggles to finish two new ferries for the ...
(
Permalink
)
Ferguson Marine
The Times

Strike action is supported by workers as the union Unite accuses Albellio ScotRail of failing to make a meaningful pay offer.
(
Permalink
)
ScotRail
Strike