The Edinburgh-Glasgow, via Falkirk High, railway line will reopen for passengers on Monday (September 21).
(
Permalink
)
Edinburgh and Glasgow Railway
Flood
Polmont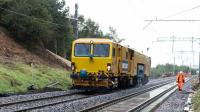 Polmont: Engineers have been working around-the-clock to repair the line which was partially washed away near Polmont when the Union Canal burst its banks on Wednesday, August 12. The force of thousands of gallons of water flowing from the breached canal bank washed away sections of track and undermined the railway's embankments along a 300m stretch of the line.
Network Rail /09/2020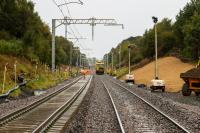 Polmont: Over the last six weeks, engineers have had to completely rebuild the foundations of the line, replacing over 15,000 tonnes of soil and stone beneath the track. A kilometre of new double-track railway has also been laid consisting of more than 4,500 metres of new rails and 4,424 concrete sleepers along with 10,000 tonnes of new ballast requiring 27 engineering trains. Over 3,000 metres of signalling cables have been re-laid and two new twin track overhead power gantries installed.
Network Rail /09/2020
The owners of the Maid of the Loch paddle steamer will team up with Industrial Museums Scotland this weekend to broadcast live footage of the ship's engines in steam to a global audience.
(
Permalink
)
PS Maid of the Loch
Paddle Steamer
International Railway Journal

The National Composites Centre (NCC) has partnered with Network Rail to investigate, design and build a composite footbridge.
The new partnership sees Network Rail join the NCC as a Tier One Member - the first rail infrastructure company to do so - which gives Network Rail access to use the world-leading expertise facilities and capabilities at the NCC.
The concept footbridge, conceived and ...
(
Permalink
)
Footbridge
National Composites Centre
Network Rail
Scottish Construction Now

The signs are up, as preparations to open a new Costa Coffee at Dundee Railway station are under way.
(
Permalink
)
Dundee
You don't need to go out to have fun. Enjoy these virtual events from the comfort of your own home.
(
Permalink
)
ScotRail
Berwick Advertiser

The Old Military Road in Argyll has reopened this morning following a safety inspection. Train services between Fort William and Bridge of Orchy have been reinstated following a safety inspection.
(
Permalink
)
Landslide
West Highland Railway
Edinburgh News

A vibrant yellow colour scheme for Metro's £362m new train fleet can be revealed for the first time today, as Nexus launches a major public consultation on its interior design.
Nexus, the public body which owns and manages the Tyne and Wear Metro, has chosen a modern and eye-catching yellow paint job with black and pale grey along the train sides, following input from passengers and employees.
The new colour scheme is a nod to the Metro's iconic yellow PTE livery when the system first opened 40 years ago.
The new Metro fleet, which is being built by the Swiss train manufacturer, Stadler, is set to enter service in 2023, transforming the experience for passengers and boosting reliability.
(
Permalink
)
Nexus
Stadler
Tyne and Wear Metro
Tyne and Wear Metro

Passengers will again be able to travel on a section of the Heart of Wales line, which runs from Shrewsbury to Swansea, from November as Network Rail has set out the timescales for repairs to the line after two major incidents within a month.
(
Permalink
)
Derailment
Heart of Wales Line
Landslide
HeraldScotland

Network Rail has acquired 'Bristol Old Station', the iconic Grade I listed building, designed by Isambard Kingdom Brunel, that was Bristol's first railway station when it opened in 1840 as the western terminus of the Great Western Railway from London Paddington. It remains one of the oldest surviving railway stations in Britain. Its acquisition from Bristol City Council allows Network Rail to bring the building back into railway ownership for the first time since rail privatisation in the mid-1990s.
(
Permalink
)
Bristol Temple Meads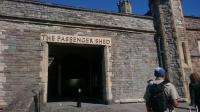 Bristol Temple Meads [1st]: Bristol Temple Meads station, 26th May, a very impressive station. This is the entry into the original passenger terminus.
Alan Cormack 26/05/2017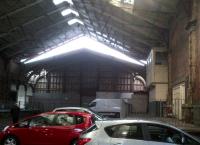 Bristol Temple Meads [1st]: Brunel's original train shed at Temple Meads in February 2013. The site is now used for car parking (with a �1 discount for parking outdoors!), but should soon be reopened as a terminus for electric trains from London. Notice the signal box on the right.
Ken Strachan 10/02/2013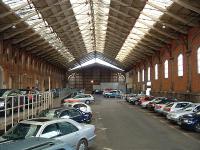 Bristol Temple Meads [1st]: Bristol Temple Meads the original western terminus of the GWR. Note signalbox back right.
Ewan Crawford //
Structural work on the temporary pre-cast factory that will produce tunnel wall segments for HS2's 10-mile-long Chiltern tunnels, has been completed at the south portal site, next to the M25. All of the steel for the frame of the factory has been made in the UK and delivered by specialist steel fabricators, Caunton Engineering, from its base near Moregreen, Nottinghamshire.
(
Permalink
)
HS2
The famous paddle steamer may have had a difficult return to the waves but stories inspired by one of the Waverley's most famous skippers are about to sail onto the airwaves.
(
Permalink
)
PS Waverley
Paddle Steamer
Sunday Post

North east of England is 'synonymous with the best trains in the world' according to Hitachi's Newton Aycliffe factory's local MP
(
Permalink
)
Hitachi
Newton Aycliffe
RAIL

A vintage event inspired by a north-east railway line is set to take place at an Aberdeen charity shop.
Barnardos on Union Street will host the event on September 19 and 20, which will be themed around the Aberdeen to Ballater Deeside Railway line.
(
Permalink
)
Aberdeen
Ballater
Barnados
Deeside Railway
Evening Express

severe weather will impact rail services between Kyle of Lochalsh and Inverness, ScotRail has warned. The rail operator has advised passengers that recent rough weather has necessitated the cancellation of some Monday morning services between the Highland capital and Lochalsh. 'Due to severe weather, services on our Oban/Mallaig & Kyle of Lochalsh routes will be disrupted tomorrow morning [Monday],' said a spokesman.
(
Permalink
)
Inverness
Kyle of Lochalsh
Mallaig
Oban
Weather
cancellations
Inverness Courier

Adverse weather is currently causing issues across the travel network with trains and ferries disrupted due to heavy rainfall and high winds.
(
Permalink
)
Weather
cancellations
Scotland's first hydrogen-powered train is to be showcased at the postponed COP26 climate change conference in Glasgow next year.
(
Permalink
)
COP26
Hydrogen power
Scotsman

A major £1.2m project to repair the linkspan at Gourock Ferry Terminal is due to get under way early next month.
(
Permalink
)
Gourock
Gourock Pier
Anoraks among the readership may delight in this third column on railways in as many months. But, unlike the previous two, this one features future expansion, not the ghosts of railways past.
(
Permalink
)
Dunbar
North British Railway
East Lothian Courier

Poor weather conditions could cause some disruption to CalMac sailings to and from the Outer Hebrides today (Saturday, September 12).
(
Permalink
)
Caledonian MacBrayne
Stornoway Gazette

A new rail shuttle service between Linlithgow and Edinburgh will be introduced from Monday, 14 September to keep customers moving between Edinburgh and Glasgow.
The service will operate in both directions and will call at Linlithgow, Edinburgh Park, Haymarket, and Edinburgh Waverley.
Existing replacement bus services between Falkirk Grahamston and Linlithgow remain in place for customers.
(
Permalink
)
Edinburgh Park
Edinburgh Waverley
Haymarket
Linlithgow
Shuttle service
A new shuttle service between Montrose and Edinburgh will be introduced from Monday, 14 September to allow customers travelling in the north east to complete their journey by rail.
The service will run Monday to Saturday between Montrose and Edinburgh, and between Montrose and Dundee on Sundays.
It follows the introduction of a rail shuttle service between Aberdeen and Stonehaven last week.
Existing replacement bus services between Dundee and Aberdeen remain in place for customers travelling beyond Montrose.
(
Permalink
)
Aberdeen
Dundee
Montrose
Shuttle service