The man tasked with working out how to improve UK railways says a 'Fat Controller' type figure, independent from government, should be in charge of day-to-day operations. The former boss of British Airways, Keith Williams, said government involvement should be limited to overall policy and budget decisions. But he said the Department for Transport should not manage the system. His review of the rail system will be published this autumn.
More
Firefighters are currently tackling a major blaze near to Boat of Garten's steam railway station. It is understood that the fire broke out at around 1.45pm in a nearby workshed and there are five fire appliances in attendance. Neighbouring properties and the golf club have been evacuated
More
Strathspey Herald

Scotrail has responded to complaints about the rail service between Inverness and Aberdeen after receiving a letter from Moray's MP.
More
Eigg residents say their businesses are taking a huge hit due to ferry operator CalMac's prioritising of non-landing passengers.
More
Passengers on one of Scotlands busiest commuter lines are still stuck with old trains from the 1970s more than a year after ScotRail said theyd be phased out. The rail operator introduced the class 314s built 40 years ago in York as a stopgap in Inverclyde while new trains were diverted elsewhere for driver training. ScotRail said at the beginning of 2017 that it hoped to have an all-modern fleet of trains on the line by May the following year. But more than a year on, the old 314s are still run on the Inverclyde line, which travels through Greenock and Paisley into the countrys busiest station, Glasgow Central.
More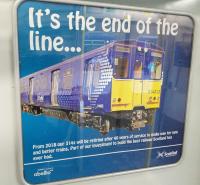 Plates, signs, notices etc: Yes, Scotland's oldest current stock is being withdrawn in 2018, the same year that even older HSTs are joining the fleet. I wonder what percentage of passengers would be able to identify a 314, let alone will notice when they go? Photographed aboard a 314 (what else?) on 16 December 2017.
David Panton 16/12/2017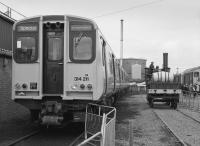 Ayr MPD: Ayr Open Day, 29 October 1983. Then new 314211 is on display, with Sans Pareil replica operating on the right. Electrification came in 1986. The Class 314 units will be withdrawn in 2018.
Bill Roberton 29/10/1983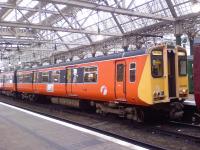 Glasgow Central: Class 314 314202 at Glasgow Central waiting to depart with the service to Neilston. This is the last train still painted in SPT orange and black, and it will lose this as part of the Class 314 modernisation programme.
Graham Morgan 26/08/2006
Sunday Post

A 110-year-old landmark former railway bridge in Swansea is to be moved for restoration. Preparation work has been under way for weeks and the Bascule Bridge near the Liberty Stadium will be moved, in one piece, by 13:00 BST on Sunday. More than 20 workers, a 53m (174ft) crane and and a truck will perform the manoeuvre. The 70-tonne Grade II listed bridge will then be assessed and restored at Afon Engineering, Swansea Vale, and re-installed next year. The bridge was pivotal to the area's time as the world copper capital, and its hinged steel structure would lift to allow for river traffic to pass through.
More
Works to improve the rail network in the north-east are taking shape, with the project now past the halfway mark.
More
A north-east museum could be expanded in the future as it gets ready to host an open weekend.
More
New boilers on way for Waverley amid hopes historic steamship will set sail next summer [Scotsman]
Plans to return the world's last sea-going paddle steamer to full service have taken a major step forward after its owners placed an order for new boilers.
More
We take a trip in the cab of a refurbished ScotRail Inter7City set to see how these trains will revolutionise travel north of the border
More
RAIL

Full steam ahead as operators express interest in Far North Line sleeper train [Press and Journal]
Good progress is being made with plans to introduce an overnight rail service between Caithness and the Central Belt.
More
Hogwarts Express railway enthusiast gets approval for Yorkshire Dales station plan [Darlington & Stockton Times]
The railway enthusiast who saved the Harry Potter films Hogwarts Express from a scrapyard has had his plan to re-lay track at a defunct station to shunt diesel and steam locomotives mainly for his private enjoyment approved. The Yorkshire Dales National Park Authority has approved David Smiths scheme despite concerns over its impact on the tranquillity of the national park, the wildlife of a nature reserve and visitors to the Aysgarth Falls tourism hotspot. The authority's planning committee heard the project to recreate the atmosphere of a country station at Aysgarth represented the best chance of reinstating the Wensleydale Railway from Northallerton to Garsdale, starting with the stretch from Redmire to Aysgarth. Mr Smith runs West Coast Railways, Britain's largest operator of heritage steam trains.
More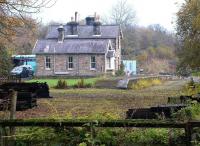 Aysgarth: View east along the trackbed towards the former Aysgarth station and the route through Wensleydale to Northallerton on 3 November 2004. The railway bridge that once spanned Church Bank road, between the camera and the wooden fence, is long gone.
John Furnevel 03/11/2004
Aysgarth: First station after Redmire on the lifted section of the Wensleydale line is Aysgarth, near to the famous waterfalls. Closed to passengers in 1954, and freight ten years later, the station is very much intact but private property. The Wensleydale Railway's long term ambition is to extend through here to Garsdale.
Mark Bartlett 29/12/2008
Darlington and Stockton Times

The ScotRail Alliance has installed a commemorative plaque at Shotts station to mark the 150th anniversary of the opening of the line between Glasgow and Edinburgh via Shotts. Unveiled by Alex Neil, MSP for Airdrie and Shotts and Transport Scotland Director for Rail Bill Reeve, at an event earlier today, the plaque reads:
More
ScotRail

The Maud Railway Museum will be open to the public on Saturday and Sunday.
More
The business veteran who was part of the team which bought out Western Ferries 21 years ago has called for the Scottish ferry network to be split into bundles to boost competition as he steps down as chairman of the Dunoon-based firm.
More
The Herald

An Aberdeen MSP has lent her support to a bid to study the potential for creating new train stations in the south of the city.
More
Frustrations over travel links to Scotlands numerous islands continues to grow and its not just the public who feel the situation with the ferry network is bad and only getting worse.
More
Hopes for a resumption of the regular freight traffic on the northernmost stretch of the rail network are being boosted with a trial run later this month. Very few commercial loads have been hauled either into or out of Caithness since a burst of activity in the 1990s when the freight arm of former freezer manufacturers Norfrost established a terminal at Georgemas Junction. Consignments of timber were also moved south by rail following the creation of a railside loading bay near Kinbrace in 2002. [This article is not available on the Press and Journal website.]
More
PressReader

The Cairngorm funicular will remain out of service this coming winter, its owners Highlands and Islands Enterprise (HIE) has said. The UK's highest railway has been out of action since October last year due to structural problems. HIE, which also owns the Cairngorm Mountain ski centre, near Aviemore, said repairs will not be possible until spring or summer next year. It said piers, beams and foundations all require to be strengthened.
More
Earl and Countess of Forfar get into drivers seat on Speysides whisky line train [Press and Journal]
The Earl and Countess of Forfar got into the drivers seat of a train during their visit to Speyside. The royal couple toured Glenfiddich in Dufftown yesterday to celebrate the 50th anniversary of the first whisky distillery centre in the world. Bill Gordon and Grant Gordon, both descendants of William Grant who originally founded the world-famous firm, met the entourage as they arrived.
More
Two rail workers have died after being hit by a passenger train between Port Talbot Parkway and Bridgend stations. The pair were struck near Margam by the Swansea to London Paddington train at about 10:00 BST. A third person was treated for shock at the scene, but was not injured, British Transport Police (BTP) said. Network Rail said: 'We are shocked and distressed to confirm that two members of our team lost their lives today in an accident involving a train.'
More
Two councillors have called on transport bosses to consider a new train station in the south of Aberdeen.
More
The extension of the Borders Rail link and a fresh drive to attract workers and families to the south of Scotland are among the measures called for to breathe new life into the area, according to a new study.
More
Campaigners welcome £10m boost for bid to extend Borders Railway into Cumbria via Hawick [Scotsman]
Campaigners have welcomed the allocation of £10m for a study into the viability of extending the Borders Railway south west into England as part of the Borderlands growth deal agreed today, July 1.
More
A famous childrens railway in Inverness is preparing to reopen this week after it was forced to close due to suspected vandalism.
More
Scotland's leading heritage railway is planning to develop its stations into destinations in their own right to attract more passengers and increase the frequency of trains.
More
Scheduled work at Glasgow Queen Street station will result in longer platforms accommodating longer trains.
More
A 'rescue train' was sent to help passengers from a Caledonian Sleeper service which broke down in a remote area of the Highlands. The overnight service to London Euston was cancelled due to a power failure shortly after it left Fort William on Friday. Caledonian Sleeper 'sincerely apologised' and said Sunday night's services would start from Edinburgh. It is the latest in a series of problems facing the rail firm. Since launching its new £150m fleet to great fanfare in April, passengers travelling between the Central Belt and London have faced disruption and cancellations.
More
Full electrification of the main south Wales to London railway is in doubt as engineers on the £2.8bn project have an 'issue' electrifying the Severn Tunnel. The kit holding electric wires above the track in the four-mile (6km) tunnel is failing because of the salty conditions under the Severn Estuary. Network Rail has spent three years and what is thought to be close to £20m to prepare the tunnel for electrification. Specialists in electric rail have been brought in to help solve the issue.
More