HS2 Ltd has been urged to fund the rehousing of 175 council households in London enduring 'unbearable' conditions due to construction works on their doorstep.
(
Permalink
)
HS2
A Christmas travel tsar has been appointed in an effort to avoid transport chaos during the festive period. Sir Peter Hendy, the chairman of Network Rail, will scrutinise whether train, air and road networks are ready for millions of people making trips over the five-day window when coronavirus restrictions are eased, the Department for Transport said.
(
Permalink
)
COVID-19
Christmas
Network Rail
Peter Hendy
Avanti West Coast

Passengers, and freight customers, will benefit from more than £16m of investment in Scotland's Railway over this Christmas and New Year. Engineers will be relaying track, renewing junctions and refurbishing structures across the country with work taking place in Glasgow, Edinburgh, Stirling, Perth and Inverness. In Glasgow, a key line into Glasgow Queen Street High Level station will be affected from Christmas Day until January 2 while engineers renew points - rails which move to allow trains to cross from one track to another - and replace over 1km of track at Cadder. This will have an impact on some services in and out of Glasgow Queen Street, but alternative routes between Glasgow and Edinburgh will be available. A number of services will continue to run. On the south side of the Clyde, engineers will be working from New Year's Day until the early hours of January 4, to renew junctions and life-expired track between Muirhouse and Eglinton Street, near Glasgow Central. In Stirlingshire, engineers will be delivering a range of works to renew track, upgrade signalling and level crossings while in Perth and Inverness works will be delivered to improve track at both stations.
(
Permalink
)
Cadder
Christmas
Eglinton Street
Inverness
Muirhouse
Perth
Rail works
Network Rail Media Centre

Staff desperately wanted to bring 'some normality to cheer customers up' who still use the station for their commutes.
(
Permalink
)
Bellshill
Daily Record

A section of the Union Canal near Muiravonside and Whitecross which suffered a major breach in August will now be fixed thanks to £6.25 million of funding from the Scottish Government.
(
Permalink
)
Union Canal
Falkirk Herald

Rail campaigners say they remain 'optimistic' that services will return to normal on the Far North Line once the Covid-19 pandemic is over.
(
Permalink
)
COVID-19
ScotRail
Timetabling
JohnOGroat Journal

102 Pacers have now fully retired. In more than 35 years, Pacers have travelled over 300 million miles in the north. The final journey " Kirkby to Manchester Victoria " was completed by 142004. Northern has bid a final farewell to its fleet of Pacers after more than three decades' service.
(
Permalink
)
Northern
Pacers
Northern

Evening Times

The Irish Times

Pontoons have previously been suggested for Kilcreggan pier, which has served the village since Victorian times.
(
Permalink
)
Kilcreggan Pier
The Lochside Press

ScotRail will deliver a revised timetable for customers from Sunday, 13 December as it continues to provide a critical service during the COVID-19 pandemic.
Announcing the changes, the train operator confirmed that around 81 per cent of the normal timetable will operate, with some services being removed following a significant reduction in passenger demand. ScotRail said this level of service will more than meet demand over the coming months.
(
Permalink
)
COVID-19
Timetabling
The Office of Rail and Road (ORR) has today published its annual report on the rail industrys finances for 2019-20.
(
Permalink
)
COVID-19
ORR
A new lighthouse is being built at the Corran Narrows on Loch Linnhe to enable larger cruise ships to safely reach the West Highland town.
(
Permalink
)
Corran Narrows
Fort William
Trains to and from Edinburgh have been disrupted and some could be cancelled due to the failure of a power supply.
(
Permalink
)
Power supply
ScotRail
Aberdeen City Council has started a public consultation into two parallel studies for transport links to Aberdeen South Harbour and Wellington Road. Over the last 18 months, Aberdeen City Council has worked with partners to assess options through the STAG appraisal process for both studies. The next stage in the process is engaging with local stakeholders and members of the public to seek views on the likely impacts of the options for each study on individuals and businesses to assist the City Council in maximising the opportunities that the studies present locally, ...
(
Permalink
)
Aberdeen
Nestrans

People living in some of the UK's most remote and isolated communities are furious after their 'lifeline' ferry company told them it was hiking charges for freight by 300%.
(
Permalink
)
Caledonian MacBrayne
Herald Scotland

Calls have been renewed for to reinstate the Kinross rail link, amid claims it would cut journey times from Perth to Edinburgh by up to 35 minutes.
(
Permalink
)
Kinross
Kinross Junction [2nd]: Part of the OS One Inch map of 1945 showing part of the then county of Kinross. Kinross-shire was not large, and even this small extract shows its only town and its only substantial village (locally pronounced Mills-i-forth, for some reason). Two junctions on the NBR Perth direct line are shown: Kinross, for the Devon Valley line to Alloa; and Mawcarse, the junction for the line to Auchtermuchty and Ladybank. Mawcarse was - and is - nothing but a house, but the station survived 14 years after the closure of the branch until the main line was closed in 1964. Crown copyright 1945.
David Panton //1945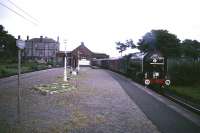 Kinross Junction [2nd]: The South & West Railway Society Granite City from Euston heads north through Kinross Junction on the Glenfarg Line on 3 September 1966 behind A2 Pacific 60532 Blue Peter on the Edinburgh - Aberdeen leg of its journey. The 1890 Kinross Junction was the second station to bear the name and the last survivor of the 4 (5 - EC) stations built in Kinross, finally closing in January 1970. See image [[20706]]
Robin Barbour Collection (Courtesy Bruce McCartney) 03/09/1966
The Courier

Craven Herald

The only inter-city train on Boxing Day is a single round trip from London to Birmingham on Chiltern Railways.
(
Permalink
)
Christmas
The Independent

A man from Glasgow looking to do Christmas shopping in Edinburgh asked the rail company 'if they'd mind' if he broke the rules.
(
Permalink
)
COVID-19
Scotrail
Edinburgh Live

New Cumnock Railway Station was left in a sorry state last night after vandals pelted windows and destroyed shelters.
(
Permalink
)
New Cumnock
Cumnock Chronicle

HS2 News and Information

The cross-Channel rail operator claimed it is being treated unfairly after the aviation sector was given extra assistance due to the coronavirus pandemic.
(
Permalink
)
COVID-19
Eurostar
Daily Mail

The railways in the UK, Australia and India getting power from the sun in different ways.
(
Permalink
)
Green
It has been 20 years since the first train load of goods left Grangemouth for the newly opened rail terminal in Daventry in the English Midlands. Operated by Direct Rail Services for customer WH Malcolm the train carried glass from Alloa to be used for bottling lager and making coffee jars. The northbound train returned the next day with petfood, pallets and some retail traffic.
(
Permalink
)
DRS
Grangemouth
Rail freight
WH Malcolm
Five railwaymen were killed at Omagh, County Tyrone, when they were struck by a passenger train.
(
Permalink
)
Accident
Omagh
A historic pleasure 'steamer' has had a mini makeover, to help passengers returning to the Lake District after lockdown enjoy a greener, sleeker visitor experience.
(
Permalink
)
MV Raven
Ullswater
News and Star

Grampian Online

A new video is showcasing the work ScotRail staff have put in to keeping customers and colleagues safe and moving during the coronavirus pandemic.
It highlights the fact that since March, deep cleans on trains to prevent the spread of the virus have increased by 270 percentage points.
Cleaning staff are concentrating their efforts on all areas people frequently come into contact with, known as 'touch points'. These include ticket machines, gates, handrails, lift surfaces, pay phones, and door handles.
(
Permalink
)
COVID-19
With the final withdrawal of Island Lines 80-year-old Class 483 trains a little over a month away, the London Transport Traction Group have announced that they've successfully secured one of these trains for preservation on the mainland, at the Epping Ongar Railway in Essex.
South Western Railway has confirmed to the group that they will have a unit for preservation, but its not been confirmed which unit - although it is likely to be 483006 or 483008. This is pending a final decision from the Science Museum's Railway Heritage Designation Advisory Board who are managing the disposal of some of the trains.
(
Permalink
)
Class 483
London Traction Group
Science Museum
South Western Railway
Island Echo

Emergency services will have a better chance of saving lives when responding to incidents in the Severn Tunnel thanks to a new innovative road-to-rail vehicle which has been provided by Network Rail.
(
Permalink
)
Emergency Services
Road-rail vehicle
Press and Journal

Following an investigation by the Office of Rail and Road (ORR), Scotlands Crown Office and Procurator Fiscal Service has prosecuted Network Rail for allowing trains to travel at more than 100mph over a badly storm damaged viaduct.
(
Permalink
)
Lamington Viaduct
ORR
Two Champagne Christmas Lunch trips aboard one of the worlds most luxurious trains have been temporarily derailed by the Scottish governments new Covid-19 restrictions.
(
Permalink
)
Northern Belle
Several trains were allowed to use the West Coast Main Line crossing after it was badly damaged in a storm.
(
Permalink
)
Lamington Viaduct

Lamington Viaduct: Detail of the Network Rail poster at Glasgow Central showing the damage and repairs to Lamington Viaduct.
John Yellowlees 11/01/2016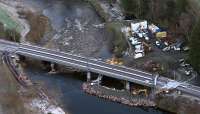 Lamington Viaduct: Aerial view of Lamington Viaduct looking east over the works to repair damage caused during Storm Frank. Network Rail have announced that works will continue throughout February. Network Rail news item.
Network Rail 18/01/2016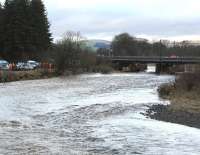 Lamington Viaduct: Some of the considerable activity taking place on and around the WCML viaduct at Lamington on the morning of 2 January 2016. Part of the structure has suffered due to the effects of recent heavy rainfall on the fast-flowing River Clyde during storm Frank. At the time of the photograph (1030) the rain had stopped, although surrounding roads and fields were saturated, with flooding apparent in several areas. The line will be closed for some time. See image [[54263]]
John Furnevel 02/01/2016
Rail passengers are being warned of added speed restrictions on Kyle Line services ahead of more rain and strong winds tonight and tomorrow.
(
Permalink
)
Kyle Line
Ross-shire Journal

Details of changes to the layout of the cycle lane and foot path on Leith Walk during November 2020.
(
Permalink
)
Edinburgh Trams
Edinburgh Trams

Laser scanners and drones have been used to map every inch of the iconic Ribblehead viaduct as part of a major restoration project to secure its future for passengers and tourists.
(
Permalink
)
Ribblehead Viaduct
Network Rail has reopened the Grade II listed footbridge at Prudhoe station for passengers after a major project to strengthen, clean and repaint it.
(
Permalink
)
Prudhoe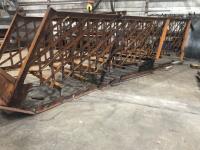 Prudhoe: Seen during the restoration process, a section of Prudhoe station's footbridge with the old paint blasted off.
Network Rail //2020
Following the Prime Minister announcing the start of construction on the London-Birmingham route, HS2 has released £12 billion worth of supply chain contracts to be let over the next 18 months
British businesses actively encouraged to bid for contracts
4-day virtual event starting today will showcase the plethora of opportunities available and advise businesses on how to get contract ready
(
Permalink
)
HS2
HS2