Politicians in northern England are demanding that passengers still having to use the heavily-criticised Pacer trains should be offered reduced fares. Manchester mayor Andy Burnham, Sheffield City Region mayor Dan Jarvis and Leeds City Council leader Judith Blake have told train operator Northern using the ageing units is unacceptable. Pacers are 1980s-built railbuses meant as a short-term alternative for trains. Northern had planned to withdraw them all by the end of this year. The much-derided Pacers were originally constructed from the body of a bus frame and intended to have a maximum lifespan of 20 years.
More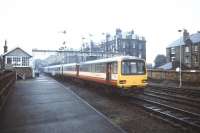 Scarborough: A Pacer Sprinter combo passing Falsgrave signal box on the approach to Scarborough on a grey 3 October 1990.
Ian Dinmore 03/10/1990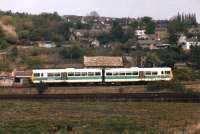 Mirfield: A class 141 Pacer in early West Yorkshire PTE green livery runs off the Huddersfield line eastbound spur in May 1987 to join the former L&Y main line to its next call at Mirfield.
David Pesterfield 06/05/1987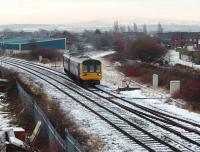 Morecambe Junction: Having met the Christmas Eve Isle of Man ferry, Northern Pacer 142023 comes off the Heysham Port branch into Morecambe station where it will reverse and head for Leeds. The train crew operate the ground frame to access the branch.
Mark Bartlett 24/12/2009
Ferry operator CalMac has started its winter maintenance programme. Over the coming weeks, ships will be taken off their regular routes for a series of inspections, upgrades and maintenance. Services for various islands will experience temporary changes as the fleet is rejigged to provide cover. Two relief vessels will operate sailings on the Stornoway-Ullapool route as the MV Loch Seaforth goes off to dry dock on the Mersey for three weeks.
More
The famous 70-year-old ship has been out of service for the 2019 season as it needs a new boiler.
More
Network Rail and Arup have launched a report that explores and identifies the future role that stations will play in our towns and cities.
More
New figures released today, Friday, 18 October, show that the service customers receive on Scotlands Railway has improved by almost 30 per cent over the past year. The Service Quality Incentive Regime (SQUIRE) report released by Transport Scotland has shown that the service on ScotRail trains and at stations improved significantly between July and September compared with the same period the previous year.
More
ScotRail
Bridges and the drainage system on a stretch of the railway between Crianlarich and Fort William have been refurbished.
More
Replacement buses are running between Dundee and Kirkcaldy after the collision leaves the train inoperable.
More
Network Rail engineers have successfully delivered upgrade and refurbishment works as part of a wider £5million investment in the West Highland Line.
More
Final voyage of explorer who named Australia as excavated remains to return home [ITV News]
Remains of Captain Matthew Flinders were discovered by experts excavating burial ground in London as part of the HS2 rail project.
More
The government is considering whether the management of the train service should be taken into public hands.
More
The shock cost of repairing the station hotel has not phased a campaign group who insist the hotel can still be saved.
More
Ayr Advertiser
Hitachi proposes use of robots at stations.
More
Serco was named the preferred bidder to continue running the service but CalMac says its tender was cheaper.
More
Ferry operator CalMac is seeking to appoint a service provider to deliver an adequate ferry booking and ticket solution for its vast network across Scottish islands.
More
CAF coaches finally enter traffic on Caledonian Sleeper Highlander route.
More
Plans to scrap the UK's existing rail franchise system and replace it with a new model based on performance and reliability will be announced as part of the Queen's Speech today. ... The speech comes weeks before the publication of a whitepaper that uses recommendations from an ongoing review by former British Airways chief executive Keith Williams, also known as the Williams Rail Review.
More
Railway Technology
Only half of train journeys are made using traditional paper tickets as smart ticketing continues to grow, new figures show. Industry body the Rail Delivery Group (RDG) said passengers bought orange tickets for just 50% of journeys in the four weeks from August 18, compared with 63% during the same period last year.
More
Network Rail has successfully completed the lengthening of platforms 4 and 5 at Glasgow Queen Street station.
More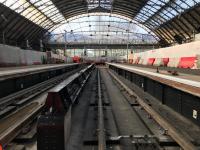 Glasgow Queen Street High Level: View towards the buffers at Glasgow Queen Street's extended platforms 4 and 5.
Network Rail //
Long-suffering passengers on Caledonian Sleeper's new fleet have encountered yet more problems – being locked out of their rooms and coffee not being available in the morning.
More
Scotsman
Authorities have shut down cafes and banned crowds at one of the city's most popular tourist spots.
More
Train journeys are, for some, a commute, for others a way to get from A to B on a weekend day out. But if you take the time to savour them, then some Scottish train journeys can be even better than the destination. Put your paper down, look out the window and soak in some of the best scenery that the country has to offer, all from the comfort of your own seat.
More
HeraldScotland
Transport Secretary urged to act over left luggage at Aberdeen station [Press and Journal]
The Scottish Government has been urged to convince ScotRail to create alternative left luggage arrangements at Aberdeen Railway Station.
More
Loss making ScotRail has been accused of cutting back on toilet paper and soap on its trains by its main union.
More
Scotland's state ferry operator is challenging its owner over a £345 million contract awarded to a commercial rival.
More
Speculation is mounting that train operator Northern will be stripped of its franchise by the Government.
More
News and Star
Caledonian Sleeper completes roll out of £150m new fleet of trains as service introduced on Highland route to Inverness [Inverness Courier]
Serco Caledonian Sleeper has finally delivered its Inverness service with new carriages.
More
Inverness Courier
Train commuters are experiencing delays and cancellations after safety inspections force closure of the Dingwall line. ScotRail has terminated a number of services on the Inverness to Dingwall route as engineers work to carry out safety inspections of the track. A statement said: 'Train services between Kyle Of Lochalsh and Inverness may be terminated at and started back from Dingwall. All stations between Inverness and Dingwall will not be served. 'For safety reasons we are unable to run trains between Dingwall and Muir of Ord. Our staff have been mobilised and will be onsite at approximately 2:30pm. We will update you once we have more information.'
More