Passengers are being reminded that platforms 2 and 3 at Glasgow Queen Street station will be closed during July while engineers work to extend the tracks for longer, greener electric trains.
More
Hydrogen-powered trains are arguably the greenest trains out there. 'Mini power stations on wheels', is how Alex Burrows from the University of Birmingham describes them. He is the project director for the 'Hydroflex' train which was showcased at an event in the West Midlands. Unlike diesel trains, hydrogen-powered trains do not emit harmful gases, instead using hydrogen and oxygen to produce electricity, water and heat.
More
Part of a ScotRail train fell off and hit signalling cables - causing around 100 cancellations [Scotsman]
Part of a ScotRail train fell off and hit signalling cables today near Glasgow Central causing around 100 cancellations. The highly unusual incident involved a prop shaft dropping from a class 156 diesel train near Shields junction on the Glasgow-Paisley line in Pollokshields just after 6am.
More
'Its a race against time for the rail industry to engage, respond and deliver the services before the stock options turn to rust' - Gallop
More
RAIL
Thousands of commuters faced disruption on the first of a five-day strike by South Western Railway (SWR) staff over the role of train guards. Members of the Rail, Maritime and Transport union (RMT) said the walkout which began at 00:01 BST had 'solid support'. Stations and platforms across the network were packed with commuters struggling to get to and from work. SWR said a reduced service is running across the network.
More
ScotRail passengers let down as 97 per cent of new Glasgow to Edinburgh services fail to meet target time [Sun]
RAIL passengers are still being let down as it emerged £858million invested into a key route is failing to cut journey times. Just three per cent of services on the Glasgow to Edinburgh line hit the Scottish Governments 42-minute trip target last month, or two trains a day.
More
Sun
Services at Queen Street Station in Glasgow have resumed following reports of a train fire. Firefighters received calls at about 07:40 after images of smoke billowing from a carriage emerged. ScotRail later confirmed the smoke was caused by an engine fault. The firm said said they were unable to operate trains to or from the station while the incident was ongoing. The station was reopened and continued disruption was expected.
More
The electrification of the Borders Railway would make the viability of extending the route to Carlisle 'far better', according to campaigners. The Scottish government has confirmed it is considering the move on a number of routes around the country. It would help to cut journey times and improve reliability on the line. The Campaign for Borders Rail (CBR) said it believed it would also strengthen its case for taking the line past its current terminus at Tweedbank.
More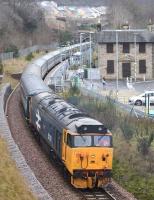 Gorebridge: 50011 (50046) brings up the rear of 'Pathfinder Tours 'The Waverley Re-Union' from Birmingham New Street to Tweedbank.
Bill Roberton 05/01/2019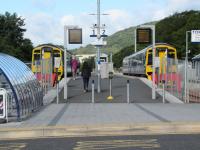 Tweedbank: A look along the platforms at Tweedbank on 12 September 2018. During the day anyway trains come and go from Platform 1 while a set is stabled at Platform 2. In Waverley Route days the idea of a station here would have been laughable; the settlement of Tweedbank wasn't launched until the early 1970s.
David Panton 12/09/2018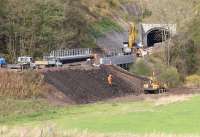 Bowshank Tunnel: Activity around the south portal of Bowshank Tunnel on 24 October 2014 seen from alongside the A7. 'Slab track' has already been laid through the 200m tunnel (provided as 'passive provision' for possible future electrification). The double track route through the tunnel is part of a 6.4km dynamic passing loop on the new Borders Railway. [See image 49398]
John Furnevel 24/10/2014
Some Caledonian Sleeper trains will be cancelled until Wednesday following wheel damage.
More
The last ocean-going paddle steamer needs replacement boilers costing £2.3m if it is to sail again.
More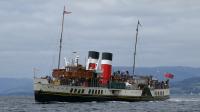 Largs Pier: Given the sad news about Waverley's boilers, I thought we might see her in better days. Here she sweeps into Largs Bay to call on 10-8-17.
Colin Miller 10/08/2017
Jump into the driver's seat for a journey along one of our most scenic routes, the Highland Mainline.
More
ScotRail YouTube
Rising costs may end rail link plan between airport and new arena in Aberdeen [Evening Express]
Ambitious plans for a multi-million-pound rail link between Aberdeen International Airport and the new exhibition centre look set to be abandoned.
More
Evening Express
We're gearing up for another busy phase of activity at #Glasgow Queen Street as the team prepare to extend platforms 2 and 3 by 26m. From 17 June, well uncover space beneath concourse which was 'dug-out' for platform extensions during Queen street tunnel closure. An area at the front of both platforms will be cordoned off to enable this work. We'll also be moving part of the gate-line to the front of platforms 2 to create additional access to the Low Level and Platform1 via Dundas Street. This work is ahead of closing platforms 2 and 3 from 30th June - 29th July. This allows us to extend the platforms to enable longer (8 carriage) electric trains, as well as deliver more seats and faster journey times for customers
More
Two new stations have been opened in Gwynedd following a major investment by a narrow gauge railway. The Welsh Highland Railway links Caernarfon and Porthmadog where it links with the Ffestiniog Railway allowing passengers to enjoy a 40-mile journey through spectacular scenery.
More
North Wales Live
They were once a regular sight on the Valleys Lines when trains were out of service - and now carriages and locomotives look set to be coming back. The 'Class 37' diesel electric locomotives, which are more than 50 years old, are going to be coming back to pull commuter services in south Wales and fill the gap as some of the trains currently being used are refurbished.
More
Wales Online
Passengers booked on Caledonian Sleeper services are facing further disruption after a train's wheels were damaged earlier this week. A replacement bus picked up customers in the West Midlands on Wednesday morning after their Scotland-bound train encountered a 'technical issue'. It meant Wednesday night's service back to London and Thursday's Euston-Edinburgh service were not able to run. Now two further overnight services have been cancelled. The problems come shortly after the introduction of the new £150m fleet, which began running at the end of April.
More
Passengers rescued from a flood-hit train became stuck near the scene on a second train that came to rescue them. The 14:34 London to Nottingham service on Thursday was stopped due to a landslip near Corby, Northamptonshire. About 500 passengers spent up to eight hours stuck on the trains before they were finally rescued.
More
David Spaven: Transport infrastructure investment must put carbon-reduction centre-stage [Scotsman]
The recent news that the Welsh Government has decided not to build the controversial M4 'relief' road near Newport should encourage Scottish Ministers to change direction on transport policy. The scrapping of the £2,000 million, 14-mile motorway plan for cost and environmental reasons has been hailed by Friends of the Earth Cymru as great news for Wales and the planet.
More
Another overnight service has been cancelled due to the damage sustained by a train in the new £150m fleet.
More
More problems for new Caledonian Sleeper trains as service cancelled mid-journey [Scotsman]
A Caledonian Sleeper service from London to Glasgow and Edinburgh was cancelled in the early hours of the morning as problems continued for the new trains.
More
Five organisations are bidding for a contract to design, manufacture and maintain the trains for the first phase of HS2. The original list was Alstom, Bombardier, Hitachi, Siemens and Talgo. When Bombardier and Hitachi decided to make a joint bid, CAF was added to the list to maintain five bidders. The first phase, for at […]
More
Rail Engineer
ScotRails new 42-minute Edinburgh-Glasgow service was put to the test in a challenge against a Lamborghini to travel from city to city this morning (Tuesday 11 June). Broadcast live on Clyde 1s Bowie at Breakfast programme, the challenge involved presenters Amber Livingstone and Callum Gallacher pitting car against train in a bid to travel from Edinburgh to Glasgow the fastest. Both presenters set off from Edinburgh, with Amber taking the 9am ScotRail service to Queen Street and Callum being driven by a professional driver.
More
Network Rail unveils proposals to protect vital south west rail line bordered by steep cliffs and the sea [Network Rail]
Proposals have been published for changes to the rail line in south Devon which needs to be better protected from cliff falls, land slips and damage caused by the sea during extreme weather. Public consultation is now open for local communities to help shape the final design of the scheme. The five-week consultation includes realignment of the railway to make room for corrective measures to stabilise the cliffs. The plans include improved leisure access and amenities including new, fully accessible, coastal walking and cycling routes.
More
Scotrail marked the final day of National Volunteer Week by hosting its first annual community awards.
More
Dyce volunteers have been praised for their eco-friendly efforts to spruce up their local train station.
More
ScotRail has marked final day of National Volunteer Week by hosting its first annual ScotRail in the Community Awards earlier today, Friday 7 June. The ceremony was held at the Grand Central Hotel, Glasgow, with awards handed out to thank and celebrate the hard-working volunteers across Scotlands Railway, recognising their contribution to the wider local community and railway. Adopt a Station of the Year: Dyce
More