The road at the Old Kilpatrick rail bridge has now reopened - despite a previous delay.
More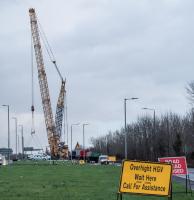 Kilpatrick: The crane for the replacement of the A814 bridge over the line between Kilpatrick and Bowling seen on the 11th of February 2020.
Ewan Crawford 11/02/2020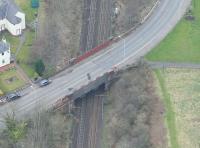 Kilpatrick: The A814 bridge over the Helensburgh line west of Kilpatrick station and east of Bowling.
Network Rail //2020
Clydebank Post

Coatbridge Sunnyside station has been locked down by police amid an 'incident'.
More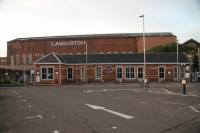 Coatbridge Sunnyside: An evening view of a deserted Sunnyside station buildings and car park on 5th July 2018.
Alastair McLellan 05/07/2018
Evening Times

Repairs to the Gourock ferry terminal will once more provide an alternative route from Bute and Arran.
More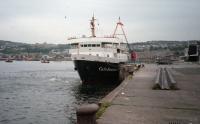 Gourock Pier: DSMV Juno at Gourock Pier.
Ewan Crawford //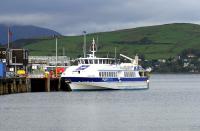 Gourock Pier: One of the two modern passenger ferries now handling the Dunoon - Gourock route, MV Argyll Flyer, berthed at Gourock pier alongside the recently rebuilt station in October 2011. There is no longer a vehicle service on this route. [See image 28925]
Colin Miller 27/10/2011
A study is underway into the feasibility of replacing Scotlands second busiest ferry service with a fixed link bridge or tunnel.
More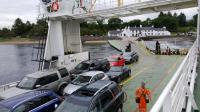 Ardgour Slip: The Corran ferry leaves Ardgour Slip on Sunday 10th June 2018
David Prescott 10/06/2018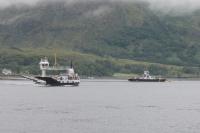 Nether Lochaber Slip: MV Corran makes its way across the Loch Linnhe narrows on 2nd August 2018. Predecessor MV Maid of Glencoul is moored in the channel but available to provide a two ferry service at times of peak demand.
Mark Bartlett 02/08/2018
Highland Council

Technical issues led to more than 1000 cancellations to CalMac ferries in last year [Daily Record]
Green MSP John Finnie has called on Transport Secretary Michael Matheson to launch a review into replacement plans for the fleet.
More
One of Talgo's high-speed train coaches is on track to arrive in Kincardine next week.
More
Over 130 years of signalling history came to an end today on the Wherry lines with the reopening of the Norwich to Yarmouth line following completion of work to introduce a new computerised signalling system, improving reliability of train services. A section of the East Suffolk line from Beccles to Lowestoft also reopened today.
More
Network Rail

A temporary reduction in number of trains running through the Castlefield Corridor may be needed to improve reliability says Network Rail.
More
'The railways are delivering £750 million worth of value to the northern economy from the freight that's moved each day' - RFG's message to Government.
More
Bus driver responsible for crash onto train tracks at Galashiels fined £600 but spared ban [Southern Reporter]
A driver responsible for a crashing a bus onto train tracks and bringing the Borders Railway to a standstill for hours has been spared a ban.
More
Southern Reporter

The hated Pacer is suddenly the hottest ticket in town... as long as it's not being used as an actual train [Manchester Evening News]
For years, the sight of a Pacer approaching the platform has sent a shiver of dread through many a Northern commuter. And yet as the 'nodding donkey' shuffles toward retirement - only 37 of a total 102 remain - it's inspiring a wave of nostalgia.In fact, the M.E.N understands that Northern Rail is fielding 'daily' enquiries from people who want to claim a Pacer as their own. To be clear, nobody wants to use the Pacer as a train. That would be madness. Instead, it's likely those interested have in mind a cafe, community centre - or perhaps an unusual shed.
More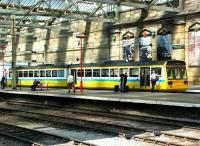 Carlisle: Sunshine on Carlisle station on 13 May 2003. Passengers are waiting to board Arriva Trains 142020 at platform 5.
John Furnevel 13/05/2003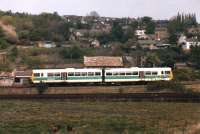 Mirfield: A class 141 Pacer in early West Yorkshire PTE green livery runs off the Huddersfield line eastbound spur in May 1987 to join the former L&Y main line to its next call at Mirfield.
David Pesterfield 06/05/1987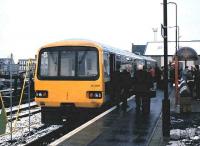 Bathgate [3rd]: Pacer 143006 stands at the new Bathgate terminus during an open day held on 23 March 1986, the day before relaunch of the passenger service. Note Cartics in the sidings on the left, an area now occupied by shops. [See image 31158]
David Panton 23/03/1986
Manchester Evening News

The rail line between Stirling and Dunblane is currently closed, due to high and fast-flowing ewater at the Mill O'Keir Viaduct near Dunblane.
More
Falkirk Herald

Footage shows a CalMac ferry struggling to berth in high winds at Ardrossan harbour.
More
Watch: Dramatic video shows water pouring through overhead train lines during Storm Dennis [Scotsman]
Severe flood warnings are still in place for parts of the Scottish Borders after people were told to evacuate their homes as Storm Dennis swept the country.
More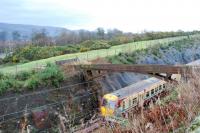 Bishopton Aqueduct: About 333 yards west of Bishopton No 2 Tunnel is a class 'AM' listed cast iron aqueduct which carries a small burn over the railway. An eastbound 334 passes the aqueduct in this 2007 view. The M8, River Clyde and Kilpatrick Hills are to the left.
Ewan Crawford 03/01/2007
A 'grotty' Dundee eyesore is receiving a major facelift.
More
ScotRail advise customers 'not to travel' as Storm Dennis causes travel chaos [The Scottish Sun]
Scotrail has advised customers in the West of Scotland 'not to travel' amid severe Storm Dennis floodwaters. The rail company's warning comes as they axe journeys across the country.
[Railscot notes:
Gourock/Wemyss Bay to Glasgow - suspended because of flooding at Bishopton/Langbank.
Argyle Line - flooding at Dalmarnock and route proving to confirm that the line can re-open.
Highland Main Line - water above the high water mark at Inver Viaduct, no trains between Perth and Inverness.]
More
The Scottish Sun

Edinburgh-Glasgow trains could run 24 hours a day during COP26 climate conference following UK Government request [Scotsman]
Trains could run 24 hours a day between Glasgow and Edinburgh during the COP26 climate conference in November following a request by the UK government.
More
The UK is in talks with China over giving Beijing's state-owned railway builder a role in constructing the HS2 high-speed rail line. China's state railway company said it could build the line in just five years and at a much lower cost, according to a letter seen by Building magazine. Government officials said 'preliminary discussions' had taken place, but no 'concrete commitments' had been made.
More
'Bomb cyclone' Storm Dennis turns Scottish roads into rivers while ScotRail warns against train travel [Daily Record]
The low-pressure weather front has brought torrential rain and high winds which has caused widespread disruption.
More
The great outdoors: Magnificent mountain views and spectacular wilderness on Scotland's great railway journey [Sunday Post]
Is there a finer railway journey than Glasgow to Fort William?
More
Sunday Post

An under-performing railway company told to make urgent improvements, is drinking in the 'last chance saloon', an MP has said. TransPennine Express (TPE), rated as one of the worst performers in the UK late last year, has been set four targets to restore public confidence. Transport for the North (TfN) said TPE must return its performance to early 2019 levels by next month.
More
Road traffic order will see the level crossing at Halbeath closed to traffic from Saturday morning to Sunday morning.
More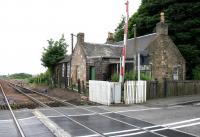 Halbeath: Remains of Halbeath station, Dunfermline, closed to passengers in 1930. View is west from the level crossing in June 2005 towards the sidings used for reversal by trains on the Hunterston-Longannet PS coal suppply route [see image 9808].
John Furnevel 02/06/2005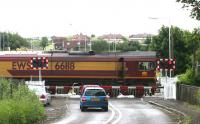 Halbeath: EWS 66118 on Halbeath level crossing in June 2006 in the process of running round the coal train which it has just dropped in Halbeath sidings. The remains of Halbeath station are just off picture to the right.
John Furnevel 13/06/2006
Engine fanatic Titchmarsh thrilled to join Flying Scotsman for line reopening [Evening Express]
Celebrity gardener Alan Titchmarsh was joined by Flying Scotsman for the official reopening of a heritage steam railway. [This was to celebrate the re-opening of the line following replacement of 'Butts Bridge' (Whitedown Lane Bridge near Alton) on the 'Watercress Line'.]
More
Evening Express

Network Rail has announced that tree cutting work on the line between Glasgow and East Kilbride will resume in March.
More
Tesco eyeing up Dundee railway station as Sports Direct plans Overgate closure [Evening Telegraph]
Supermarket giant Tesco is in discussions with the council as the company looks to take over a unit at Dundee's railway station, the Tele understands.
More
Residents invited to find out more about tree cutting between Pollokshaws and Barrhead [Glasgow South and Eastwood Extra]
Ahead of work to cut back trees and vegetation on the railway between Pollokshaws and Barrhead, Network Rail is inviting local people to 'drop-in' to find out more about the work.
More
Orkney-based Pentland Ferries has become the first ferry operator in the UK to achieve a Green Tourism Award.
More
Press and Journal

The worlds greatest sleeper train journeys, from Peru to Australia to Thailand and Venice [iNews]
From northern Scotland to Australia's Northern Territories, the world's best sleeper trains also offer some fantatic views
More
iNews