Several roads in Aberdeenshire will be closed overnight next week to allow Network Rail engineers to inspect rail bridges.
(
Permalink
)
Drumlithie
Marykirk
Evening Express

Barrhead News

Northumberland Gazette

Scientists are using cutting-edge technology along Britains 20,000-mile rail network, as part of Network Rails new action plan for sustainable vegetation management.
(
Permalink
)
Network Rail
Network Rail

The Railway Heritage Trust has added two documents to the 'Guidance' section of their website which could be of interest to Community Rail Network members. Both of the documents are from Network Rails new suite of design guidance documents. The first one is the Redundant Signal Box Strategy, which looks at ways to re-use signal boxes which are no longer in operational use. It includes details of various arrangements for allowing community groups/projects to take on such signal boxes.
(
Permalink
)
Railway Heritage Trust
Signal boxes
Community Rail Network

Concessionary Travel passholders can travel free on public transport before 9:30am if they are going to or from a coronavirus vaccination appointment.
Nexus has confirmed that older and eligible disabled customers can travel on local buses in Tyne and Wear and Metro if they have a Metro Gold Card providing they have proof of an early morning appointment, such as a letter, email or text.
This extra concession works the same as the longstanding hospital appointment concession. Concessionary Travel passes and Metro Gold Cards can otherwise be used after 9:30am weekdays and all day at weekends and publicholidays.
(
Permalink
)
COVID-19
Tyne and Wear Metro
The rail bridge parapet which collapsed on Friday was last checked only three months ago in the wake of the nearby fatal landslide, Network Rail has revealed.
(
Permalink
)
Carmont
Carron Water Bridge [East Croft of Carmont]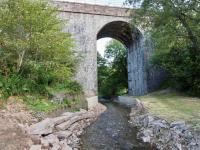 Carron Water Bridge [East Croft of Carmont]: A follow up to photos taken at the Carron Water bridge on 12th July 2020 - see image [[73730]] - now that STORY have departed. This was the scene at the end of September.
Duncan Ross 27/09/2020
Carron Water Bridge [East Croft of Carmont]: View of the foundations of the bridge over the River Carron at Dunnotar on 12th July 2020. The Carron has been temporarily diverted while the work takes place. I am assuming Network Rail were getting concerned about the bridge foundations being washed away during severe weather.
Duncan Ross 12/07/2020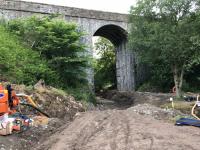 Carron Water Bridge [East Croft of Carmont]: I investigated this construction site on a Sunday morning (120720) while it was devoid of Story contractors. The River Carron has been temporarily diverted, hence the diesel pumps while the work takes place. I am assuming Network Rail were getting concerned about the foundations of the bridge at Dunnotar getting washed away when the Carron is in spate. I think there is another bridge further south, nearer to Carmont, also getting the treatment but it's a lot harder to get access to, although I understand that Story are creating a road over the fields for access. I plan to revisit here to see how this work progresses.
Duncan Ross 12/07/2020
Please find below a summary of additional traffic management arrangements to accommodate site investigations works and utility diversions outside the main area of works.
(
Permalink
)
Edinburgh Trams
Edinburgh Trams

Edinburgh City Council is set to grant contract extensions worth a total of £655,000 to consultants working on the trams extension project.
(
Permalink
)
Edinburgh Trams
North east contractor Thompsons of Prudhoe has been appointed to undertake demolition work at the Tyne and Wear Metro depot. Thompsons will take on the task of knocking down the 100 year old depot at Gosforth, in Newcastle, paving the way for a £70m rebuild on the same site.
(
Permalink
)
Gosforth Sheds
Tyne and Wear Metro
MIlngavie and Bearsden Herald

Passengers travelling on rail services between Dundee and Glasgow Queen Street are facing disruption after a vehicle collided with a bridge between Perth and Dundee.
A spokeswoman for the police said that officers were called at around 10.20am following a report that a vehicle had struck a railway bridge on Perths Tay Street.
(
Permalink
)
Bridge strike
Perth
The Courier

Demolition of the Tame Valley canal bridge is the latest step in the work to extend the West Midlands Metro from Wednesbury to Brierley Hill. The fourth in a series of redundant structures to have been removed along the 11km line in recent months, removal of the Tame Valley canal bridge follows the demolition of []
(
Permalink
)
Tame Valley Canal Bridge
West Midlands Metro Extension
Rail Engineer

The track between Stonehaven and Montrose is closed while 'complex' repairs are carried out.
(
Permalink
)
Carmont
Carron Water Bridge [East Croft of Carmont]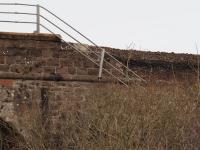 Carron Water Bridge [East Croft of Carmont]: A close up of the Carron Water Bridge near Carmont on 17th January 2021, the day after the parapet collapsed causing the line to be closed again. This image shows how the collapsing stonework has also pulled down the guard rails and exposed the trackbed and ballast.
Duncan Ross 17/01/2021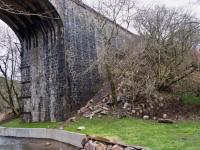 Carron Water Bridge [East Croft of Carmont]: The day after the parapet of the Carron Water bridge collapsed the debris can be seen littering the embankment. The river channel was improved during summer 2020, to prevent the viaduct being undermined, but this damage has occurred 'top down'. This was the scene on 17th January 2021 with line closed and engineers on site.
Duncan Ross 17/01/2021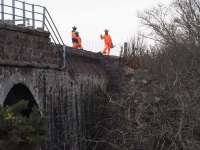 Carron Water Bridge [East Croft of Carmont]: A close up of the damaged parapet on the Carron Water Bridge, which collapsed the previous day on 16th January 2021 (See news item). Network Rail engineers can be seen firing up the chainsaw so I might get some better photos once the trees have been felled, but my Apple Watch tells me this will involve another hike of 9.19 miles.
Duncan Ross 17/01/2021
BBC News

Railway passenger numbers have been hit hard by the pandemic with figures released on Friday showing a 90 per cent reduction from normal service.
(
Permalink
)
COVID-19
John O Groat Journal

Work on new London rail line paused last year as part of TfL's emergency deal with government. More than £115m was spent on Crossrail 2 before work on the scheme for a new north-south rail line through London was suspended in November. The costs for the development and design of the line, which was once hoped to be operational in the early 2030s, were shared between the Department for Transport and Transport for London.
(
Permalink
)
A major programme of modernisation work will close the Tyne and Wear Metros busiest lines through the centres of Newcastle and Gateshead for two consecutive weeks next month. Nexus, the public body which owns and manages Metro, needs to replace essential overhead power lines as part of a £30m programme of wire renewals across the network. It will get the network ready for the introduction of a new train fleet, which will transform the customer experience by 2025.
The major line closure will mean that there are no Metro services between Heworth and Regent Centre / Four Lane Ends for 14 days - Monday 15 February to Sunday 28 February.
(
Permalink
)
Nexus
Tyne and Wear Metro
Strathspey and Badenoch Herald

Ardrossan Herald

The cross-Channel train service has seen a 95% fall in passengers during the Covid-19 pandemicEurostar has said it is facing an existential threat, as business leaders pleaded with the government to step in and save the vital link with Europe.A 95% drop in passenger numbers has brought the cross-Channel train service to its knees, and the company reiterated on Sunday that while government loans had been extended to aviation, international high-speed rail had also been severely affected by the pandemic.
(
Permalink
)
COVID-19
Eurostar
Built in the 19th-century as a Great British Railway hotel attached to Glasgow Central Station, the Iandmark Grand Central Hotel has been refurbished and is relaunching as Scotland's first voco branded hotel. Part of the IHG Hotels Resorts group, there are five other voco hotels in the UK with another one due to open in Edinburgh's Haymarket this year. Voco Grand Central is closed due to Covid now, but taking bookings for summer and a book now pay later offer means no cancellation fee or deposit, and full cancellations up to three days before a stay.
(
Permalink
)
Glasgow Central Hotel
The Scotsman

Evening Times

South Korea: Technology company Ntuple and national rail operator Korail have expanded the ga-G chatbot service to enable users to book train tickets directly on Google Maps.
(
Permalink
)
Korail
Railway Gazette

Evening Telegraph

Glasgow Warriors got their season back on track with the help of a passing train driver at Scotstoun.
(
Permalink
)
Scotstoun
Operators of tours to Scotland's islands fear they will go to the wall after the Calmac ferry company, owned by the Scottish government, withdrew its discounted rates. Calmac usually reduces ticket prices by about 10 per cent for companies that regularly take parties of tourists on board its ships.
(
Permalink
)
Caledonian MacBrayne
The Times

Re-opening the Dunfermline to Alloa railway and a rail tunnel under the Forth are part of a £22 billion plan put forward by the Scottish Green Party.
(
Permalink
)
Alloa
Dunfermline
Dunfermline Press

Customers using Scotland's Railway are continuing to benefit from a recent strong performance in the number of trains running on time across the network.
New figures released today show that 93.2 per cent of trains met the rail industry standard public performance measure (PPM) in period ten (13 December to 9 January).
The PPM statistics for the last two periods are the highest since records began in 2000.
(
Permalink
)
ScotRail
ScotRail

ScotRail has confirmed it is to reduce the number of carriages on some of its services due to the latest lockdown restrictions " including the busy route between Edinburgh and Glasgow.
(
Permalink
)
Edinburgh and Glasgow Railway
Falkirk Herald

Helensburgh Advertiser

The number of carriages on train services through Clydebankand the surrounding area will be reduced, ScotRail has confirmed.
(
Permalink
)
Clydebank
Clydebank Post