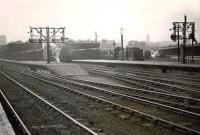 View over the north end of Buchanan Street station in the spring of 1949. Nearest the camera is Black 5 44704 preparing to leave with a train for Inverness, while over in platform 1 is 0-4-4T 55146.

G H Robin collection by courtesy of the Mitchell Library, Glasgow [1949]

More images from this day in history.