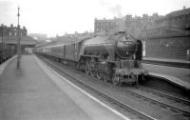 A2 Pacific 60535 Hornets Beauty, sporting a 64B Haymarket shedplate, with the 4pm Waverley - Perth train at platform 2 of its home station in May 1959. The locomotive was eventually withdrawn in 1965 after some notable performances on the Edinburgh - Dundee - Aberdeen route.

Robin Barbour Collection (Courtesy Bruce McCartney) [1959]

More images from this day in history.