Grampian Online

Passengers booked onto the Caledonian Sleeper will be issued a refund as 11 days of strike action gets under way.
(
Permalink
)
Caledonian Sleeper
Refund
Serco
Strike
Strikes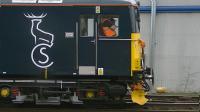 Kilmarnock: 73969 showing off the Caledonian Sleeper logo during shunting moves at Kilmarnock
Ken Browne 18/03/2016
Evening Express

Thousands of passengers face ten nights with no Caledonian Sleeper trains between Scotland and London after operator Serco said it would be unable to run any services during strikes over pay.
(
Permalink
)
Caledonian Sleeper
Serco
Rail union RMT confirmed today that strikes will go ahead from the 15th June after a ballot of members on the Serco Caledonian Sleeper returned a massive 85% vote in favour of strike action over pay.
(
Permalink
)
Caledonian Sleeper
RMT
Caledonian Sleeper has confirmed that it will be restoring its full timetable from April 29, after a lengthy period of running a single daily train between London and Inverness via Edinburgh. Both the Lowlander and Highlander services will re-start, albeit with slightly shorter formations for ...
(
Permalink
)
Caledonian Sleeper
Railway Gazette International

Scotlands transport minister is calling for talks on new connections for the Caledonian Sleeper train in London to help save Eurostar from bankruptcy and boost direct tourism from the rest of Europe.
(
Permalink
)
Caledonian Sleeper
Eurostar
The Courier

Scottish Labour and the rail unions have called on SNP ministers to bring the Caledonian Sleeper franchise into public hands after announcing ScotRail would be nationalised next year.
(
Permalink
)
Caledonian Sleeper
Nationalisation
Herald Scotland

I had low expectations of any revelations from Michael Matheson when I interviewed the Transport Secretary as part of an SNP conference fringe event on Monday " but one came within the first few minutes.
(
Permalink
)
Caledonian Sleeper
Michael Matheson
Caledonian Sleeper services from Aberdeen and Fort William have been cancelled until December 6, the rail operator has announced.
(
Permalink
)
Caledonian Sleeper
Christmas and New Year passengers on the Caledonian Sleeper face disruption with two 48-hour strikes which are likely to halt services.
(
Permalink
)
Caledonian Sleeper
Tonight marks the first of two periods of planned strike action from Caledonian Sleeper staff, leading to services being cancelled.
(
Permalink
)
Caledonian Sleeper
Strike
Evening Times

The Serco-operated Scotland-London trains went further into the red in the year to March, The Scotsman has learned
(
Permalink
)
Caledonian Sleeper
Edinburgh News

The Scottish government has extended its funding for the ScotRail and Caledonian Sleeper franchises, following on from the six-month Emergency Measures Agreement introduced in April 2020, which was due to expire on September 20.
(
Permalink
)
COVID-19
Caledonian Sleeper
ScotRail
Railway Gazette

Passengers using overnight trains between Scotland and London face four days of disruption after the Rail Maritime and Transport union (RMT) announced two walkouts over rest areas on trains for staff.
(
Permalink
)
Caledonian Sleeper
Strike
HeraldScotland

An industrial action ballot among Caledonian Sleeper staff will be launched tomorrow in a dispute over the use of spare berths for rest breaks during extended shifts.
(
Permalink
)
Ballot
Caledonian Sleeper
Calls have been made for the return of the Caledonian Sleeper to Aberdeen to help get the struggling tourist industry back on track. Sleeper services have been plying the East Coast main line from London to Aberdeen in different guises since 1976, but all routes were cancelled at the start of the Covid-19 lockdown along with journeys to Fort William. While journeys to Fort William will begin again on Wednesday, trips to Aberdeen are yet to get back up and running.
(
Permalink
)
Caledonian Sleeper
Covid-19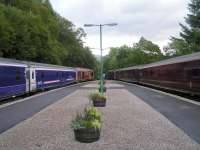 Arrochar and Tarbet: Rush hour at Arrochar & Tarbet- sleeper waits for southbound Royal Scotsman to clear the loop before proceeding
Paul D Kerr 04/09/2006
Passengers have been turfed off the Caledonian Sleeper hours early or found themselves in a depot after not being woken on arrival at their destination, Scotland on Sunday can reveal. One unlucky traveller arrived in Motherwell at 5am on 4 June because the train from London was running two hours ahead of time, only to find themselves trapped inside a locked station. Other passengers have complained of being dumped at Edinburgh Waverley at 4am 90 minutes early.
(
Permalink
)
Caledonian Sleeper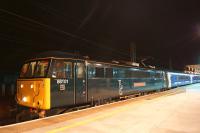 Preston: 86101 in Caledonian Sleeper livery having been called into frontline service to work the Lowland Sleeper on 15 August 2015. The train is seen here standing at Preston at just after 3am and will leave ...
John McIntyre 15/08/2015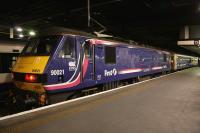 Euston: Locomotive 90021, still in EWS ScotRail livery, stands at Euston platform 15 on 10th February 2015 just after bringing in the empty stock of the Lowland Caledonian Sleeper.
Colin McDonald 10/02/2015
Scotland on Sunday

The overnight train from London stopped 650m beyond the platform in Edinburgh after uncoupling error when carriages divided at Carstairs.
(
Permalink
)
Caledonian Sleeper
Caledonian Sleeper and ScotRail have followed their English counterparts in accepting Emergency Measures Agreements (EMAs) negotiated with the Scottish Government. They will last for a minimum of six months. During this period both CS and SR will receive increased payments to cover operating costs.
(
Permalink
)
Caledonian Sleeper
ScotRail
RAIL

The Caledonian Sleeper is a reminder of the golden age of long-distance travel. A time before cheap flights and high-speed rail lines, when the journey was almost as important as the destination.
It all sounds so delightful, with the operator promising a nightcap in the onboard bar, a menu filled with fine Scottish produce, a cosy cabin and breakfast in bed as the sun rises over the Scottish countryside.
We arrived at the less evocative Euston Station and made our way to the platform where the train was ready for its 23:50 departure. Only we werent there to board the train, we were there to race it.
(
Permalink
)
Caledonian Sleeper
Motoring Research

Highlander Fort William and Aberdeen to Euston / Euston to Aberdeen and Fort William
Unfortunately, due to the current health situation in regard to COVID-19, we have made the difficult decision to cancel all services below until 30th May 2020
Euston to Aberdeen, Euston to Fort William, Aberdeen to Euston, Fort William to Euston
(
Permalink
)
Caledonian Sleeper
Covid-19
Caledonian Sleeper is introducing a special timetable from Sunday 22 March due to the ongoing outbreak of COVID-19. The decision to reduce services has been taken in full cooperation with Transport Scotland and will allow Caledonian Sleeper to protect the service and staff while ensuring vital links remain in place.
(
Permalink
)
Caledonian Sleeper
Covid-19
A Caledonian Sleeper train has broken down leaving passengers hundreds of miles from their destination as it was revealed the service has failed to hit satisfaction targets since operator Serco took over five years ago.
(
Permalink
)
Caledonian Sleeper
ScotRail and Caledonian Sleeper are to be bailed out with millions of pounds of extra public money after failing to hit growth targets under a bizarre clause in their contracts, Scottish Labour has claimed.
(
Permalink
)
Caledonian Sleeper
ScotRail
The Scotsman

Overnight rail service Caledonian Sleeper is offering free travel for the next week to people stranded across the UK as a result of Flybe entering administration. Passengers with a valid Flybe booking will be able to book a seat on any Caledonian Sleeper route between London and Scotland, from tonight (5 March) through to next Thursday (12 March).
(
Permalink
)
Caledonian Sleeper