Opposition to the controversial £106billion HS2 high-speed rail project is mounting, with local anger contributing to the Tory by-election defeat in Chesham and Amersham last week.
(
Permalink
)
HS2
HS2 has obtained approval for an ambitious scheme which will use material excavated from the Chiltern tunnels to create 127 hectares of new chalk grassland, woodland, wood pasture and wetland habitats around the tunnel's south portal.
(
Permalink
)
HS2
Work has started on the UKs longest railway bridge, with ground engineers sinking the first of almost 300 piles that will form the foundations for the Colne Valley Viaduct. The viaduct, which will carry the new high-speed rail line for 3.4km across a series of lakes and waterways on the north west outskirts of London. [The proposed viaduct is 2.1 miles long - for comparison the Tay Bridge is 2.028 miles long. RS]
(
Permalink
)
Colne Valley Viaduct
HS2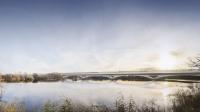 Colne Valley Viaduct: Colne Valley Viaduct concepts created for HS2 by Grimshaw Architects.
HS2 12/12/2017
Railstaff

A high court judge has overturned a ban on the cutting down of trees in the path of the HS2 rail link in Buckinghamshire woodland implemented over concerns a rare species of bat might nest there. The decision came as a blow to anti-HS2 environmental protesters who 11 days ago had secured a high court order stopping the work so that the matter could be examined further. The campaigners say they are planning to take their case to the court of appeal in a bid to overturn the latest ruling.
(
Permalink
)
HS2
Tree felling
The 2,000 tonne Tunnel Boring Machine (TBM) will be launched later this year, creating a one-mile twin bore tunnel under Long Itchington Wood.
A competition to find a name for the moving mega-factory was launched in March and has already received over 120 suggestions.
Exclusively aimed at Warwickshire residents, HS2 and BBV are calling on the local community to submit their final name ideas, with the competition portal closing on Friday 30 April 2021.
(
Permalink
)
HS2
Long Itchington Wood Tunnel
Tunnel Boring Machine
HS2 Ltd today revealed the first images of its planned Oxford Canal Viaduct and is seeking views from the local community about the design of the viaduct between Banbury and Daventry.
(
Permalink
)
HS2
Oxford Canal Viaduct
Businesses in Scotland are being encouraged to bid for millions of pounds worth of upcoming contracts supporting the delivery of Britains new railway, HS2.
(
Permalink
)
HS2
Innovation believed to be world-first. Worn-out wind turbine blades destined for the incinerator will instead be used to create carbon-friendly reinforced concrete on Britain's new high speed rail network, HS2 Ltd has said today (12.03.21).
(
Permalink
)
HS2
Nineteen-year-old Lisa-Mariefrom London is defying gender biases. As a civil engineering apprentice helping to build Britain's new railway, shes flying the flag for women and girls working in the construction sector to mark International Women's Day (8th March 2021).
(
Permalink
)
Apprentice
HS2
International Women's Day
Subterranean protest against high-speed rail line lasted 31 days in tunnel near London station. The anti-HS2 tunnel protest close to Euston station in central London has finally ended after the ninth climate activist emerged from underground. The subterranean environmental protest has lasted for 31 days, one of the longest in UK protest history, although not quite breaking the record of the 40-day tunnel protest in Essex in 2000.
(
Permalink
)
HS2
London Euston
Protestors
HS2 today revealed the final design for the headhouse that will provide emergency access to the new high speed railways tunnels as they approach Euston station.
(
Permalink
)
Euston Tunnel
HS2
Parliament continues to show very strong support for HS2, as the Bill for the extension from the West Midlands to Crewe " Phase 2A " is given Royal Assent.
At least 5,000 jobs supported by the new phase, with many more in the supply chain as business and contract opportunities become available, helping Britains economy during the pandemic.
(
Permalink
)
HS2
HS2 Phase 2A
Royal Assent
The recently scrapped Singapore-Kuala Lumpur train link isn't the only such project to struggle.
(
Permalink
)
HS2
Experts say the huge formal gardens rival similar ones at Hampton Court and Kenilworth Castle.
(
Permalink
)
HS2
The HS2 Rebellion says it has dug and is ready to occupy a 100ft tunnel network under Euston Square Gardens in London, which it claims is at risk from theHS2 line development.The alliance of groups and individuals campaigning against the planned high-speed railway line claim the green space outside Euston station will be built over with a temporary taxi rank before being sold off to developers.
(
Permalink
)
Euston Square
HS2
HS2 Rebellion activists burrowed into the ground to halt their eviction from the Tree Protection Camp in Euston Square Gardens, which they set up in September to protest the £106billion rail project.
(
Permalink
)
Euston Square
HS2
The Victoria Road Crossover Box, near to Old Oak Common in West London, will allow HS2 trains to switch tracks underground on their approach into the new superhub station. Installation of 200m of sheet piling [has been] completed, allowing permanent works to commence.
(
Permalink
)
HS2
Victoria Road Crossover Box
HS2's specialist ecology teams will plant over 300,000 trees across the Phase One route during the winter months. This will take the total number of trees planted between London and the Midlands to over 730,000 by Spring 2021.
(
Permalink
)
HS2
One of the worlds oldest surviving pieces of monumental railway architecture to be preserved and enhanced in new HS2 Curzon Street Station.
Leader of Birmingham City Council: 'This is an important milestone in the transformation of this amazing old building and the new Curzon Street Station will be one of the real show pieces of the entire HS2 network.'
(
Permalink
)
Curzon Street
HS2
With protesters camped nearby, two giant £170m machines are being assembled. In a decades time, passengers on the new high-speed trains hurtling out of London will get just a burst of daylight and a glimpse of the Colne Valley landscape before disappearing back underground through the Chiltern Hills. Today, in that three-mile stretch between future tunnel openings to the north-west of the capital, the £98bn HS2 projects scale, engineering might and cost are all evident: both at the vast work site scooped out beside the M25 in Buckinghamshire, and in nearby waters and woods where protesters are still encamped to stop machines coming through.
(
Permalink
)
Chilterm Hills.TBM
HS2
Tunnel Boring Machine
Direct service between Carlisle and London will support the Lake District's 2040 Vision for Visitor Travel
HS2 provides a carbon-friendly, fast-travel solution linking Cumbria and the capital
(
Permalink
)
Carlisle
HS2
New timelapse shows progress of work outside Euston station. Preparations for Londons high speed rail terminus at Euston has reached a new milestone as the two office towers outside the existing station are now at ground level. Grant Thornton House and One Euston Square designed by prolific and divisive modernist architect Richard Seifert have made way for the new high speed station, with more space for passengers and better links to the London Underground.
(
Permalink
)
HS2
London Euston
Plans for three hour Scotland-London rail trips must be fast tracked so HS2 does not provide 'disproportionate benefits' to the south of England, a Scottish Government official has warned.
(
Permalink
)
HS2
Scotsman

HS2 Ltd has been urged to fund the rehousing of 175 council households in London enduring 'unbearable' conditions due to construction works on their doorstep.
(
Permalink
)
HS2
HS2 News and Information

Following the Prime Minister announcing the start of construction on the London-Birmingham route, HS2 has released £12 billion worth of supply chain contracts to be let over the next 18 months
British businesses actively encouraged to bid for contracts
4-day virtual event starting today will showcase the plethora of opportunities available and advise businesses on how to get contract ready
(
Permalink
)
HS2
Trade association Logistics UK has stepped up pressure on the government to ensure that the freight sector benefits from capacity released on the conventional network by the opening of the first phases of High Speed 2.
(
Permalink
)
HS2
I sometimes feel like branding plays a larger role in politics than we often give it credit for. Most people - normal people, I mean, not the sort of people who write things like this or, quite frankly, read them - have neither time nor inclination to pay any attention to nerdy, wonkish matters of what policy actually does. ... I cant quite shake the idea that one of the big mistakes made by the people who came up with the UKs proposed new rail link was the name. High Speed 2, after all, implies that the fundamental purpose of the line is faster trains and shorter journey times, and - underrated city though Birmingham undoubtedly is - knocking 33 minutes off train times from there to London does indeed seem like a flimsy reason to spend £80bn on a new train set. The real argument for HS2 isnt about speed at all, but about the number of people we can fit onto Britains rail network. The new line, construction of which started in September, will increase the capacity of the network in two different ways.
(
Permalink
)
HS2
New Statesman

Soil is being moved to new sites but ecologists question whether the process is effective.
(
Permalink
)
HS2
The veteran pear tree in Warwickshire, named by locals as 'The Cubbington Pear Tree' will live on in the form of regrown saplings as part of HS2's environment programme to support delicately balanced local ecosystems, and create bigger and more joined up habitats along the HS2 route.
(
Permalink
)
HS2
Residents have spoken of their 'utter devastation' after a 250-year-old pear tree in Warwickshire, a famous local landmark and England's tree of the year in 2015, was felled to make way for the HS2 rail line. The tree, thought to be the second-oldest wild pear tree in the country, had become a focal point in the protest against HS2, a high-speed rail line that will connect London and Birmingham, and which protesters say will cause huge environmental damage.
(
Permalink
)
HS2
Carluke Gazette

Work on Euston station and asbestos removal add to bill for London to Birmingham phase. HS2's costs have risen by another £800m, the government has admitted, barely a month after the official start of construction of the high-speed rail network. The reshaping of Euston station is likely to cost at least £400m more than planned, while the discovery of more asbestos than expected in demolitions along the line of the route has added around another £400m.
(
Permalink
)
Euston
HS2
A Grade-II listed statue of railway pioneer Robert Stephenson has been removed and put into safe storage while Euston station undergoes its major HS2 redevelopment.
(
Permalink
)
HS2
London Euston
Robert Stephenson
Network Rail

HS2 Ltd has signed the contract for the first two giant tunnelling machines for London's HS2 tunnels, marking significant progress on the southern stretch of HS2.
(
Permalink
)
HS2
The Government has for the first time signalled that it is considering making Carlisle a major stopping point for the transformative High Speed 2 rail project. The consultation proposes that Carlisle becomes the point at which 200m trains from Glasgow and Edinburgh stop, and the 400m services suitable for the high speed line begin. To accommodate this, it is proposed that Carlisles platforms three and four are extended, and platform two is filled in.
(
Permalink
)
Carlisle
HS2
News and Star

HS2 will cut emissions, improving air quality and supporting a net-zero carbon economy. Emissions are being designed out of HS2 stations and depots. Green initiatives during construction include transporting material by rail, adopting zero pollution machinery, and using renewable energy such as solar power.
(
Permalink
)
Clean Air Day
HS2