Structural work on the temporary pre-cast factory that will produce tunnel wall segments for HS2's 10-mile-long Chiltern tunnels, has been completed at the south portal site, next to the M25. All of the steel for the frame of the factory has been made in the UK and delivered by specialist steel fabricators, Caunton Engineering, from its base near Moregreen, Nottinghamshire.
(
Permalink
)
HS2
GB Railfreight (GBRf) and Rail Stone Solutions (RSS) are delighted to unveil two contracts to support construction on the first phase of HS2. The deals, with HS2 contractors EKFB (Eiffage, Kier, Ferrovial BAM Nuttall) and BBV (Balfour Beatty VINCI) will see GBRf join forces with RSS to deliver aggregates by rail to the high speed ...
(
Permalink
)
GB Railfreight
HS2
Rail Stone Solutions
GB Railfreight

HS2 The Biggest Dig, a three part documentary series, to air on BBC Two from Tuesday 15 September. Series presented by anthropologist and anatomist, Dr Alice Roberts, and historian, Dr Yasmin Khan.
(
Permalink
)
Archaeology
BBC Two
HS2
An influential group is calling for Scotland to be included in the route for the UKs High Speed 2 line if the government wishes to meet its recent pledges to level up the region. Greengauge 21 CEO Jim Steer explains why this is important and what needs to be done to achieve it.
(
Permalink
)
HS2
Major milestone for Europe's largest infrastructure project as it moves from enabling works to full construction following Governments approval for Notice to Proceed in April. HS2 Ltd and its Tier One contractors expect to recruit for around 22,000 roles in the coming years to build the Phase One route offering people a path back into work after the pandemic. HS2 Ltd CEO Mark Thurston: 'the reality of high speed journeys joining up Britains biggest cities in the North and Midlands and using that connectivity to help level up the country has just moved a step closer'.
(
Permalink
)
HS2
High Speed 2 project promoter HS2 Ltd has signed what it terms a ground-breaking agreement with the UK Rail Research & Innovation Network of universities and research institutions.
(
Permalink
)
HS2
The Cubbington pear tree is the second-largest in the country, a local landmark and was Englands tree of the year in 2015. Yet, despite years of protests, it is being felled for a railway line.
(
Permalink
)
HS2
A 10 mile tunnel under the Chilterns will be dug but campaigners say it is 'decimating countryside'.
(
Permalink
)
HS2
TBM
In its submission to the government consultation on how to decarbonise rail by 2040, HSRG has called for a national high speed rail network, with HS2 acting as the spine from which other schemes connect into.
(
Permalink
)
HS2
New Civil Engineer

HS2 is preparing for the arrival of its first giant tunnelling machines by completing the 17-metre-high headwall and ground reinforcement at what will become the south portal of the 10-mile long Chiltern tunnel. Led by HS2s main works contractor Align JV - a joint venture formed of three companies: Bouygues Travaux Publics, Sir Robert McAlpine ...
(
Permalink
)
HS2
TBM
With the Prime Minister having announced the decision to go ahead with HS2, the first rail systems procurement competitions have commenced - for track and signalling. Four new contract opportunities cover the design and build of the complex track systems between London, Birmingham and Crewe, where HS2 trains will join the existing West Coast Mainline.
(
Permalink
)
HS2
HS2 protesters have been accused of practising early morning yoga, swimming naked in a lake and 'howling at the moon' as a council seeks a high court injunction to stop direct action against the project. HS2 Rebellion activists say the legal action by Hillingdon council in west London is the latest in a raft of injunctions aiming to quash the campaign against the £78bn high-speed railway. HS2 is seeking the extension of a separate injunction to enable the eviction of campaigners from the path of bulldozers in west London.
(
Permalink
)
HS2
A new report has been welcomed by campaigners as further endorsement of the case for extending the Borders Railway south into England.
(
Permalink
)
Borders Railway
HS2
Southern Reporter

The controversial HS2 rail link should run to Scotland to boost connectivity, cut carbon and rebalance the economy post Covid-19, according to a new report published today.
(
Permalink
)
Covid-19
HS2
HS2 has received planning approval for Old Oak Common station in west London. It will be the largest new railway station ever built in the UK, with 14 platforms (six high-speed and eight conventional platforms) built in a huge underground box 850 metres long.
(
Permalink
)
HS2
Old Oak Common
UK: Birmingham City Council granted planning permission for the Curzon Street High Speed 2 station on April 23. Invitations to tender for the construction contract are to be issued this summer.
The councils report said the design developed by project promoter HS2 Ltd with WSP and Grimshaw Architects was truly world class, and the elegant and (deceptively) simple form of the main station building clearly reads as a railway station and harks back to traditional station architecture, delivering this in a confident and contemporary way.
(
Permalink
)
Birmingham Curzon Street
HS2
Britain has given the green light for companies to start putting spades in the ground to build a new high speed rail line, saying work could proceed in line with coronavirus safety guidelines despite the national lockdown.
(
Permalink
)
Covid-19
HS2
Plans for the single largest HS2 development in
Solihull
- a whole-new train station near the airport and NEC - have been handed to the council.
The huge building project will take place on an area of green belt land bordered by three of the borough's busiest routes - the M42, A45 and A452.
Initial designs for the Interchange Station were first unveiled in 2018 and updated artwork released earlier this year, with the application now lodged with the local authority.
(
Permalink
)
HS2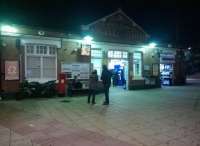 Solihull: The station forecourt at Solihull looking lively on the evening of 31st October 2015.
Ken Strachan 31/10/2015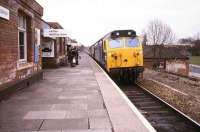 Solihull: A class 50 brings a Paddington - Hereford service into Solihull in April 1980.
Ian Dinmore /04/1980
Birmingham Live

The UK is in talks with China over giving Beijing's state-owned railway builder a role in constructing the HS2 high-speed rail line.
China's state railway company said it could build the line in just five years and at a much lower cost, according to a letter seen by Building magazine.
Government officials said 'preliminary discussions' had taken place, but no 'concrete commitments' had been made.
(
Permalink
)
HS2
Perhaps work on controversial HS2 high-speed railway should have started at the other end, suggests Bill Jamieson.
(
Permalink
)
HS2
The prime minister says he will appoint a full-time minister to oversee the project and 'restore discipline'.
(
Permalink
)
HS2
One of the principal arguments in favour of HS2 was the positive effect it would have on the environment and this was rooted in the belief that high-speed electric trains could help the UK cut its carbon emissions. Related: Fears grow over HS2's potential impact on biodiversity.
(
Permalink
)
HS2
The UK is building a railway which is heading to fantasy land - and the taxpayer is funding the journey.
(
Permalink
)
HS2
Reworked designs of Grimshaw and WSP's proposed High Speed 2 (HS2) station at Curzon Street in Birmingham city centre have been revealed.
(
Permalink
)
Birmingham Curzon Street
HS2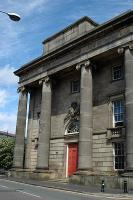 Birmingham Curzon Street: The 1837 Birmingham station terminus at Curzon Street, built for the London and Birmingham Railway. The London Euston terminus had Doric columns whilst those at the Birmingham terminus were Ionic. While Euston has lost its Arch, Curzon Street has lost its station - replaced by New Street.
Ewan Crawford 30/06/2004
Questions have been raised about whether HS2 should continue, given the spiralling costs of the project
(
Permalink
)
HS2
iNews

London to Birmingham leg thought to be in danger with speculation money might go to other northern transport. Supporters of HS2 are growing increasingly anxious that Boris Johnson is prepared to scrap part of the high-speed railway project or overhaul it in a bid to redirect the money towards other transport in the north of England. Local government leaders from the north and Midlands are privately concerned there has been a change of tone from No 10 since Christmas, causing nervousness that the government could scale back the scheme. Related: HS2 will destroy or damage hundreds of UK wildlife sites, says report.
(
Permalink
)
HS2
Building Northern Powerhouse Rail and HS2 would create a 'rail revolution for the North' - Transport for the North's Chief Executive.
(
Permalink
)
HS2
Remains of Captain Matthew Flinders were discovered by experts excavating burial ground in London as part of the HS2 rail project.
(
Permalink
)
HS2
Matthew Flinders
HS2 may be facing an uncertain future but Scotland is quietly working up a high-speed link to England, writes Alastair Dalton.
(
Permalink
)
HS2
Full HS2 services between London and Birmingham will be delayed by up to five years to 2031, the government has announced.The transport secretary, Grant Shapps, told parliament final completion of the northern section of the high-speed rail network would likely be pushed back by seven years until 2040.
(
Permalink
)
Grant Shapps
HS2
'For the North, it's not either HS2 or NPR - it's both' - Sir Richard Leese. The importance of the full delivery of both HS2 and Northern Powerhouse Rail is the central theme of Connecting Britain - a new campaign by business and political leaders in the North.
(
Permalink
)
HS2
NPR
The High Speed 2 rail project's future has been thrown into doubt as a new review begins. Booming numbers of passengers on the railways from the late 1990s saw the industry and Whitehall looking for ways to increase capacity. A brand-new high-speed line running north-south was seen as the most efficient way to deliver more intercity services, with least disruption, and free up more space for commuter trains. The HS2 projects supporters say it will cut congestion, slash journey times, and bring huge numbers of jobs and investment around the country.
(
Permalink
)
HS2
The government is launching a review of high-speed rail link HS2 - with a go or no-go' decision by the end of the year, the Transport Secretary Grant Shapps has said.
It will consider whether and how the project to connect London, the Midlands and northern England should proceed.
Billions have already been spent, but Mr Shapps refused to rule out scrapping it entirely.
He said it was 'responsible' to see whether the benefits really 'stack up'.
(
Permalink
)
Grant Shapps
HS2
The current proposal for HS2 sees it fork into a Y shape at Birmingham, with one strand running to Manchester and the other to Leeds, but consultancy Expedition Engineering proposes an alternative solution that incorporates a trans-Pennine tunnel. Director Alistair Lenczner explains more about it.
(
Permalink
)
HS2
Prime Minister Boris Johnson will pledge to fund a new high-speed rail route between Leeds and Manchester.
In a speech in Manchester later, Mr Johnson will give his backing to the trans-Pennine transport link to 'turbo-charge the economy'.
It is claimed the scheme would cut journey times on the 36-mile (58km) route from 50 minutes to under 30.
The full details of the route are expected to be published in the autumn following the review into HS2.
(
Permalink
)
HS2
Former GWR sheds demolished to make way for new HS2 station.
(
Permalink
)
GWR
HS2
Old Oak Common Shed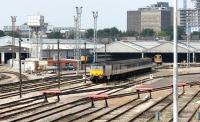 Old Oak Common: Part of the carriage sidings at Old Oak Common, seen on a quiet mid-week afternoon in July 2005. The locomotive with empty stock in the centre of the picture is FGW Sleeper liveried class 57 no 57605 Totnes Castle. Long lens view south west from the wall running alongside the Grand Union Canal.
John Furnevel /07/2005
Five organisations are bidding for a contract to design, manufacture and maintain the trains for the first phase of HS2. The original list was Alstom, Bombardier, Hitachi, Siemens and Talgo. When Bombardier and Hitachi decided to make a joint bid, CAF was added to the list to maintain five bidders.
(
Permalink
)
Alstom
Bombardier
CAF
HS2
Hitachi
Siemens
Talgo
Pictures of HS2 train designs have been released for the first time. Manufacturers bidding to build the new high-speed rolling stock published concept pictures showcasing their proposals. The images show trains in a standard white colour as their livery will be chosen by the HS2 operator, which is still to be determined. Joint bidders Bombardier and Hitachi claimed their design will be the most advanced, customer-orientated train ever to run in the UK, while rival firm Alstom described its proposal as world class, modern and flexible. Siemens, which is also bidding for the £2.75 billion contract, said its offer would set the standard for other global high speed rail systems to follow
(
Permalink
)
HS2
Metro