A Christmas travel tsar has been appointed in an effort to avoid transport chaos during the festive period. Sir Peter Hendy, the chairman of Network Rail, will scrutinise whether train, air and road networks are ready for millions of people making trips over the five-day window when coronavirus restrictions are eased, the Department for Transport said.
(
Permalink
)
COVID-19
Christmas
Network Rail
Peter Hendy
Rail campaigners say they remain 'optimistic' that services will return to normal on the Far North Line once the Covid-19 pandemic is over.
(
Permalink
)
COVID-19
ScotRail
Timetabling
JohnOGroat Journal

Evening Times

ScotRail will deliver a revised timetable for customers from Sunday, 13 December as it continues to provide a critical service during the COVID-19 pandemic.
Announcing the changes, the train operator confirmed that around 81 per cent of the normal timetable will operate, with some services being removed following a significant reduction in passenger demand. ScotRail said this level of service will more than meet demand over the coming months.
(
Permalink
)
COVID-19
Timetabling
The Scotsman

The Office of Rail and Road (ORR) has today published its annual report on the rail industrys finances for 2019-20.
(
Permalink
)
COVID-19
ORR
A man from Glasgow looking to do Christmas shopping in Edinburgh asked the rail company 'if they'd mind' if he broke the rules.
(
Permalink
)
COVID-19
Scotrail
Edinburgh Live

The cross-Channel rail operator claimed it is being treated unfairly after the aviation sector was given extra assistance due to the coronavirus pandemic.
(
Permalink
)
COVID-19
Eurostar
A new video is showcasing the work ScotRail staff have put in to keeping customers and colleagues safe and moving during the coronavirus pandemic.
It highlights the fact that since March, deep cleans on trains to prevent the spread of the virus have increased by 270 percentage points.
Cleaning staff are concentrating their efforts on all areas people frequently come into contact with, known as 'touch points'. These include ticket machines, gates, handrails, lift surfaces, pay phones, and door handles.
(
Permalink
)
COVID-19
Scotrail says it has reinstated train carriages on a number of busy commuter routes to and from Helensburgh after concerns were raised over a lack of social distancing during peak times.
(
Permalink
)
COVID-19
Helensburgh
Helensburgh Advertiser

All but essential cross border travel between the England and Scotland is set to become illegal from 6pm on Friday.
(
Permalink
)
COVID-19
News and Star

People have been deliberately coughed or spat at or phlegm smeared on surfaces among 55 Covid-related crimes on Scotlands railways since March, British Transport Police (BTP) has revealed.
(
Permalink
)
COVID-19
Crime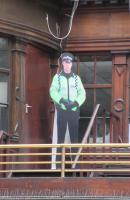 Glasgow Central: Police cuts deeper than we thought. Its just as well he's up high and short-sighted people can't try and talk to him.
David Panton 22/06/2019
A luxury Ayrshire resort will close to guests during January as it faces financial difficulty, according to an inside source.
(
Permalink
)
COVID-19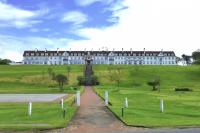 Turnberry Hotel: Designed by James Miller, built by the Glasgow and South Western Railway Company and opened in 1906 as the Station Hotel, Turnberry. View from the west in May 2014 see image [[7207]].
Colin Miller 11/05/2014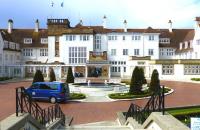 Turnberry Hotel: The main entrance to Turnberry - at the back of the building, where the covered passageway used to lead from the station. To the left of the entrance, under the tower, in the middle of the sandstone area between the windows, the crest of the G&SWR is displayed.
Colin Miller 11/05/2014
Ayr Advertiser

Post-coronavirus financial pressure on governments and mounting public concern about climate change may finally prove the catalysts to unlock substantial private investment in European rail freight. Stephen Layburn and Tim Jackson of transport finance house Centrus describe the outlook to Nick Kingsley.
(
Permalink
)
COVID-19
Green
Railway Gazette

Rail opeators have been asked by the government to draw up proposals of making the railway more 'efficient' and 'financially sustainable' by cutting services after passenger numbers fell.
(
Permalink
)
COVID-19
Timetabling
Most Britons see their car as more important now and would not choose greener alternatives.
(
Permalink
)
COVID-19
Green
the Guardian

Press and Journal

Edinburgh Trams

Due to the Covid-19 pandemic and the current restrictions that are being imposed throughout Scotland, we have had to bring forward the end of the Jacobite season for 2020 to Friday 6th November. The Morning service will now run each day Monday to Friday to Friday 6th November.
(
Permalink
)
COVID-19
Fort William
Jacobite
Mallaig
West Coast Railways
Due to the latest Covid lockdown in England, Hull Trains will be temporarily suspending all train services from 00:01 Thursday 5 November 2020. This will be the second time the operators direct rail services between Hull and London have been impacted by the Covid-19 pandemic and the national lockdowns implemented the government this week.
(
Permalink
)
COVID-19
Hull Trains
Railstaff

Plans to build Crossrail 2 will be shelved as part of the £1.8bn bailout deal agreed by the government and Transport for London at the weekend. TfL will also have to further investigate driverless trains under the terms of the deal to provide emergency funds to the capital, which has lost billions in passenger revenue because of the Covid-19 pandemic.
(
Permalink
)
COVID-19
Crossrail 2
The £25m upgrade restoration of Barmouth Viaduct, which is a vital transport link for North West Wales, is set to be extended by 48 hours to allow more work to be carried out while passenger numbers are lower because of the firebreak lockdown
(
Permalink
)
Barmouth Viaduct
COVID-19
Network Rail

Public transport is one of the cleanest places to be during the coronavirus pandemic, an investigation has found. Channel 4s Dispatches checked surfaces for germs in locations across the country - and concluded that trains and buses were more hygienic than the cafes, supermarkets and hotels it also tested.
(
Permalink
)
COVID-19
Metro

Scots could be offered free bus and train travel to get people back into the habit of using public transport, after a collapse in use due to the coronavirus pandemic.Scottish ministers believe there
(
Permalink
)
COVID-19
The Times

New figures published today (Friday, 23 October) show that work to prepare for the effects of autumn resulted in more trains arriving on time, and the best performing September of the Abellio franchise.
Across Scotland, 92.3 per cent of ScotRail trains met the rail industry standard public performance measure (PPM) in the period 20 September to 17 October 2020 " the best September-October performance since the start of the Abellio franchise.
(
Permalink
)
COVID-19
ScotRail
The Welsh Government had been in talks with KeolisAmey about a possible bailout in the midst of the Covid-19 pandemic, but talks have fallen through, according to the Telegraph.
(
Permalink
)
COVID-19
KeolisAmey
Wales
Greenock Telegraph

The Tyne and Wear Metro has secured further financial support from the Government to sustain its essential services through to March while Covid-19 restrictions continue across North East England.
The Department for Transport (DfT) has allocated £8.5m for Metro, which will last to January 18, and a similar such amount to get through to March 31, the end of the current financial year, if it is needed.
(
Permalink
)
COVID-19
Tyne and Wear Metro
Tyne and Wear Metro

Brits are ready to swap their holidays abroad for staycations in places such as Edinburgh as the coronavirus pandemic has shifted the nations eco-conscience.
That is according to findings by train company LNER who say people in the UK are shunning overseas trips and air travel to become more sustainable.
(
Permalink
)
COVID-19
LNER
Rail bosses are set to bring in a full booze ban on trains in Scotland as terrified staff reveal details of packed trains with drunk passengers swapping face masks.
(
Permalink
)
COVID-19
Daily Record

edinburghlive

Heritage railways across the country have received grants totalling more than £6.7 million from the Government's Culture Recovery Fund, to help them survive the COVID-19 pandemic.
(
Permalink
)
COVID-19
Heritage Railways
RAIL

The Oban Times

There is a new competitor to rail, one of the increasing band of impressive female leaders of the industry has observed, and people are growing to like it.
(
Permalink
)
COVID-19
ScotRail
Rail passenger journeys in Great Britain fell to the lowest levels last seen in the mid-nineteenth century, official statistics from the Office of Rail and Road have revealed.
(
Permalink
)
COVID-19
ORR
When stand-up Nathan Cassidy entertained an audience of 38 at the Three Sisters on 24 August, it was for a moment as though Covid-19 had all been a nightmare and this could not possibly be the only surviving live event of the Edinburgh Festival Fringe.
(
Permalink
)
Borders Railway
COVID-19
Following Nicola Sturgeons announcement today (7th October 2020), the Jacobite service will be running as advertised on the web pages. There will be a restriction on the selling of alcoholic drinks during the period from 9 October at 6pm to Sunday 25 October inclusive. But apart from that the service will be running as scheduled.
(
Permalink
)
COVID-19
Jacobite