GOV.UK

The government has scrapped rail franchising and announced plans to extend support for train firms.
After passenger numbers fell during lockdown, taxpayer money was used to plug the shortfall in ticket revenues.
So far, the bill has run to more than £3.5bn and the Department for Transport has said 'significant' support will still be needed.
Although passenger numbers have edged up since lockdown, they are still less than half pre-pandemic levels.
(
Permalink
)
COVID-19
Franchising
Grant Shapps
RAIL

Railway Gazette

India's largest rapid transport system resumes services even as case numbers increase.
(
Permalink
)
COVID-19
A campaign has been launched to make public transport in Glasgow free. The bid from Free Our City will call on free public transport services in and around the city to help the economy recover from Covid.
(
Permalink
)
COVID-19
The Scottish Sun

LNER will add an extra 1,600 seats a week to its trains from next week. The increase, which comes into effect on Monday September 7, will see 10 trains added to the timetable between Scotland and England, connecting Newcastle, Durham, Berwick, Alnmouth and Darlington to York, London, Edinburgh and northern Scotland.
(
Permalink
)
Alnmouth
Berwick
COVID-19
Darlington
Durham
Edinburgh
LNER
London
Newcastle
York
Chronicle Live

US-based passenger railroad service Amtrak has decided to furlough more than 2,000 workers as travel demand has plummeted following the Covid-19 pandemic.
(
Permalink
)
Amtrak
COVID-19
Railway Technology

Government's call brings only a slight increase in commuter journeys on Tuesday.
(
Permalink
)
COVID-19
Get yourself a cuppa, its time to sit down and talk about facemasks. We know its not the most riveting of topics but its one that needs to be addressed.
On the 22nd of June, the Scottish Government made it compulsory for facemasks to be worn on public transport. That includes ScotRail trains. It includes in the stations, on platforms and on the trains, for the whole duration of your journey. Not just when getting on. Not just when getting off. And not just when a member of staff can see you.
(
Permalink
)
COVID-19
ScotRail

Rail companies plan to share capacity information with passengers so they can avoid crowded trains.
(
Permalink
)
COVID-19
Rail fares must be cut to entice travellers back on to trains after Covid-19, according to the passenger watchdog, which has urged the UK government to subsidise similar money-saving deals to those for the restaurant sector.
(
Permalink
)
Covid-19
Rail fare
A rail passenger has questioned a decision to allow staff to monitor ticket barriers without masks.
(
Permalink
)
Covid-19
Ross-shire Journal

Cumnock Chronicle

The special service, complying with the Scottish Governments guidelines on managing COVID-19, will run for four weeks seeing the 08.35 arrival to Oban from Dalmally and 16.11 departure from Oban to Dalmally only for use by high school pupils.
(
Permalink
)
Covid-19
School train
The Oban Times

International overnight train services are being revived to cater for a growing demand from those who want to travel in an environmentally-friendly way. Night trains, including those travelling from Paris to Nice and Brussels to Stockholm and Vienna, are being revived.
(
Permalink
)
Covid-19
Daily Mail

Flexible season tickets and carnets cut costs for people making fewer journeys due to coronavirus crisis.
(
Permalink
)
Covid-19
A heritage railway has reopened after more than four months of closure due to coronavirus. The Severn Valley Railway [SVR] has been losing about £500,000 a month due to the closure. SVR was fully booked up for Saturday's reopening, with passenger groups of up to six having their own compartment to enable social distancing. The railway's general manager said resuming services would help 'break even' rather than making a profit.
(
Permalink
)
Covid-19
Severn Valley Railway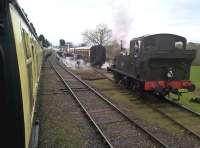 Hampton Loade: Who are you calling a small engine? If you're going to be rude, you can all stay on the platform, and I'll go and join that train over there. I'd rather go to Bridgnorth, anyway. 1450 goes off in a huff at an SVR steam gala.
Ken Strachan 18/03/2017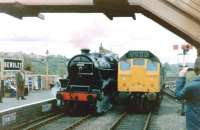 Bewdley: Black 5 no 5000 stands alongside 25056 at Bewdley station on the Severn Valley Railway in May 1981.
Colin Alexander /05/1981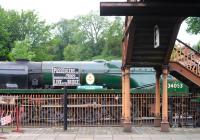 Bridgnorth: Bulleid Pacific no 34053 'Sir Keith Park' standing alongside the station at Bridgnorth on 2 August 2012.
Peter Todd 02/08/2012
The Covid-secure service, called Let's Eat - At Your Seat, will allow LNER customers to order refreshments without having to visit an onboard shop.
(
Permalink
)
Covid-19
LNER
Mail Online

Scotland's principle rail operator ScotRail has said it will increase its timetable from Monday.
(
Permalink
)
Covid-19
ScotRail are offering jobseekers free travel to interviews to help them get back to work following the coronavirus pandemic.
(
Permalink
)
Covid-19
Clydebank Post

Passengers have accused LNER of putting them at risk by failing to check everyone on its trains is wearing face coverings and physically distanced.
(
Permalink
)
Covid-19
LNER
Calls have been made for the return of the Caledonian Sleeper to Aberdeen to help get the struggling tourist industry back on track. Sleeper services have been plying the East Coast main line from London to Aberdeen in different guises since 1976, but all routes were cancelled at the start of the Covid-19 lockdown along with journeys to Fort William. While journeys to Fort William will begin again on Wednesday, trips to Aberdeen are yet to get back up and running.
(
Permalink
)
Caledonian Sleeper
Covid-19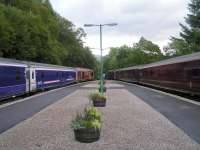 Arrochar and Tarbet: Rush hour at Arrochar & Tarbet- sleeper waits for southbound Royal Scotsman to clear the loop before proceeding
Paul D Kerr 04/09/2006
Press and Journal

Tourists are cancelling island holiday accommodation bookings as social distancing regulations make it impossible for many to secure ferry places to travel to Scotlands remote communities.
(
Permalink
)
Covid-19
The relaxation from 2m after appropriate mitigation measures have been implemented will increase capacity on ferries where space has been severely restricted.
(
Permalink
)
Caledonian MacBrayne
Covid-19
The Aberdeen-based bus and train operator sees a huge fall in passengers, and losses of more than £150m.
(
Permalink
)
Covid-19
Glasgow's Subway is to get a share of a £9 million emergency fund after its operators warned the future of the service was in doubt due to Covid passenger losses.
(
Permalink
)
Covid-19
Glasgow Subway
SPT
The Scottish Government announced the funding which will last until the end of September.
(
Permalink
)
Covid-19
Edinburgh Trams
Glasgow Subway
SPT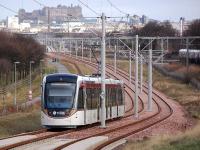 Balgreen [Tram]: Edinburgh Tram 276 heads towards Balgreen and the city centre on 4 March, passing between Carrickknowe Golf Course and the E & D/Fife main lines.
Bill Roberton 04/03/2014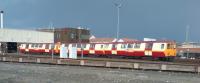 Broomloan Depot [Subway]: A 3-car Subway train in SPT livery standing at the depot in Govan in April 2008.
Colin Harkins 12/04/2008
Blackpool's trams are to begin operating once more from July 19, having been suspended since March 29 because of the coronavirus pandemic.
(
Permalink
)
Covid-19
A new group is being formed in an ambitious bid to reinvigorate the Far North rail line in Caithness and Sutherland, it has emerged.
It is hoped the Far North Line Community Rail Partnership will encourage more visitors to the area and help the North Highlands recover economically from the coronavirus pandemic.
(
Permalink
)
Covid-19
Far North Line
Northern Times

Extending the Borders Railway ought to be part of UK prime minister Boris Johnson's £5bn bid to get the country's economy back on track after the coronavirus lockdown, according to campaigners.
(
Permalink
)
Borders Railway
Boris Johnson
Covid-19
Southern Reporter

A train firm has announced a 'measured' return to service after the coronavirus pandemic forced it to suspend operations in April.
Grand Central will restart journeys on its West Yorkshire and North East routes from 26 July.
The business will resume with daily return services between Bradford and Sunderland and London King's Cross.
Because the Yorkshire-based company is an open access operator, it does not benefit from government support.
(
Permalink
)
Covid-19
Grand Central
Network Rail

Government aspirations for a significant ramping up of passenger services towards pre-coronavirus levels are unlikely to be achieved, with train operating companies warning of staff shortages and a lack of clarity over capacity leading to an increasingly confusing situation.
(
Permalink
)
Covid-19