The Office of Rail and Road is undertaking a review to understand the lessons the industry can learn from the discovery of cracks on Hitachi Class 800 and 385 series trains.
(
Permalink
)
Class 385
Class 800
ORR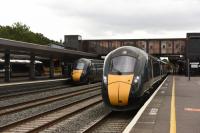 Oxford: Two GWR Class 800 IEPs, 800-028 and 802-003, in Oxford station on 6th August 2019.
Peter Todd 06/08/2019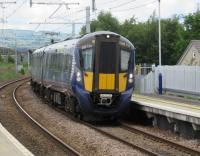 Camelon: If it were human, only a mother could love it. A Class 385 pulls into Camelon with a Glasgow to Edinburgh service on 6 June 2019.
David Panton 06/06/2019
ORR

Scotlands newest 100 per cent electric commuter trains cut carbon emissions by over 10,000 tonnes in 2019, making a significant contribution towards Scotlands ambitious 2035 net zero railways target.
(
Permalink
)
COP26
Class 385
Green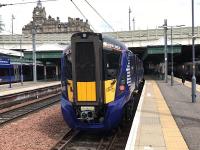 Edinburgh Waverley: 385003 about to leave platform 16 with the 1415 to Glasgow Queen Street on the first day of Class 385 passenger operation - 24th July 2018.
Colin McDonald 24/07/2018
In December, ScotRail accepted into service the last of the 70 Class 385 EMUs that Abellio had ordered from Hitachi in a £475 million contract. This was signed in April 2015, just before the company took over the ScotRail franchise. The completion of this order, together with the introduction of HSTs on Scottish intercity routes ...
(
Permalink
)
Class 385
Hitachi
ScotRail
ScotRail has reached another milestone in delivering a better service for customers with the introduction of the first ever Hitachi class 385 electric train on the Edinburgh to Glasgow via Shotts line.
Following the completion of the Network Rail £160m electrification of the line, the rail operator is now able to run electric trains along the popular route, and launched the first customer service earlier today (Tuesday).
(
Permalink
)
Class 385
Electrification
Shotts
ScotRail

RAIL

Once a final design for new windscreens has been approved for ScotRail Class 385s, the modifications will be carried out at Knorr-Bremse Rail Services at Springburn.
The electric multiple units, built by Hitachi, are currently unable to enter traffic after problems were encountered with the drivers view during mileage accumulation testing.
(
Permalink
)
Class 385
Hitachi
Knorr-Bremse Rail Services
St Rollox Works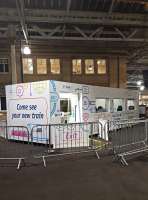 Edinburgh Waverley: A full-size mock up of the interior of ScotRail's new class 385s has been erected at Edinburgh Waverley's east end, seen here on 10 February 2016. This features first and standard class seating.
...
John Yellowlees 10/02/2016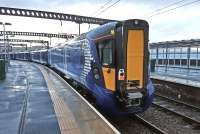 Gourock: One of the new ScotRail Class 385 electric multiple units, which can be regularly seen at Gourock where they are currently being tested overnight. Photograph taken on 9 January 2017. (Pictures are al ...
Brian Thompson 09/01/2017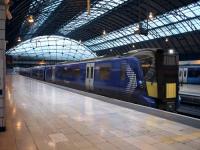 Glasgow Queen Street High Level: Mock up image of a Hitachi Rail Europe Class 385 AT200 train for Abellio's ScotRail franchise at Queen Street. 70 of these are due to enter service in 2017/2018.
Courtesy Hitachi Rail Europe 12/03/2015
With around 7,000 new rail vehicles on order to replace more than half of the passenger rolling stock fleet, Britains trains are about to change as never before. Scotland is no exception. In 2018, Hitachis Class 385 electric multiple units (EMUs) will replace the Class 170 diesel multiple units (DMUs) on the Edinburgh to Glasgow main line. Once further electrification is completed, more Class 385s will displace DMUs on services to Dunblane and through Shotts.
This year will also see some of the iconic British Rail High Speed Trains (HSTs) get a new lease of life as specially refurbished four and five-car sets operating on Scottish Inter-City services.
(
Permalink
)
Alloa
Class 170
Class 385
Dunblane
Edinburgh and Glasgow Railway
Electrification
HST
Hitachi
Shotts
Stirling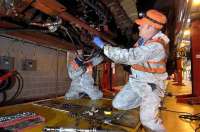 Haymarket MPD: Maintenance work in progress in the new shed at Haymarket on 13 February 2007. The facility had been officially opened during a ceremony earlier that day by Transport Minister Tavish Scott, accompanie ...
Ian Watson, Studio Scotland 13/02/2007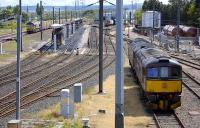 Craigentinny Depot: Scene at Craigentinny on 23 June as 66132 passes on the main line with the empty Binliner containers from Oxwelmains returning to Powderhall, while West Coast Railway locomotives 47826 and 3302 ...
Bill Roberton 23/06/2008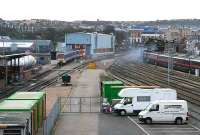 Clayhills Yard: Looking over the servicing and stabling areas to the south of Aberdeen station on Sunday 5 November 2006 with a ScotRail 170 DMU receiving attention. The station itself is off picture to the left and ...
John Furnevel 05/11/2006
Scotland's Edinburgh - Glasgow Improvement Programme (Egip) celebrated a milestone on December 10 with the start of electric services from Glasgow Queen Street to Edinburgh Waverley via Falkirk High.
ScotRail has replaced the class 170 DMUs previously used on these services with class 380 EMUs, although the use of these trains on the route is a temporary measure pending the introduction of new Hitachi class 385 EMUs next year.
(
Permalink
)
Class 170
Class 380
Class 385
EGIP
Edinburgh and Glasgow Railway
Electrification
Hitachi
Work to house Scotland's growing fleet of trains is progressing well and on track for the arrival of new class 385 electric rolling stock this autumn.
Transport Minister Humza Yousaf visited the Millerhill facility recently to see the ongoing work to provide electrified stabling facilities for the new fleet, which will be gradually introduced across many Scottish central belt routes in the next two years. [From Charlie Niven]
(
Permalink
)
Class 385
ScotRail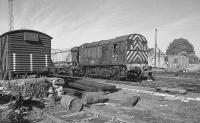 Millerhill: 08575 shunting at the site of Millerhill Station in 1975.
Bill Roberton //1975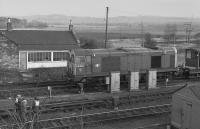 Millerhill: 20007 and brake van pass the former Millerhill Station in 1981.
Bill Roberton //1981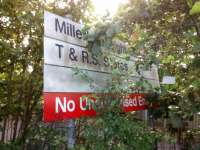 Millerhill: The British Rail Helvetica typeface dates this one. 'Millerhill Freight Services T & R S Stores' Whatever they were (and please don't tell me) they are surely not there now. The June 2012 pass of th ...
David Panton 15/09/2017
Midlothian Advertiser

The Class 385 electric trains are due to arrive in Scotland next month for testing and go into service on the main Edinburgh-Glasgow line via Falkirk in a year's time. One has been tested at the Velim test track in the Czech Republic since last month, where it has reached its 100mph top operating speed. Another train - without interiors - has arrived at Teesport after being shipped by sea from Japan. Most of the 70-strong fleet will be assembled at Hitachi's nearby factory at Newton Aycliffe in County Durham. Driver training is due to start in Scotland in the spring.
(
Permalink
)
Class 385
Hitachi
ScotRail
TESTING has started at the Velim test track in the Czech Republic of the first of 70 class 385 EMUs being built by Hitachi Rail Europe for the ScotRail franchise operated by Abellio.
This is the first of six four-car trains being built by Hitachi at its Kasado factory in Japan. The remainder of the order for 24 four-car and 46 three-car EMUs will be produced at Hitachi's new factory in Newton Aycliffe, Britain.
(
Permalink
)
Abellio
Class 385
Hitachi
ScotRail
International Railway Journal

The first Class 385 electric multiple units to be built by Hitachi in Japan for ScotRail have set sail for Europe.
One train will be delivered to the UK, while the second will move to the Velim test track in the Czech Republic for testing.
(
Permalink
)
Class 385
Hitachi
ScotRail
THE first of 70 class 385 regional EMUs has begun its journey from Hitachi's Kasado plant in Japan to Europe.
Seven of the trains are being built at Kasado, where fabrication of bodyshells began last October, while the remaining 63 sets will be assembled at the company's new British facility at Newton Aycliffe in northeast England. [From Richard Buckby]
(
Permalink
)
Class 385
Hitachi
ScotRail
The first AT200 in ScotRail's 70-train fleet order is currently undergoing testing in Hitachi's Japan plant, RTM can reveal.
The amount of trains set to be built domestically has also increased from 63 to 64 to ensure "increased delivery" and to take advantage of the expanded manufacturing happening locally, Hitachi's production director, Jon Veitch, told RTM.
The first bodyshell of the 70-EMU fleet, which Hitachi previewed earlier this year, is also expected to be shipped to the UK next month.
(
Permalink
)
Class 385
Hitachi
ScotRail
RTM

Two weeks after it unveiled the Class 385 bodyshells, ScotRail has revealed the interiors of the Hitachi electric multiple units it will introduce into traffic from next year.
A full-size mock-up of the '385' has gone on display at Edinburgh Waverley. It was unveiled by Scottish Transport Minister Derek Mackay on February 10 and remains on display until March 4.
(
Permalink
)
Class 385
Hitachi
ScotRail
UK: The first of 70 Class 385 electric multiple-units ordered by Abellio for the ScotRail franchise is now under construction at Hitachi's factory at Kasado in Japan. The first seven of the 25 kV 50 Hz EMUs are to be built in Kasado, with the remaining 63 to be produced at Hitachi's UK plant in Newton Aycliffe.
(
Permalink
)
Abellio
Class 385
Hitachi
ScotRail
Railway Gazette