Trains from Edinburgh to Glasgow Central have also been curtailed by floods with the line in Shotts covered by water.
(
Permalink
)
Flood
Shotts
Evening Times

The ScotRail Alliance has installed a commemorative plaque at Shotts station to mark the 150th anniversary of the opening of the line between Glasgow and Edinburgh via Shotts.
Unveiled by Alex Neil, MSP for Airdrie and Shotts and Transport Scotland Director for Rail Bill Reeve, at an event earlier today, the plaque reads:
(
Permalink
)
150th Anniversary
Shotts
On July 9th 2019, Shotts Station celebrates its 150th birthday. Let's take a look back at the history of the station and surrounding area over the years.
(
Permalink
)
150th Anniversary
Shotts
ScotRail has reached another milestone in delivering a better service for customers with the introduction of the first ever Hitachi class 385 electric train on the Edinburgh to Glasgow via Shotts line.
Following the completion of the Network Rail £160m electrification of the line, the rail operator is now able to run electric trains along the popular route, and launched the first customer service earlier today (Tuesday).
(
Permalink
)
Class 385
Electrification
Shotts
Breich station will close for 12 weeks from Saturday 23 June as part of the work to electrify the Shotts line between Edinburgh and Glasgow Central.
(
Permalink
)
Breich
Electrification
Shotts
With around 7,000 new rail vehicles on order to replace more than half of the passenger rolling stock fleet, Britains trains are about to change as never before. Scotland is no exception. In 2018, Hitachis Class 385 electric multiple units (EMUs) will replace the Class 170 diesel multiple units (DMUs) on the Edinburgh to Glasgow main line. Once further electrification is completed, more Class 385s will displace DMUs on services to Dunblane and through Shotts.
This year will also see some of the iconic British Rail High Speed Trains (HSTs) get a new lease of life as specially refurbished four and five-car sets operating on Scottish Inter-City services.
(
Permalink
)
Alloa
Class 170
Class 385
Dunblane
Edinburgh and Glasgow Railway
Electrification
HST
Hitachi
Shotts
Stirling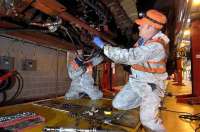 Haymarket MPD: Maintenance work in progress in the new shed at Haymarket on 13 February 2007. The facility had been officially opened during a ceremony earlier that day by Transport Minister Tavish Scott, accompanied by ScotRail Managing Director Mary Dickson.
Ian Watson, Studio Scotland 13/02/2007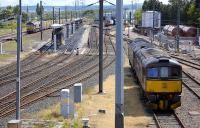 Craigentinny Depot: Scene at Craigentinny on 23 June as 66132 passes on the main line with the empty Binliner containers from Oxwelmains returning to Powderhall, while West Coast Railway locomotives 47826 and 33025 stand in the east sidings.
Bill Roberton 23/06/2008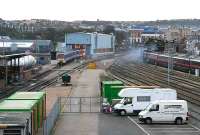 Clayhills Yard: Looking over the servicing and stabling areas to the south of Aberdeen station on Sunday 5 November 2006 with a ScotRail 170 DMU receiving attention. The station itself is off picture to the left and Clayhills sidings are on the right. The HST in the process of leaving the sidings is about to move into the station to form the 0950 to Kings Cross. Other occupants of the sidings are a second HST (1142 to Kings Cross) plus the stock for the 2215 Caledonian Sleeper to Euston.
John Furnevel 05/11/2006
Rail Engineer

Livingston South station is set to undergo a £3.5m transformation this spring.
The work is part of a £160m project to electrify the Edinburgh Waverley-Glasgow Central line, which will close for 10 days at Easter. From Thursday, March 29, to Monday, April 9, no trains will run on the line via Shotts while Network Rail engineers work to widen and extend both platforms at Livingston South.
As well as work to the platforms, the redevelopment will see the construction of lifts on both sides of the station to deliver step-free access, installation of new staircases and the re-alignment of existing ramps.
(
Permalink
)
Electrification
Livingston South
Shotts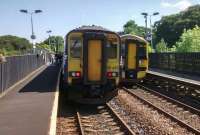 Livingston South: An Edinburgh-bound 156 and a 158 for Glasgow pass at Livi South on a fine 24 July.
David Panton 24/07/2017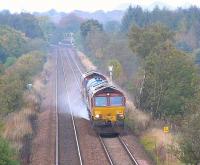 Livingston South: A Railhead treatment train approaches MidCalder Jct with Livingston south station in the background in October 2005
James Young 15/10/2005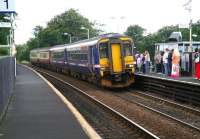 Livingston South: It's Festival time again! An attractive combination of liveries at Livingston South station on 14 August 2008. The train looks nice too - in this case the 1215 Glasgow Central - Edinburgh Waverley service.
John Furnevel 14/08/2008
Closure-threatened Breich Station, which has fewer than three passengers a week, has been reprieved after a public outcry. Transport minister Humza Yousaf has also ordered more trains to call at the West Lothian stop to add to the current one train in each direction a day. Network Rail launched a consultation into its closure in the summer because of the high cost of upgrading work as part of electrifying the secondary Edinburgh-Glasgow line via Shotts. The rail body said replacement of a footbridge, platforms, waiting shelters and CCTV would cost £1.4 million. It would have been the first closure of a Scottish station for 31 years - after Balloch Pier in 1986. Breich served just 138 passengers in 2015-16 - an average of 2.6 passengers a week.
(
Permalink
)
Breich
Electrification
Shotts
Plans to close Breich Station in West Lothian, used by just three passengers a week, have been announced by Network Rail. If confirmed, the unstaffed station on the Edinburgh-Glasgow line via Shotts would be the first Scottish closure since 1986 when Balloch Pier Station on Loch Lomond shut. The move has been prompted by the £1.4 million cost of replacing its footbridge as part of electrification of the line, which would be saved. It is understood the station is likely to have stayed open otherwise. Only one train a day in each direction stops at Breich, which was opened in 1869, with no trains on Sundays. It served just 138 passengers in 2015-16 - an average of 2.6 passengers a week.
(
Permalink
)
Breich
Electrification
Shotts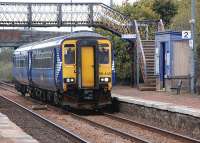 Breich: 156445 heads east through Breich on 15 May bound for Edinburgh .
Bill Roberton 15/05/2013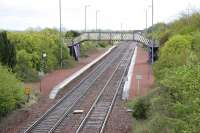 Breich: The lonely station at Breich, looking east, February 2006.
John Furnevel 13/02/2006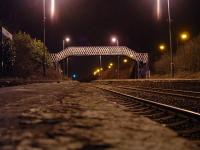 Breich: Breich at night ... very quiet... very, very quiet...
Ewan Crawford //
The costs of two more flagship rail projects in Scotland have soared.
A Sunday Post investigation earlier this month revealed works on lines between Edinburgh and Glasgow, and Aberdeen to Inverness, were tens of millions of pounds over budget.
Now its been confirmed that electrification work on the Stirling, Alloa and Dunblane lines, as well as a 46-mile section of the Shotts line, is currently 50% over budget.
The Office of Rail and Road confirmed it had launched an investigation into the budget overruns, blamed on poor design and extra costs of meeting safety legislation.
(
Permalink
)
Aberdeen
Alloa
Dunblane
Edinburgh
Electrification
Glasgow
Inverness
Overspend
Shotts
Stirling
Sunday Post

EGIP has delivered a number of key infrastructure and service improvements, including the electrification of Haymarket Tunnel and new services introduced on the Edinburgh Glasgow via Shotts and Carstairs lines. The £27 million redevelopment of Haymarket Station is expected to open to the public in December 2013 and route clearance works in advance of the electrification of the Edinburgh Glasgow and Stirling-Alloa-Dunblane lines are well underway.
(
Permalink
)
Alloa
EGIP
Electrification
Haymarket Tunnel
Shotts
Transport Scotland