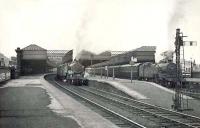 The east end of Paisley Gilmour Street on Saturday 24 September 1949, with Glasgow bound trains at the platforms. Fowler 2-6-4T 42421 is ex-Gourock, while Fairburn 2-6-4T 2195 has arrived with a train from Ayr.

G H Robin collection by courtesy of the Mitchell Library, Glasgow [1949]

More images from this day in history.