Rail and road bosses are under pressure to cut pay after Grant Shapps pledged to 'bear down' on six-figure executive salaries at Britain's biggest transport quangos.
(
Permalink
)
Executive salaries
Grant Shapps
The Times

The government has scrapped rail franchising and announced plans to extend support for train firms.
After passenger numbers fell during lockdown, taxpayer money was used to plug the shortfall in ticket revenues.
So far, the bill has run to more than £3.5bn and the Department for Transport has said 'significant' support will still be needed.
Although passenger numbers have edged up since lockdown, they are still less than half pre-pandemic levels.
(
Permalink
)
COVID-19
Franchising
Grant Shapps
RAIL

Press and Journal

Train and bus firms urgently need to find a route back to viability amid the Covid-19 crisis. Since the fall of Mussolini, few politicians can have declared quite so unselfconsciously as Grant Shapps that: 'I just want to make the trains run on time.' But, as the transport secretary ruefully told MPs this week: 'I didn't expect to see that happen by having a fraction of people using it.' More than 98% of services ran punctually in April, underscoring the old rail industry joke that it would all work fine if it wasn't for the passengers. Yet the trains are only continuing to run due to an extraordinary level of subsidy after coronavirus forced most of the population to stay home.
(
Permalink
)
Covid-19
Grant Shapps
Transport Secretary Grant Shapps has claimed the pandemic has provided the government the chance to build a 'different type of railway'.
(
Permalink
)
Covid-19
Grant Shapps
Mail Online

Former railway lines between
Ventnor
and Newport could be reopened, as part of ambitious plans to restore routes lost to the Beeching cuts.
The Island has been announced as one of ten areas to receive a share of £500,000.
Transport secretary, Grant Shapps has announced that the Island is among the successful bids in the the government's 'Restoring Your Railway 'Ideas Fund'.
(
Permalink
)
Grant Shapps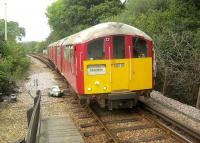 Smallbrook Junction: Class 483 (ex-London Underground 1938 stock) with an Island Line service from Ryde Pier Head to Shanklin arriving at Smallbrook Junction, on 20th September 2014. This station opened in 1991 to provide an interchange with the Isle of Wight Steam Railway (on left) that was extended here from Haven Street at the same time. The station has no other function and no public access except by train.
David Bosher 20/09/2014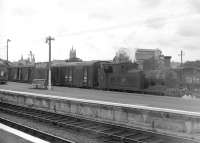 Newport IoW: No 33 Bembridge is station pilot at Newport, Isle of Wight, in 1963.
Robin Barbour Collection (Courtesy Bruce McCartney) 17/07/1963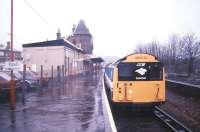 Shanklin: Former LT Tube stock in use on the Isle of Wight standing alongside a wet platform at Shanklin in February 1988.
Ian Dinmore /02/1988
IoW County Press

Strathspey and Badenoch Herald

'Even with all the trains and buses back to running, there will not be enough space. Only 1 in 10 people will be able to travel without overcrowding.'
(
Permalink
)
COVID-19
Grant Shapps
Metro

Troubled rail company Northern is to be brought under government control, Transport Secretary Grant Shapps has announced.
The decision, which will see the firm's franchise stripped from operator Arriva Rail North from 1 March, was taken following years of major disruption.
The government previously described the delays and cancellations as 'unacceptable'.
(
Permalink
)
Grant Shapps
Northern Rail
A government fund is to be launched later to restore historic railway lines closed more than 50 years ago under the so-called Beeching cuts.
Transport Secretary Grant Shapps will visit Fleetwood to announce £21.9m for two railway lines and a New Stations Fund.
The £500m fund was promised in the Tory election manifesto in November.
(
Permalink
)
Grant Shapps
The process to strip Northern rail of its franchise has begun after years of poor performance, the transport secretary has said. Grant Shapps told the BBC he had started the process that could result in removing the firms routes, calling its service 'completely unacceptable'.
(
Permalink
)
Grant Shapps
Northern Rail
Full HS2 services between London and Birmingham will be delayed by up to five years to 2031, the government has announced.The transport secretary, Grant Shapps, told parliament final completion of the northern section of the high-speed rail network would likely be pushed back by seven years until 2040.
(
Permalink
)
Grant Shapps
HS2
Transport Secretary Grant Shapps has vowed a crack down on fares by slashing prices for one-way tickets. Customers travelling with London North Eastern Railway could save up to £73 per trip.
(
Permalink
)
Grant Shapps
Daily Mail

Transport Secretary Grant Shapps has branded the performance of the Norths main rail operator as totally unacceptable and promised action after yet another weekend of disruption to services in the region.
The newly-appointed Cabinet minister was responding to calls from Andy Burnham, Greater Manchesters metro mayor, for Northern to be stripped of its franchise because of its poor reliability record.
(
Permalink
)
Grant Shapps
Northern Rail
Yorkshire Post

The government is launching a review of high-speed rail link HS2 - with a go or no-go' decision by the end of the year, the Transport Secretary Grant Shapps has said.
It will consider whether and how the project to connect London, the Midlands and northern England should proceed.
Billions have already been spent, but Mr Shapps refused to rule out scrapping it entirely.
He said it was 'responsible' to see whether the benefits really 'stack up'.
(
Permalink
)
Grant Shapps
HS2
FirstGroup is to take over the running of the West Coast mainline train route, connecting London Euston to Glasgow Central, from December.
Along with Italian firm Trenitalia, FirstGroup said the route would pave the way for an era of high-speed rail.
First Trenitalia replaces Virgin Trains, which was barred from bidding to keep the route.
Transport Secretary Grant Shapps said the bid was part of a shift to a new model for rail.
(
Permalink
)
FirstGroup
Grant Shapps
Virgin Trains