10 Images released on Saturday 21/11/2020

Contact the news and picture editor.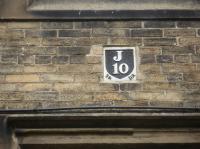 Wolsingham: In the centre of the main part of Wolsingham Station, platform side, there is a canopied recess, by the exit from what was possibly the former ticket office, complete with clock. There is also a door at each end leading into the main part of the building. The building also has some feature stones at high level, one a date stone and the other a crest.
Wear Valley Railway
David Pesterfield [11/08/2020]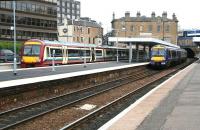 Haymarket: The west end of Haymarket station in July 2007, with a Cowdenbeath train at bay platform 0 (brought into use earlier that year) and a Waverley bound service at platform 1. The building occupying the area between the station and the office block on the left is the Caledonian Alehouse (formerly the Haymarket Station Bar) dating from the 1860s. The building was demolished in 2008 to make way for Edinburghs new trams (see image [[23206]]).
Edinburgh and Glasgow Railway
John Furnevel [05/07/2007]