11 Images released on Tuesday 15/09/2020

Contact the news and picture editor.

Eyemouth: The briefest table in the Scottish Region timetable for winter 1960-61. Notice that after a train arrived at Eyemouth at 0920, that was it until 1530. Sleepy or what? (See image [[30789]]).
Eyemouth Railway
David Panton [12/09/1960]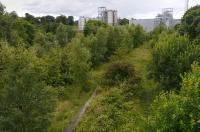 Cameron Bridge: The site of Cameron Bridge station on 20 July 2020. The platform edge and rails just visible bottom left.
Leven Railway
Bill Roberton [20/07/2020]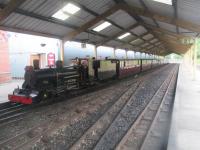 Aylsham: 2-6-2 ZB class No.7 'Spitfire' just arrived at Aylsham with a Bure Valley Railway service from Wroxham on 30th May 2016. This is the terminus of the line on the site of the former Aylsham South station, an intermediate stop on the Wroxham to County School line that closed in 1952. Near Reepham, the line crossed the ex-M&GNJR Melton Constable to Norwich City line and in 1960, a year after this had closed to passengers, the Themelthorpe spur was opened linking the two lines and freight trains via this route to Norwich City continued until 1969 when they were cut back to Lenwade. These finished in 1981 and the Bure Valley Railway opened in 1990 but beyond Aylsham, the former standard gauge lines are now abandoned.
Broom Green Junction to Wroxham Line (East Norfolk Railway)
David Bosher [30/05/2016]