10 Images released on Monday 03/08/2020

Contact the news and picture editor.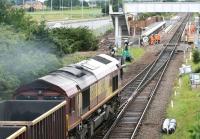 Gretna Green: A down freight about to join the single line north at Gretna Green on 17 July 2008. Work was underway at the time on the redoubling of the 8 mile section to Annan, as well as construction of a second platform and installation of a pedestrian footbridge at Gretna Green station. The route was closed for two weeks on 19 July for completion of the works, including replacement of the junctions, reopening as a double-track railway in early August. See [[19966]].
Glasgow, Dumfries and Carlisle Railway
John Furnevel [17/07/2008]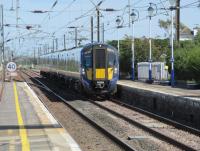 Drem: An Edinburgh service, with the leading vehicle still showing cock-eyed unit numbers, pulls into Drem on 18th July 2020. Drem's population is less than 100. There are tinier places on the West Highland and Far North lines, but apart from those Drem is the smallest place in Scotland with a station. Enough people arrive by car from surrounding settlements to make footfall respectable.
North British Railway
David Panton [18/07/2020]