11 Images released on Friday 09/04/2021

Contact the news and picture editor.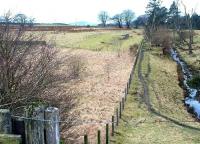 Macbie Hill: Remains at Macbie Hill, looking south from the road bridge towards West Linton (Broomlee) in June 2004. The overgrown platform runs to the the left of the fence and the ruins of the station building can be seen on the right. Beyond are signs of old goods facilities, latterly serving RNAD Coalyburn, the southernmost compound of RNAD Leadburn. The waterway is the Coaly Burn, this being the original name of the station (until 1874). [Note : Although the line was officially closed in 1933, this section was taken over by the War Department during WW2 to serve what became RNAD Leadburn. Use continued well into the 1950s, with tracklifting eventually carried out in 1961.]
Leadburn, Linton and Dolphinton Railway
John Furnevel [09/06/2004]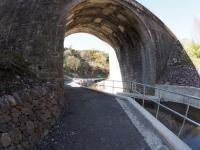 Carron Water Bridge [West Carmont]: The underside of Bridge 325 at Carmont, following post crash renovation, visited on 3rd April 2021. As is apparent here, there has been a fair bit of extra drainage put in as part of the rebuild.
Aberdeen Railway
Duncan Ross [03/04/2021]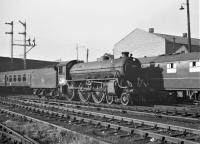 Buchanan Street: B1 61330 reverses towards Glasgow Buchanan Street, on its way to take charge of the 11.35 service to Thornton, on 29th October 1966. Outgoing empty stock from the morning 'Bon Accord' express from Aberdeen is on the adjacent track.
Buchanan Street Extension (Caledonian Railway)
Robin McGregor [29/10/1966]