10 Images released on Wednesday 07/04/2021

Contact the news and picture editor.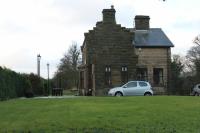 Witton Gilbert: Witton Gilbert station was over a mile from the village of that name and actually almost in Langley Park. The station, and the Lanchester Valley line from Consett to Durham, closed to passengers in 1939 but goods trains passed through for a further twenty seven years before full closure. This view looks along the old line in the direction of Durham from the site of the level crossing. Originally built as a single line, when it was doubled the goods yard was opposite the station and the second platform had to be sited on the opposite side of the level crossing. The station is now a private house, seen here in November 2012.
Lanchester Valley Railway (North Eastern Railway)
Mark Bartlett [27/11/2012]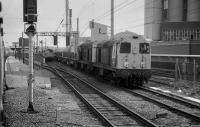 Warrington Bank Quay: 20006 leads a sister loco on a northbound freight, possibly steel empties, through Warrington Bank Quay on 15 February 1986.
Grand Junction Railway
Bill Roberton [15/02/1986]