9 Images released on Friday 15/01/2021

Contact the news and picture editor.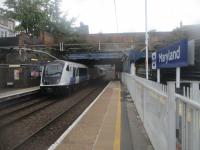 Maryland: 345016, with a TfL Rail service from Shenfield to Liverpool Street, departing from Maryland station (known as Maryland Point until 1941) in east London, on 30th May 2019. This service should have started running through the new Crossrail tunnels to west London from December 2018 but, despite promises the line would open in 2019 and then 2020, at the start of 2021 there is still no sign of when services will start, 2022 now being cited but don't hold your breath.
London to Colchester (Eastern Counties Railway)
David Bosher [30/05/2019]