10 Images released on Saturday 17/10/2020

Contact the news and picture editor.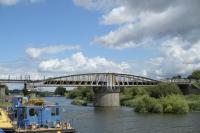 Sharpness Docks: This substantial swing bridge took dock railway lines over the canal at Sharpness Docks, but is now used by road traffic only. A short distance to the north of here a further swing bridge, part of the old Severn Bridge railway, crossed the Gloucester Canal but closed when the main bridge was destroyed by a barge in the 1950s and has since been demolished.
Sharpness Branch (Midland Railway)
Peter Todd [02/08/2020]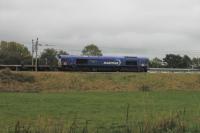 Brock: 66148 'Maritime Intermodal Seven' runs south past the Highways England depot at Brock, with a Carlisle New Yard to Basford Hall infrastructure train on 5th October 2020. The blue Maritime livery makes a change from the usual DB red scheme.
Lancaster and Preston Junction Railway
Mark Bartlett [05/10/2020]