10 Images released on Sunday 02/08/2020

Contact the news and picture editor.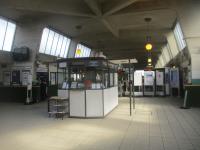 Cockfosters: The ticket hall at Cockfosters, terminus of the LUL PIccadilly Line, opened in 1933, on 18th April 2019. The passimeter office is no longer in use but has been retained as a feature of the station.
Piccadilly Extension (London Electric Railways)
David Bosher [18/04/2019]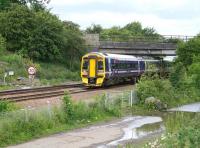 Dalmeny Junction: A First ScotRail 158 with a returning Fife Circle service on the downhill section half a mile south of the Forth Bridge in the summer of 2008. The train is about to run through the junction with the Winchburgh line after passing below the bridge at the west end of Main Street, Dalmeny. The damp looking trackbed in the foreground once carried the branch serving South Queensferry and Port Edgar.
Forth Bridge Connecting Lines (North British Railway)
John Furnevel [16/06/2008]