9 Images released on Thursday 14/01/2021

Contact the news and picture editor.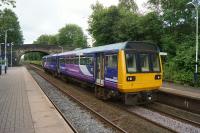 Cherry Tree: Northern 142044 arrives at Cherry Tree in July 2015 whilst on a Colne to Blackpool South service. This particular Pacer made its last revenue earning run in September 2019 and was delivered by road to Booths in South Yorkshire for scrapping three months later.
Blackburn and Preston Railway
John McIntyre [29/07/2015]