11 Images released on Thursday 17/09/2020

Contact the news and picture editor.
Lowestoft: A Railfreight Class 37 hauls an unusual load to the passenger station at Lowestoft-a first generation DMU. Photo taken over the deck of the Sailing Trawler Excelsior, a preserved boat, which provides sail training see theexcelsiortrust.co.uk.
Lowestoft Railway and Harbour
Charlie Niven [/07/1990]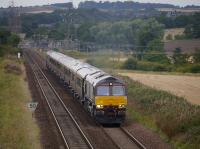 Inverkeithing East Junction: GBRf 66746 draws away from Inverkeithing East Junction with the Royal Scotsman 'Scotland Classic Splendours' first leg from Edinburgh to Aviemore Speyside on 14 September. 66743 brings up the rear.
Aberdour Line (North British Railway)
Bill Roberton [14/09/2020]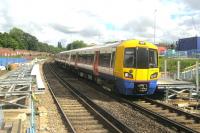 West Brompton: 378 224, working third rail with a London Overground service from Clapham Junction to Willesden Junction, approaching West Brompton station where platform lengthening was taking place, on 24th May 2014. On the left, the LUL District Line branch to Wimbledon, which has its own platforms here, descends to pass obliquely beneath the LO tracks, the latter also served by Southern trains. See image [[6247]].
West London Extension Railway
David Bosher [24/05/2014]