10 Images released on Wednesday 01/07/2020

Contact the news and picture editor.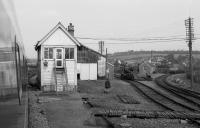 Mallow: Mallow North signalbox from a passing train in 1988. Curving to the right is the stump of the direct line to Waterford, opened by the Waterford, Dungarvan & Lismore Railway in 1878 and closed in 1967.
Great Southern and Western Railway
Bill Roberton [//1988]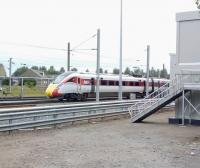 Craigentinny Depot: An Azuma not zooming at Cragentinny. Shot taken through the fence of the westernmost entrance. The depot is really in Mountcastle but the place didn't exist when the carriage sidings - as they were then - were opened.
North British Railway
David Panton [18/06/2020]