10 Images released on Monday 29/06/2020

Contact the news and picture editor.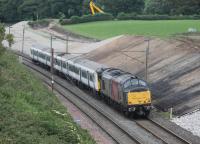 Bay Horse: ROG 37800 'Cassiopeia' heads through the cutting at Forton, to the south of Bay Horse, taking EMU 317340 back to Ilford on 20th June 2020 after PRM modifications at Brodie Engineering. This has become a regular WCML weekly working during 2020 with a Greater Anglia EMU dragged to Kilmarnock on Fridays and another returned home the following day.
Lancaster and Preston Junction Railway
Mark Bartlett [20/06/2020]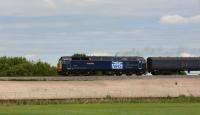 Uffington: Rail Operations Group 47815 'Lost Boys 68-88', and also with NHS logos, hauling a rake of condemned Mk 3 coaches past Uffington on 15th June 2020. This ran from Ely Papworth Sidings taking them for scrapping at Newport Docks. The former D1748 had an interesting role in 1976 when, as 47155 with bogies and buffers removed, it was transported by road from Stratford to West Thurrock power station to act as a temporary stationary generator for three months.
Great Western Railway
Peter Todd [15/06/2020]