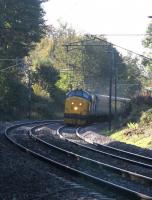 Lancaster Old Junction: 37402 Stephen Middlemore 23.12.1954 - 8.6.2013, working a passenger service from Preston to Barrow-in-Furness, drops down the bank passing the site of Lancaster Old Junction on 19th October 2016. Fast forward three years with image [[70781]] to see the replacement Furness line stock at this location. The trees on the left have also since been cut back from the lineside.
Lancaster and Carlisle Railway
Mark Bartlett [19/10/2016]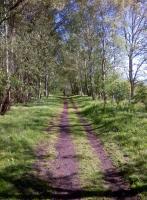 Coldstream: We'll ramble again - don't know where, don't know when. (added during May 2020 lockdown). The beautiful trackbed West of Coldstream raises memories of freedom of movement.
Kelso Branch (York, Newcastle and Berwick Railway)
Ken Strachan [21/05/2014]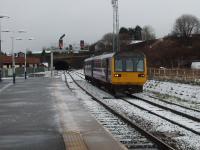 Blackburn: A dusting of spring snow at Blackburn, on 2nd March 2016, as a Pacer slows to call with a train from Colne. 142040 lasted in service with Northern until 2019 and then went under its own power to Newport in South Wales where it was scrapped in January 2020.
Accrington, Burnley and Colne Branch (East Lancashire Railway)
Mark Bartlett [02/03/2016]