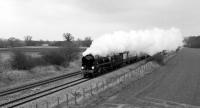 Shrivenham: Rebuilt Merchant Navy 4-6-2 35028 'Clan Line', westbound through the long gone Shrivenham station, on the GWR main line, on 10th March 1999.
Great Western Railway
Peter Todd [10/03/1999]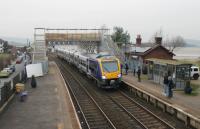 Arnside: Northern CAF DMU 195112 passes under a temporary footbridge that was being erected at Arnside on 30th December 2019. The train was a Barrow to Manchester Airport service.
Ulverston and Lancaster Railway
Mark Bartlett [30/12/2019]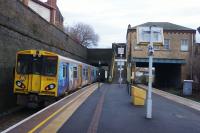 Bank Hall: 508111 in 'Beatles' livery departs from Bank Hall on 28 December 2019 while working a Southport to Hunts Cross service. Bank Hall MPD was a short distance away in the direction of the steps off the platform. To the right above the yellow grit bin can be seen the road bridge above the line to Kirkdale, Ormskirk and Kirkby.
Liverpool, Crosby and Southport Railway
John McIntyre [28/12/2019]