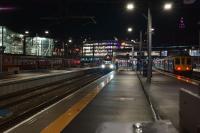 Blackpool North: Blackpool North on the evening of 2nd November 2019. In the centre is a Class 331 EMU getting ready to depart to St Helens Central. Normally this train would have travelled through to Liverpool Lime Street, however a major re-signalling project in the Edge Hill area resulted in no services using Liverpool's main station. The re-signalling will see the closure of Edge Hill SB with control being taken over by the Manchester ROC.
Blackpool Branch (Preston and Wyre Railway, Dock and Harbour)
John McIntyre [02/11/2019]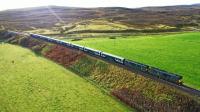 Moy: The Inverness bound Caledonian Sleeper is over two hours late as it runs along the embankment at Dalmagarry, between Moy and Tomatin, hauled by 73967 and 73969 on 21st October 2019.
Inverness and Aviemore Direct Railway (Highland Railway)
John Gray [21/10/2019]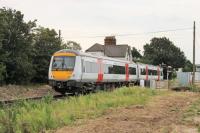 Trimley: 170272 runs over the Thorpe Lane level crossing on the outskirts of Trimley heading for Ipswich on 31st July 2019. This stretch of line is scheduled to be doubled in the near future as part of the Network Rail scheme to enhance capacity on the busy branch line to the Port of Felixstowe. The twelve Greater Anglia Class 170s are scheduled to move to Transport for Wales as the new Class 755 bi-mode units are introduced.
Felixstowe Railway and Pier
Mark Bartlett [31/07/2019]