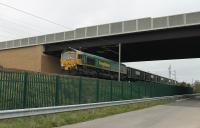 Morecambe South Junction: Freightliner 66610 heads a short train of box wagons south on the WCML at Morecambe South Junction. This was running from Hardendale to Tunstead on 3rd October 2019 but the train usually loads to many more wagons than this.
Lancaster and Carlisle Railway
Mark Bartlett [03/10/2019]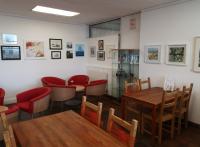 Barry: Having last visited Barry in 1990, I didn't expect to find good facilities at the station. So this cafe and art display was a very pleasant surprise.
Barry Dock and Railways
Ken Strachan [27/08/2019]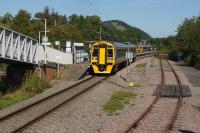 Welshpool: Class 158s pass each other at the current Welshpool station on 19 September 2019. Nearest the camera is a westbound service while behind it to the right is an eastbound service heading towards Shrewsbury.
Welshpool Deviation (British Railways)
John McIntyre [19/09/2019]