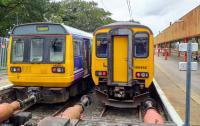 Lancaster: 142011, service to Heysham Port, awaits its departure alongside 156482 at Lancaster on 29th August 2019.
Lancaster and Carlisle Railway
John Steven [29/08/2019]
Woodacre Crossing: Colas 70817 ran light engine from Carlisle to Preston and back on 22nd August 2019, possibly on driver training duties. The loco is seen approaching Woodacre returning north on a very wet day.
Lancaster and Preston Junction Railway
Mark Bartlett [22/08/2019]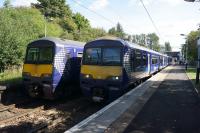 Singer: 320s call at Singer on 7th September 2019. On the left an eastbound service with 320418 (leading) and 320417 on the rear. On the right 320403 leads 318255 with a westbound service.
Singer Deviation (North British Railway)
John McIntyre [07/09/2019]