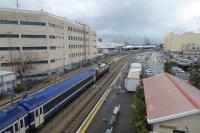 Haifa Central: A northbound passenger service from Tel Aviv calls at Haifa Central, alongside the massive port complex. GEC-Alsthom diesel No.759 is hauling this train but will propel the return southbound service.
Palestine Railways
Mark Bartlett [31/03/2019]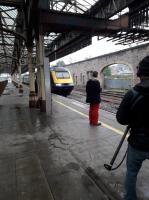 Perth: HST arriving from Glasgow to form the 0811 departure from Perth to Inverness on 30th May 2019. Note camera team on right! [See image 69078]
Scottish Central Railway
John Yellowlees [30/05/2019]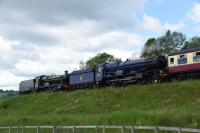 Winchcombe: 7903 'Foremarke Hall' & 6023 'King Edward I' tender first southbound on the northern outskirts of Winchcombe during the G&WR Gala event on 25th May 2019.
Cheltenham and Honeybourne Line (Great Western Railway)
Peter Todd [25/05/2019]